Drneilpearson
Dr. Neil Pearson
Corporate Educator and Management Consultant
Project Management in Practice. Project Management in Practice, BSB40807 BSB50807 - Neil Pearson.
DrNeilPearson's photosets on Flickr. Project Management Information Center: Table of Contents. Chapter 1: Modern Project Management Chapter 2: Organization Strategy and Project Selection Chapter 3: Organization: Structure and Culture Chapter 4: Defining the Project.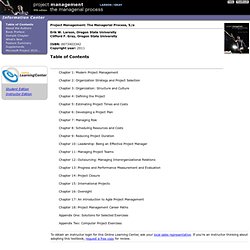 Legal Resources. UK. University Admissions. Facilitation.
Business Analysis. Change Management. Social Media. Service Management. Portfolio/Program Management. Blue Ocean Strategy. Strategy. Information & Knowledge Management.
---