Journals & Blogs
Science, Mathematics, Medicine, and Technology. What is EDUCAUSE? CenterPoint. Did you know that in education, quality matters is more than a saying, but an actual not-for-profit organization?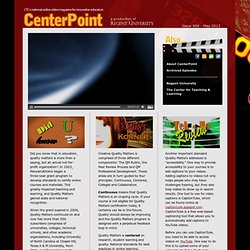 In 2003, MarylandOnline began a three-year grant program to develop standards to certify online courses and materials. This greatly impacted teaching and learning, and Quality Matters gained state and national recognition. When the grant expired in 2006, Quality Matters continued on and now has more than 550 subscribers comprised of universities, colleges, technical schools, and other academic organizations, including University of North Carolina at Chapel Hill, Texas A & M University, Penn State, and Regent University. Technology. The Journal of Virtual Worlds and Education.
The Journal of Virtual Environments (JOVE) | SCI-VW Page | Hitl Home | The Journal of Virtual Environments (JOVE) Brought to you by the students of Dr.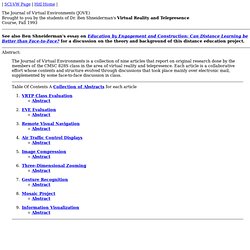 Journal of Virtual Worlds Research. JOLT - Journal of Online Learning and Teaching. The Journal of Asynchronous Learning Networks (JALN) | The Sloan Consortium® Kristen Betts, Ed.D.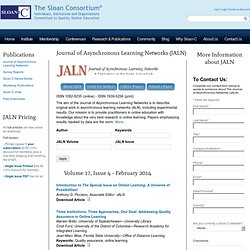 Forbes Education Bill Welsh, M.A. Rutgers, The State University of New Jersey. Quarterly (EQ.
---