Digital Libraries
University Health Sciences Library Tutorials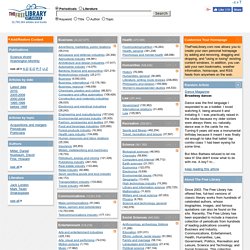 Since 2003, The Free Library has offered free, full-text versions of classic literary works from hundreds of celebrated authors, whose biographies, images, and famous quotations can also be found on the site. Recently, The Free Library has been expanded to include a massive collection of periodicals from hundreds of leading publications covering Business and Industry, Communications, Entertainment, Health, Humanities, Law, Government, Politics, Recreation and Leisure, Science and Technology, and Social Sciences. This collection includes millions of articles dating back to 1984 as well as newly-published articles that are added to the site daily. The Free Library is an invaluable research tool and the fastest, easiest way to locate useful information on virtually any topic. Explore the site through a keyword search, or simply browse the enormous collection of literary classics and up-to-date periodicals to find exactly what you need.
s Health Science Guide
The Cairo Genizah Collection The Taylor-Schechter Cairo Genizah Collection at Cambridge University Library is the world's largest and most important single collection of medieval Jewish manuscripts. For a thousand years, the Jewish community of Fustat (Old Cairo), placed their worn-out books and other writings in a storeroom (genizah) of the Ben Ezra Synagogue, and in 1896–97 the Cambridge scholar, Dr Solomon Schechter, arrived to examine it. He received permission from the Jewish community of Egypt to take away what he liked, and he brought 193,000 manuscripts back to Cambridge.