Podcasts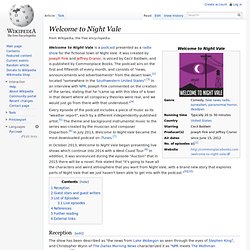 Welcome to Night Vale
Welcome to Night Vale is a podcast presented as a radio show for the fictional town of Night Vale.
Night Vale — COMMONPLACE BOOKS
George Joseph Hrab (born June 8, 1971 in Belleville, New Jersey) is a drummer, guitarist, composer and podcaster known for performing rock, funk and jazz and for exploring atheist,[3] skeptic and science themes in his work. He has released six albums as a solo artist. Musical career[edit] Hrab performs in several genres of music, but most often in rock and funk. His lyrics are often witty.[4] Hrab lists Frank Zappa and David Byrne as key influences.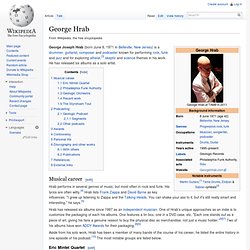 George Hrab
Geologic Podcast
The Skeptics' Guide to the Universe
The Skeptics' Guide to the Universe is a weekly, 80 minute podcast hosted by Steven Novella, MD, and a panel of "skeptical rogues". It is the official podcast of the New England Skeptical Society. The show features discussions of myths, conspiracy theories, pseudoscience, the paranormal, and many general forms of superstition, from the point of view of scientific skepticism. The show also features discussions of recent scientific developments in layman's terms, and interviews authors, people in the area of science and other famous skeptics.
This American Life
This American Life (TAL) is an American weekly hour-long radio program produced by WBEZ and hosted by Ira Glass.[1] It is distributed by Public Radio International on PRI affiliate stations and is also available as a free weekly podcast. Primarily a journalistic non-fiction program, it has also featured essays, memoirs, field recordings, short fiction, and found footage. The first episode aired on November 17, 1995,[2] under the show's original title, Your Radio Playhouse. A television program of the same name ran for two seasons on the Showtime cable network[3] between June 2007 and May 2008.