Podcasts
George Joseph Hrab (born June 8, 1971 in Belleville, New Jersey ) is a drummer , guitarist , composer and podcaster known for performing rock , funk and jazz and for exploring atheist , [ 3 ] skeptic and science themes in his work. He has released six albums as a solo artist. [ edit ] Musical career Hrab performs in several genres of music, but most often in rock and funk. His lyrics are often witty. [ 4 ] Hrab lists Frank Zappa and David Byrne as key influences.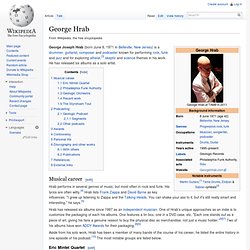 George Hrab
Geologic Podcast
The Skeptics' Guide to the Universe
The Skeptics' Guide to the Universe is a weekly, 80 minute podcast hosted by Steven Novella , MD , and a panel of " skeptical rogues ". It is the official podcast of the New England Skeptical Society , and is produced in conjunction with the James Randi Educational Foundation . The show features discussions of myths , conspiracy theories , pseudoscience , the paranormal , and many general forms of woo-woo , from the point of view of scientific skepticism . The show also features discussions of recent scientific developments in layman's terms , and interviews authors, people in the area of science and other famous skeptics.
Home - The Skeptics' Guide to the Universe
This American Life
This American Life ( TAL ) is an American weekly hour-long radio program produced by WBEZ and hosted by Ira Glass . It is distributed by Public Radio International on PRI affiliate stations and is also available as a free weekly podcast . Primarily a journalistic non-fiction program, it has also featured essays , memoirs , field recordings, short fiction, and found footage. The first episode aired on November 17, 1995, [ 1 ] under the show's original title, Your Radio Playhouse .