Podcasts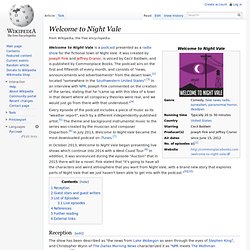 Welcome to Night Vale
Welcome to Night Vale is a podcast presented as a radio show for the fictional town of Night Vale. It was created by Joseph Fink and Jeffrey Cranor, is voiced by Cecil Baldwin, and is published by Commonplace Books. The podcast airs on the first and fifteenth of every month, and consists of "news, announcements and advertisements" from the desert town,[2] located "somewhere in the Southwestern United States".[3] In an interview with NPR, Joseph Fink commented on the creation of the series, stating that he "came up with this idea of a town in that desert where all conspiracy theories were real, and we would just go from there with that understood.
Night Vale — COMMONPLACE BOOKS
George Joseph Hrab (born June 8, 1971 in Belleville, New Jersey) is a drummer, guitarist, composer and podcaster known for performing rock, funk and jazz and for exploring atheist,[3] skeptic and science themes in his work. He has released six albums as a solo artist. Musical career[edit] Hrab performs in several genres of music, but most often in rock and funk. His lyrics are often witty.[4] Hrab lists Frank Zappa and David Byrne as key influences.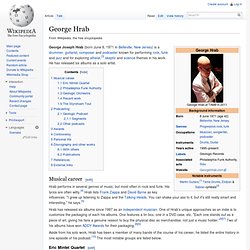 George Hrab
Old color photos freak me outIntro In Long Island. On Long Island. Religious Moron of the Week - No Muslims on Mars from Eddy Anthony & Mark Schammer - Tom Delay from Jody Boese - The Right Reverend Father Simon Lokodo from Andrew Freeborn...The Geologic Fancast No. 7: HRABLAND...NECSS is SOON.Show close.................................... Mentioned in the Show Color photos of Imperial Russia
Geologic Podcast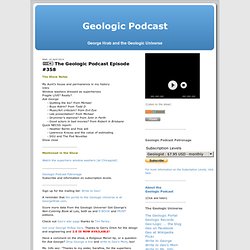 The Skeptics' Guide to the Universe
The Skeptics' Guide to the Universe is a weekly, 80 minute podcast hosted by Steven Novella, MD, and a panel of "skeptical rogues". It is the official podcast of the New England Skeptical Society. The show features discussions of myths, conspiracy theories, pseudoscience, the paranormal, and many general forms of superstition, from the point of view of scientific skepticism. The show also features discussions of recent scientific developments in layman's terms, and interviews authors, people in the area of science and other famous skeptics.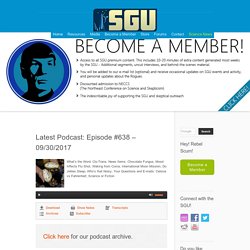 This day In Skepticism: SPAM; News Items: Chilis and Antivaxers, Crowdfunding Pseudoscience, Ocean under Enceladus, Looking Intelligent, Who's That Noisy, Your Questions and E-mails: Justina Case, Car Remotes; Science or Fiction Update Required To play the media you will need to either update your browser to a recent version or update your Flash plugin. Want access to exclusive content? Signup as a member gain access to discounts, premium podcasts and a members-only newsletter. Blogs
This American Life
This American Life (TAL) is an American weekly hour-long radio program produced by WBEZ and hosted by Ira Glass.[1] It has been made available on PRI affiliate stations and is also available as a free weekly podcast. Primarily a journalistic non-fiction program, it has also featured essays, memoirs, field recordings, short fiction, and found footage. The first episode aired on November 17, 1995,[2] under the show's original title, Your Radio Playhouse. The series is distributed by Public Radio International.[3]