Typo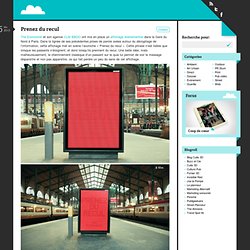 The Economist et son agence CLM BBDO ont mis en place un affichage événementiel dans la Gare du Nord à Paris. Dans la lignée de ses précédentes prises de parole axées autour du décryptage de l'information, cette affichage met en scène l'accroche « Prenez du recul ». Cette phrase n'est lisible que lorsque les passants s'éloignent, et donc lorsqu'ils prennent du recul. Une belle idée, mais malheureusement, le cheminement classique d'un passant sur le quai lui permet de voir le message disparaître et non pas apparaître, ce qui fait perdre un peu du sens de cet affichage. source : DocNews
Prenez du recul
Flying V
Thanks to Robert Urquhart, Clif Dickens, Nico Hähnlein, Siim Teller, Camille Greatorex, Chris Weachock, Jonty Levine, Shayna Daitch, Douglas Montgomery, Lira Kim, Josef van der Faust, Ed Benson, Christine Self, François Bertrand, Timothé Buguet, Psy Oc, Samuel Blum, Romain Stievenard, Florent Molinier, Felipe Esteves, Alexandar Mechev, Colin Smith, Felipe Francisco, Merlin Mason, Saul Costa, Jan Andreas Knudsen, Kees Huyser, Arn Anderson, Heather Elsa, Aale van der Veen, Jamie Lewis, Brice Soulivong, Arnaud Bonnard, David Little …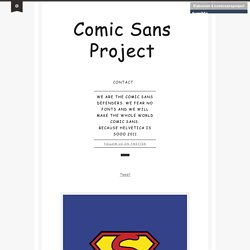 Comic Sans Project
Acheter une typo… (rapporté par Cargo)
Font generator / processing : prototyp-0 on Vimeo
Excellens — FREE FONT on the Behance Network
L'Alphabet d'Alessandro Novelli en typographie animée
– 20 janvier 2011Posted in: Typographie, Vidéos & animations Alessandro Novelli est un motion designer italien qui vit à New York. Son film « The Alphabet« rend hommage aux principales fontes (classiques) dans un jeu d'animation très esthétique. 60 secondes de pur plaisir visuel pour 26 lettres, c'est court et beau à la fois….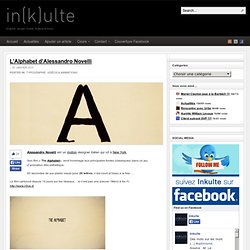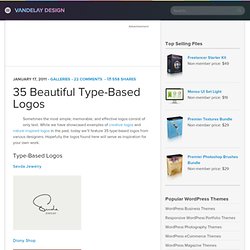 35 Beautiful Type-Based Logos
Sometimes the most simple, memorable, and effective logos consist of only text. While we have showcased examples of creative logos and nature-inspired logos in the past, today we'll feature 35 type-based logos from various designers. Hopefully the logos found here will serve as inspiration for your own work.