Art
Reconstructions Black Milk mixed media by ingridArtStudio. Another artwork from my latest mixed media series, a combination of photography, drawing and encaustic on multiple paneled surface.The amazing qualities of the encaustic (beeswax) give a new dimension to the image.
The artwork consists of 18 wood panels- the overall installation measures around 35"x 48".The image is pieced together, not all the parts are revealed, giving it the wonderful feel of a reconstructed image, rediscovered. Also the organization of the multiple panels gives the artworks a wonderful dynamism in spite of the very static, almost frozen image.Starting with a photograph, I mount it on wooden panels and paint on top of it with layers of pigmented beeswax, obtaining a slightly textured surface. The artwork is finished with fine line drawings on top of the beeswax painting and a layer of ebony stain. The pieces come carefully packaged with a certificate of authenticity, shipped via USPS.
Serenite. Odani Motohiko Sculptures. <div class="noscript"><div class="noscript-inner"><p><strong>JavaScript seem to be disabled in your browser.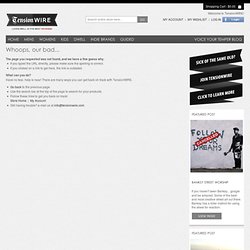 </strong></p><p>You must have JavaScript enabled in your browser to utilize the functionality of this website. </p></div></div> The page you requested was not found, and we have a fine guess why. If you typed the URL directly, please make sure the spelling is correct.If you clicked on a link to get here, the link is outdated. Drowning Beautiful | Koi_Boy_Goldfish__closeup_by_cypherx.jpg from designzzz.com.
Mai474big.jpg from nikdaum.com. Sheep Sculptures Made Out of Rotary Phones | WHATTHECOOL. Tall Painting.
---