Home Design
Secluded Luxury Home in Queenstown, New Zealand. Petrella Guidi Historical Hideaway in Italy - 1 Kind Design 1 Kind Design. Jul Bouquets of flowers and aromatic plants intoxicate upon arriving to Petrella Guidi Historical Hideaway , in the ancient medieval village of Petrella Guidi, Italy.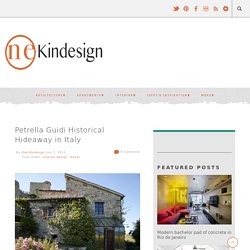 Entering the gate, one leaves behind the pace of chaotic lives, and abandons itself to the joy of living of this ancient land. It is meant to be understood as a site of experience, where nature, culture, history and pleasure are elevated to the center of things in order to finally rediscover it in oneself. Contemporary Designer Furniture and Home Accessories. Stone Footprints - The stone art of Iain Blake. Recyclebank. Get closer to nature by living in an underground home built from sustainable materials I've always wanted to live in an underground dwelling because it's the closest I'll ever get to living like a Hobbit, and it seems like the perfect place to go in case zombies attack.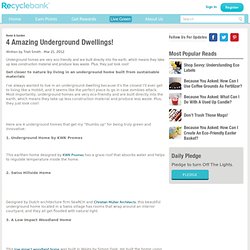 Most importantly, underground homes are very eco-friendly and are built directly into the earth, which means they take up less construction material and produce less waste. Plus, they just look cool! Incredible Looking Loft Filled With Natural Light. This 94 square meter apartment has a privileged location on the corner of the building.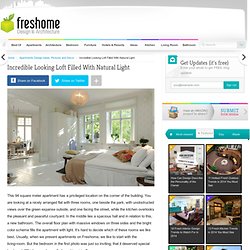 You are looking at a nicely arranged flat with three rooms, one beside the park, with unobstructed views over the green expanse outside, and one facing the street, while the kitchen overlooks the pleasant and peaceful courtyard. In the middle lies a spacious hall and in relation to this, a new bathroom. The overall floor plan with massive windows on three sides and the bright color scheme fills the apartment with light. It's hard to decide which of these rooms we like best. Jet Off To Australia's Pretty Beach House & Boho Chic. Hot or Cool? Color-Changing Chameleon Tiles | Designs &Ideas on Dornob. There is virtually no limit to what you can decorate with color-changing tiles (from Inventables).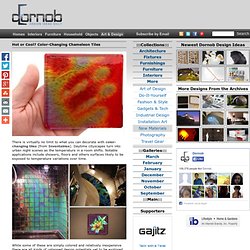 Daytime cityscapes turn into urban night scenes as the temperature in a room shifts. Notable applications include showers, floors and others surfaces likely to be exposed to temperature variations over time. While some of these are simply colored and relatively inexpensive there are all kinds of untapped design potentials yet to be explored. Perhaps they would make a good interior design match for an exterior application of some light transmitting concrete. Bookshelf Porn. The Contemporary Hillside House by SB Architects | Luxury Furniture, Property, Travel & Interior Design. The Contemporary Hillside House by SB Architects Designed by San Francisco-based SB Architects, an international firm well-known for the design of site-sensitive resort and mixed-use projects around the world, and built by well-known green builder McDonald Construction & Development, this home is a statement of what is possible combining "high design with high sustainability."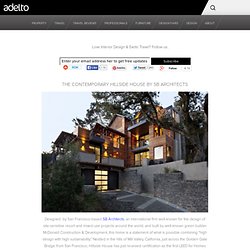 Nestled in the hills of Mill Valley, California, just across the Golden Gate Bridge from San Francisco, Hillside House has just received certification as the first LEED for Homes Platinum custom home in Marin County, and one of only a handful in Northern California. Photograpghy by Mariko Reed. The four-story home – clad with beautiful, sustainable Western Red Cedar siding – is set on a steep hillside site that provides for a very vertical design with living and private zones situated on multiple separate floors.
Notre&Maison. I like this layout just like I would like what the runway models wore at a fashion show.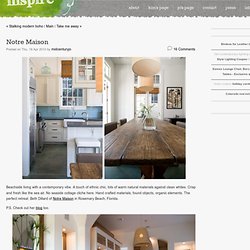 For its artistry. It's use of color(though sparse in the design... because of the light the atmosphere provides and the less color the more the light can pour in and bounce off of itself...), pattern, texture and creative style. You have to take into account all of the contributors to the design. No one goes to an antique car show to scoff and bring up something negative such as poor gas mileage. Lonnymag.com. Interior Decorating Ideas, Interior Design and Interior Decorating Tips, Home Design, Room Ideas for your Inspiration- InteriorHolic.
---