Cookies
Chocolate Chip Lava Cookies. I am so in love with these darn chocolate lava cookies!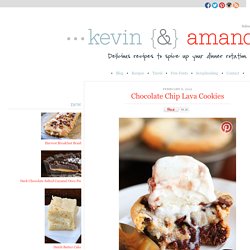 What is it about a warm, gooey chocolate chip cookie stuffed with decadent, rich, melted chocolate that makes it so irresistible?? Especially when topped with vanilla ice cream. These are one of Kev's favorite homemade treats, and he usually asks me to make them at least once a week. They are so simple to whip up, and such a treat! Let's make some right now :) Cooks-in-College. Picky Palate. Candy Cane Blossoms. Too darn cute.
I am the first to admit that I am a sucker for cute packaging and anything "Holiday themed" as evidenced in earlier posts. I saw these candy can kisses hit my local CVS right after Halloween. Mint Chocolate Chip Cookies Recipe.
---