Urbex :: Siam
Urban Decay & Urban Exploration - Bangkok. Having spent the past five years in Asia my photographic subjects have been wide and varied.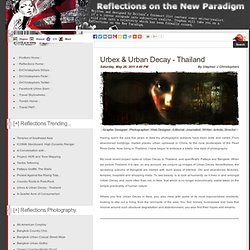 From abandoned buildings, market places, urban upheaval in China, to the rural landscapes of the Pearl River Delta. Now living in Thailand, I have begun to embrace a totally new style of photography: My most recent project looks at Urban Decay in Thailand, and specifically Pattaya and Bangkok. When we picture Thailand, it is rare, on any account, we conjure up images of Urban Decay. Nevertheless, the sprawling suburbs of Bangkok are riddled with such areas of interest. Project: HDR and Tone Mapping. Above: Nikon D5100 with 18-55mm lens.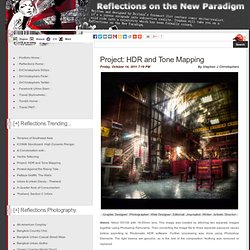 This image was created by stitching two separate images together using Photoshop Panorama. Then converting the image file to three separate exposure values before exporting to Photomatix HDR software. Street Art. Graffiti. STREET ART UTOPIA | We declare the world as our canvas.
Street Art Beyond the Spray Can - Design. This post is in partnership with Pepsi Refresh Project When you hear the phrase "street art," there's almost no limit to what you can do.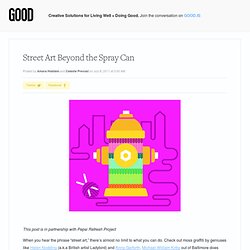 Check out moss graffiti by geniuses like Helen Nodding (a.k.a British artist Ladybird) and Anna Garforth. Pattaya Graffiti: The Walls. Pattaya Graffiti on Flickr: This is my little sideline project: I'm currently running around Pattaya to document all the Graffiti found here.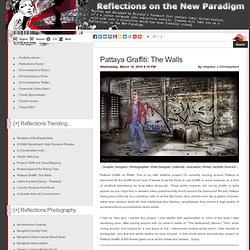 It seems to be the trend, to use Graffiti, in some respects, as a form of unofficial advertising for local tattoo shops etc. These works however, are not as prolific or wide spread as one might find in western cities; predominantly found around the Sukhumvit Rd and Pattaya Klang area of the city (in a building I refer to as the Bat Cave). And, exhibit more like a gallery of works, rather than random street art; less intellectual than Banksy, nevertheless, they exhibit a high-quality of workmanship by accomplished street artists. I had no idea why I started this project. Urban exploration. Urbex.
UrBex Daily. Talk Urbex … Photography. HDR. Street Style. Bangkok Urban-Gothic. I tend to took at it this way: photography is about capturing a moment.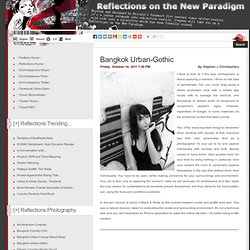 I thrive on the idea of spontaneity. Yes, you could drag along a whole production crew with a middle age house wife to manage the sand-pit, and thousands of dollars worth of equipment to compliment people's egos. However, regardless of budget, in some instances it's the emotional context that takes priority. Two of the most important things to remember when working with people, is that, everyone has their own personality.
Bangkok Urban-Casual Street Wear. Well, it's a hard job ... and, without my usual coffee fix.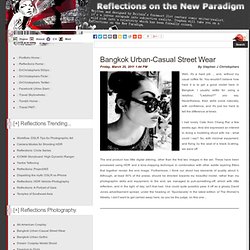 You wouldn't believe how hard it is to get a good model here in Bangkok. I usually settle for using a ladyboy; "Ladyboy!? " you say. Nevertheless, their skills come naturally, with confidence, and it's just too hard to tell the difference at times. I met lovely Cate from Chang Rai a few weeks ago. Thai Style: Bangkok Country Chic. The simple things in life: photography for me is about capturing a moment - I say this often.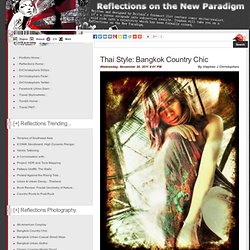 Sometimes, I wish for better equipment. Sometimes, it's all about light - my craving for better light. Sometimes, it's the ambiance of the moment which lends itself to capturing emotion, rather than a higher level of technical craft. Everyone has their own personality, and as a photographer it's your job to capture it - the point. Pattaya Graffiti: Urban Cosplay Model Shoot. You wouldn't believe how hard it is to get a good model, even here in Pattaya, Thailand.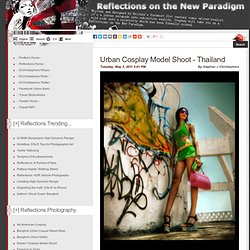 My girl was having none of it, and I'm not one to push her. Nevertheless, I take it as a professional job, and thus, strive for the best quality I can with the tools provided. Bangkok Street Wear. Vintage Siam was shot using a Canon EOS 500D & 18-55mm Lens at a location near Siam Country Club.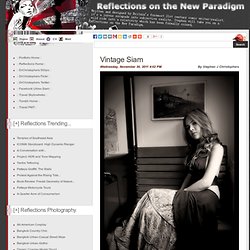 This particular photoshoot was well organized with regards to logistics and equipment. A small crew of two and model. The location: an old restored train and station. Part of the Siam Country Club parks and garden complex about half an hours drive from Pattaya City, Thailand. As previously stated, in regards to my Urbex photography, this set-up took a little extra prep, both in respects to equipment and logistics. Urbex :: Siam. Motorcycle Tours, Pattaya, Thailand. Welcome to Pattaya Motorcycle Tours: We offer the best tailored motorcycle and off-road tours in Southeast Thailand: from day trips to Big Buddha, through the rural scenic areas that surrounds Pattaya; Rice fields, Tapioca and Banana plantations, to fishing villages, that dot the coastline of this region of Thailand; and with beautiful Buddhist temple complexes, all within easy riding distance from your hotel.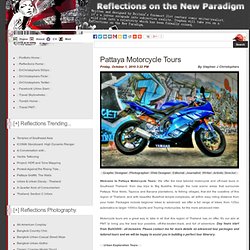 Packages include beginner bikes to advanced: we offer a full range of bikes, from 125cc automatics to larger 1000cc Sports and Touring motorcycles, for the more advanced rider. Motorcycle tours are a great way to take in all that this region of Thailand has on offer. It's our aim at PMT to bring you the best tour possible, off-the-beaten-track, and full of adventure. Day tours start from Baht3000 - all inclusive. The Sanctuary of Truth. ▲Title: Urbex Thailand: The Sanctuary of Truth for Project HDR Description: Nikon Coolpix & Nikon D5100 DSLR + Photomatix HDR & Tone Mapping. Processed using industry standard software @ 14.1 & 16 megapixel resolution. Project: HDR and Tone Mapping.
---