Web Design
80+ Absolutely Gorgeous Free PSD Files For Designers. One thing that is great about viewing other graphic designers Photoshop PSD files is that you can examine what kind of methods and techniques they used to achieve their design.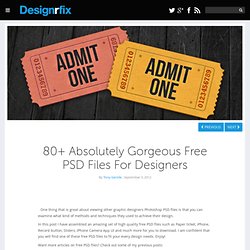 In this post I have assembled an amazing set of high quality free PSD files such as Paper ticket, iPhone, Record button, Sliders, iPhone Camera App UI and much more for you to download. I am confident that you will find one of these free PSD files to fit your every design needs. Enjoy! Want more articles on free PSD files? A Collection Of Fresh Web UI Kits. Today, we have a comprehensive collection of web UI kits and templates for you.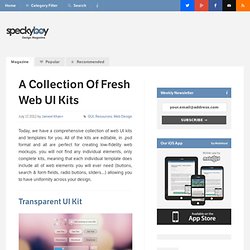 All of the kits are editable, in .psd format and all are perfect for creating low-fidelity web mockups. you will not find any individual elements, only complete kits, meaning that each individual template does include all of web elements you will ever need (buttons, search & form fields, radio buttons, sliders…) allowing you to have uniformity across your design. Transparent UI Kit Transparent UI Kit → The Bricks – User Interface Framework. A Better Project Model than the "Waterfall" - Jeff Gothelf. By Jeff Gothelf | 8:22 AM July 6, 2012 This happens every day: A "solution" is handed to a team to build. The team determines the scope of the work, develops a project plan and promises a set of features by a specific date. It is assumed that these features will solve some business problem or meet an executive directive because someone with a paygrade higher than the execution team has blessed the work. ColorBlender.com | Your free online color matching toolbox. Responsible responsive images. I'm in Belfast right now for this year's Build conference, so I am.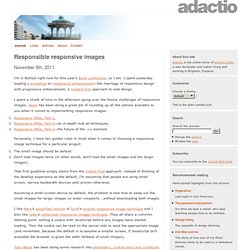 I spent yesterday leading a workshop on responsive enhancement—the marriage of responsive design with progressive enhancement; a content-first approach to web design. I spent a chunk of time in the afternoon going over the thorny challenges of responsive images. Jason has been doing a great job of rounding up all the options available to you when it comes to implementing responsive images: Responsive IMGs, Part 1,Responsive IMGs, Part 2—an in-depth look at techniques,Responsive IMGs, Part 3—the future of the img element. Personally, I have two golden rules in mind when it comes to choosing a responsive image technique for a particular project: PSD to XHTML, HTML 5, CSS 3.0, JQuery, HTML Newsletter, CMS Template, Shop Template. Coding a Clean Web 2.0 Style Web Design from Photoshop. In this web development tutorial, you'll learn how to build a web page template from a Photoshop mock-up from a previous tutorial called "How to Create a Clean Web 2.0 Style Web Design in Photoshop" using HTML/CSS and the jQuery library.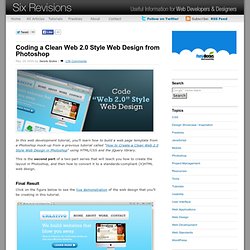 This is the second part of a two-part series that will teach you how to create the layout in Photoshop, and then how to convert it to a standards-compliant (X)HTML web design. Final Result. 20 Responsive Web Design Tutorials. March 15th, 2012 Since Template Monster launched the production of responsive website templates it is essential to give you some tips on how to customize the site based on this type of templates.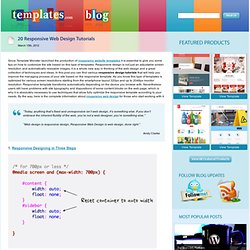 Responsive design is not just an adjustable screen resolution and automatically resizable images, it is a whole new way in thinking of the web design and a great collection of techniques and ideas. In this post you can find various responsive design tutorials that will help you improve the managing process of your site based on the responsive template. As you know this type of templates is optimized for various screen resolutions starting from the smartphone layout 320px and up to 2048px monitor resolution.
Website Optimisation tool. This week, I was asked to evaluate a longstanding slow website problem.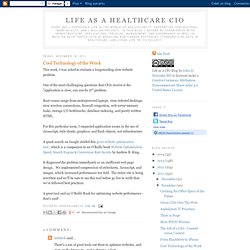 One of the most challenging questions that CIOs receive is the "application is slow, can you fix it? " problem. Root causes range from underpowered laptops, virus infected desktops, slow wireless connections, firewall congestion, web server memory leaks, storage I/O bottlenecks, database indexing, and poorly written HTML. Get better data from user studies: 16 interviewing tips. One of my favorite parts of my job is interviewing a huge variety of people about their habits, needs, attitudes, and reactions to designs.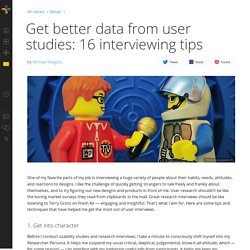 I like the challenge of quickly getting strangers to talk freely and frankly about themselves, and to try figuring out new designs and products in front of me. User research shouldn't be like the boring market surveys they read from clipboards in the mall. Great research interviews should be like listening to Terry Gross on Fresh Air — engaging and insightful. That's what I aim for. The 100% Easy-2-Read Standard. By Oliver Reichenstein Most websites are crammed with small text that's a pain to read.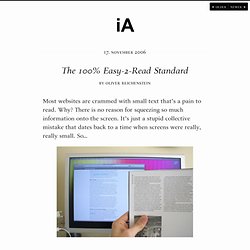 Why? There is no reason for squeezing so much information onto the screen. It's just a stupid collective mistake that dates back to a time when screens were really, really small. So… Automated stress testing for Web 2.0 applications helps Web developers find programming errors. Public release date: 27-Feb-2012 [ Print | E-mail Share ] [ Close Window ] Contact: Gordon Bolduanbolduan@mmci.uni-saarland.de 49-681-302-70741Saarland University Web applications such as Google Mail, Facebook and Amazon are used every day.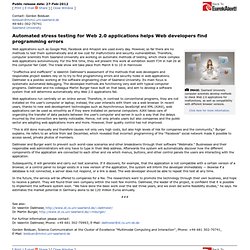 However, so far there are no methods to test them systematically and at low cost for malfunctions and security vulnerabilities. 25 Google Chrome Extensions for Web & Graphics Designers at DzineBlog. Learn how to earn $125 or more per hour as a freelancer - Click Here Looking for hosting?. We recommend MediaTemple for web hosting. Use Code MTLOVESDESIGN for 20% off. 30+ Valuable Chrome Extension For Web Designers & Developers. Google chrome is the most commonly used web browser and it has achieved huge fame with its extra ordinary performance and features. Google chrome has also launched the number of extensions and add-ons for the ease of web developers and designers.
These extensions help them effectively and save more time. On the other hand Chrome is the first browser to incorporate machine translation in the browser itself. Google chrome provides a platform "Chrome Web Store" it is an online marketplace where you can discover thousands of apps, extensions and themes for Google Chrome. Today we have compiled some of Google chrome extension for the ease of web designers and developers. Top 50 Free Online Web Apps For Designers and Developers From 2011. Designing and maintaining a website is not an easy task and it requires a lot of time, that is the reason designers and developers are always lookig for apps that can help make their work easy and quick.
Many web apps are present out there, but not all of them are good. So today we have a list of some web apps, that will definitely prove to be helpful for you. Those web apps include designers and developers toolbox, webmasters tools, developer toolbar and apps to create comprehensively designed charts, diagrams and flowcharts, as charts and graphs are a great way of representing information. We also have a list of awesome apps that will help you know what the error you encountered means and apps that let you test site loading time testers, optimization testers, site comparison tools, and performance tools of any web page.
20 Free Wireframe and Mockup Applications. Mockup is the visual appearance of any website whereas the Wireframe deals with the contents and the functionality of the site. One of the easiest steps in building a website is by creating a mockup and of course both the concepts are quite essential for creating an effective website. The wireframes are very important for the layout and organizing the functional aspects of the web pages. Learn Web Design, Web Development, and iOS Development - Treehouse. 3 Mistakes Web Programmers Need to Stop Making. Jonathan Goldford is a partner at Wired Impact, a web design company that builds websites for nonprofits. You can connect with Jonathan on Twitter and on the Wired Impact Facebook page. Sometimes as programmers, we forget that 99.9% of the population doesn't care how a piece of text, a button, an image or a video ends up onscreen.
4 Tips to Keep Your Website Ahead of the Curve. Gimmicks and Patterns in Interface Design. Why you should move that button 3px to the left. Techniques in responsive web design. Little Big Details. Usability Design for Online Web Forms. Hey Dummy: This Is What "Responsive Design" Means. Web Page Analyzer - free website optimization tool website speed test check website performance report from web site optimization.
Responsive Web Design Templates and Frameworks. Six questions for analyzing a website.
---