Web Design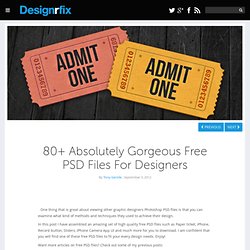 One thing that is great about viewing other graphic designers Photoshop PSD files is that you can examine what kind of methods and techniques they used to achieve their design.
80+ Absolutely Gorgeous Free PSD Files For Designers
Today, we have a comprehensive collection of web UI kits and templates for you.
A Collection Of Fresh Web UI Kits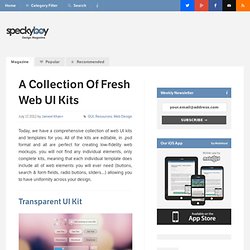 A Better Project Model than the "Waterfall" - Jeff Gothelf
by Jeff Gothelf | 8:22 AM July 6, 2012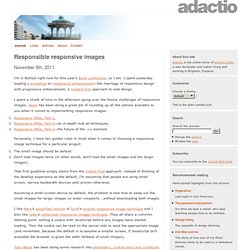 Responsible responsive images
I'm in Belfast right now for this year's Build conference, so I am. I spent yesterday leading a workshop on responsive enhancement—the marriage of responsive design with progressive enhancement; a content-first approach to web design.
PSD to XHTML, HTML 5, CSS 3.0, JQuery, HTML Newsletter, CMS Template, Shop Template
In this web development tutorial, you'll learn how to build a web page template from a Photoshop mock-up from a previous tutorial called "How to Create a Clean Web 2.0 Style Web Design in Photoshop" using HTML/CSS and the jQuery library. This is the second part of a two-part series that will teach you how to create the layout in Photoshop, and then how to convert it to a standards-compliant (X)HTML web design. Final Result
Coding a Clean Web 2.0 Style Web Design from Photoshop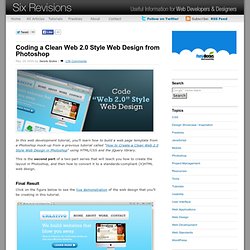 March 15th, 2012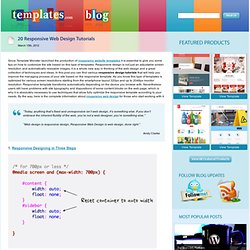 20 Responsive Web Design Tutorials
Website Optimisation tool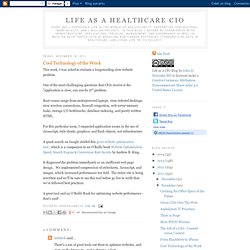 This week, I was asked to evaluate a longstanding slow website problem.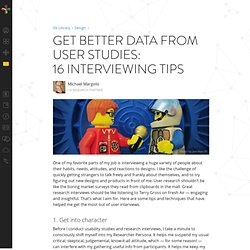 One of my favorite parts of my job is interviewing a huge variety of people about their habits, needs, attitudes, and reactions to designs. I like the challenge of quickly getting strangers to talk freely and frankly about themselves, and to try figuring out new designs and products in front of me.
Get better data from user studies: 16 interviewing tips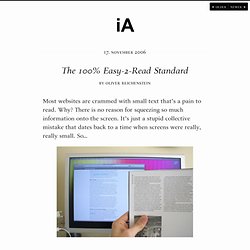 by Oliver Reichenstein Most websites are crammed with small text that's a pain to read.
Automated stress testing for Web 2.0 applications helps Web developers find programming errors
Public release date: 27-Feb-2012 [ Print | E-mail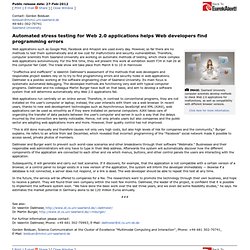 Learn how to earn $125 or more per hour as a freelancer - Click Here
25 Google Chrome Extensions for Web & Graphics Designers at DzineBlog
Colour Tweaker Quit trying to guess hex codes when tweaking/editing colors in Inspector, and get them spot on first-time with this extension's live-updating palette, perfect for picking the ideal color!
30+ Valuable Chrome Extension For Web Designers & Developers
Top 50 Free Online Web Apps For Designers and Developers From 2011
Designing and maintaining a website is not an easy task and it requires a lot of time, that is the reason designers and developers are always lookig for apps that can help make their work easy and quick.
20 Free Wireframe and Mockup Applications
Mockup is the visual appearance of any website whereas the Wireframe deals with the contents and the functionality of the site. One of the easiest steps in building a website is by creating a mockup and of course both the concepts are quite essential for creating an effective website. The wireframes are very important for the layout and organizing the functional aspects of the web pages.
3 Mistakes Web Programmers Need to Stop Making
Jonathan Goldford is a partner at Wired Impact, a web design company that builds websites for nonprofits. You can connect with Jonathan on Twitter and on the Wired Impact Facebook page. Sometimes as programmers, we forget that 99.9% of the population doesn't care how a piece of text, a button, an image or a video ends up onscreen.
Gimmicks and Patterns in Interface Design
Why you should move that button 3px to the left
Techniques in responsive web design
Usability Design for Online Web Forms | Tips
Hey Dummy: This Is What "Responsive Design" Means
Six questions for analyzing a website