Market
Applanet
Home | Blapkmarket.com
Warket - Главная
Download Free Android Applications, Games, Themes. Android News and Reviews.
Everything Android • Index page
Android central podcast rss feed Description Read RSS feeds, download, listen and watch podcasts directly on your phone.
Appdeck 2.0 beta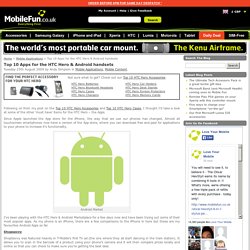 Top 10 Apps for the HTC Hero & Android handsets | Mobile Fun Blog
Tuesday 25th August 2009 by Andy Simpson in Mobile Applications , Mobile Content .