CI Directory, Orgs, Etc.
New York City is home to hundreds of cultural institutions and historic sites, many of which are internationally known. This list contains the most famous or well-regarded organizations, based on their mission. [ edit ] Museums Also included are non-profit art galleries, arts centers and cultural centers with galleries. See List of museums in New York for museums in the rest of New York state. [ edit ] Encyclopedic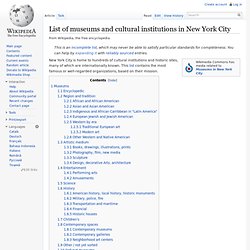 List of museums and cultural institutions in New York City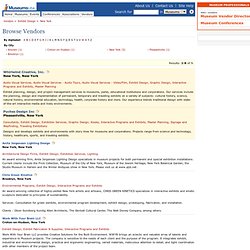 Pleasantville, New York Consultants, Exhibit Design, Exhibition Services, Graphic Design, Kiosks, Interactive Programs and Exhibits, Master Planning, Signage and Wayfinding, Traveling Exhibitions Designs and develops exhibits and environments with story lines for museums and corporations.
Browse Museum Vendors
MCINY | HOME
AAM: American Association of Museums Press Releases
Founded in 1918, the International Association of Amusement Parks and Attractions (IAAPA) is the largest international trade association for permanently situated amusement facilities worldwide. The organization represents more than 4,300 facility, supplier, and individual members from more than 97 countries including professionals from: Amusement parks, theme parks, and attractions Family entertainment centers Museums and science centers Water parks and resorts Zoos and aquariums Industry manufacturers and suppliers
About IAAPA - International Association of Amusement Parks and Attractions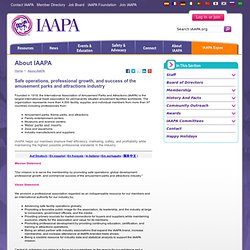 Association of Art Museum Directors
Center for the Future of Museums About Us
Interactive - New York Foundation for the Arts