5 Key trends from SXSW 2012
Piers Fawkes Talks 5 Key SXSW Trends [Video] During our trip to South by Southwest this year, PSFK founder Piers Fawkes sat down with the team at Leo Burnett to talk about the 5 "Need To Know" trends we were following at the festival.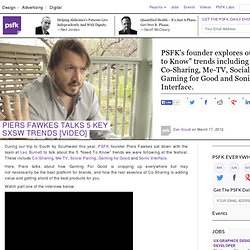 These include Co-Sharing, Me-TV, Social Pairing, Gaming for Good and Sonic Interface. Here, Piers talks about how Gaming For Good is cropping up everywhere but may not necessarily be the best platform for brands, and how the real essence of Co-Sharing is adding value and getting ahold of the best products for you. The Sonic Interface Trend [Need To Know: SXSWi] As we all begin to look forward to the interactive section of South By South West this March, PSFK has identified five key trends that readers should be monitoring during the festival.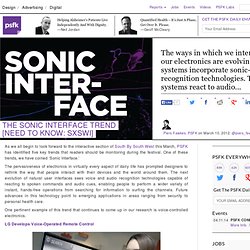 One of these trends, we have coined 'Sonic Interface.' The pervasiveness of electronics in virtually every aspect of daily life has prompted designers to rethink the way that people interact with their devices and the world around them. The next evolution of natural user interfaces sees voice and audio recognition technologies capable of reacting to spoken commands and audio cues, enabling people to perform a wider variety of instant, hands-free operations from searching for information to surfing the channels.
Shazam Gives Out Recipes By Recognizing Baked Good Ads. General Mill's Pillsbury has incorporated Shazam with their new TV campaign to target tech-savvy moms.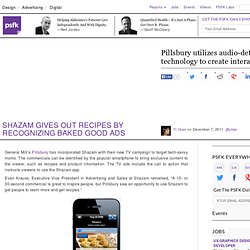 The commercials can be identified by the popular smartphone to bring exclusive content to the viewer, such as recipes and product information. The TV ads include the call to action that instructs viewers to use the Shazam app. Evan Krauss, Executive Vice President in Advertising and Sales at Shazam remarked, "A 15- or 30-second commercial is great to inspire people, but Pillsbury saw an opportunity to use Shazam to get people to learn more and get recipes." Already, companies like Starbucks, Honda, Old Navy and Paramount Pictures have utilized Shazam's audio-detection technology to create interactive ads and promotional content. Shazam. Welcome to Shazam. Walmart's Updated iPhone App Lets You Speak, Type & Scan To Add Items To Your Shopping List.
@WalmartLabs is updating the retailer's free iPhone app, adding a number of new features that make it easy for consumers to create smart shopping lists, scan QR codes and access product information.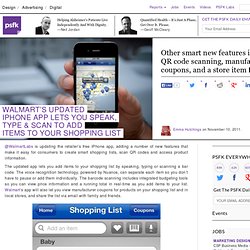 The updated app lets you add items to your shopping list by speaking, typing or scanning a bar code. The voice recognition technology, powered by Nuance, can separate each item so you don't have to pause or add them individually. The barcode scanning includes integrated budgeting tools so you can view price information and a running total in real-time as you add items to your list. Kinect-Powered Online Banking Logs You In With Your Face And Voice. The Lithuanian company ETRONIKA has developed a Microsoft Kinect-based online banking application that recognizes your face and voice to log in to your account and lets you control options with gestures.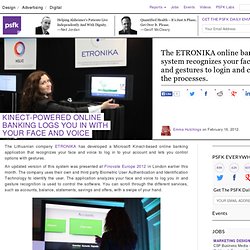 An updated version of this system was presented at Finovate Europe 2012 in London earlier this month. The company uses their own and third party Biometric User Authentication and Identification Technology to identify the user. The application analyzes your face and voice to log you in and gesture recognition is used to control the software. Air Dictate app brings Siri's voice control to Macs, makes you feel just a little more important. Well, this was probably inevitable.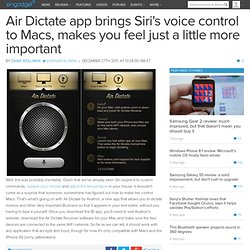 Given that we've already seen Siri respond to custom commands, replace your remote and adjust the temperature in your house, it shouldn't come as a surprise that someone, somewhere has figured out how to make her control Macs. That's what's going on with Air Dictate by Avatron, a new app that allows you to dictate memos and other Very Important Business so that it appears in your text editor, without you having to type it yourself. Once you download the $1 app, you'll need to visit Avatron's website, download the Air Dictate Receiver software for your Mac and make sure the two devices are connected to the same WiFi network. Voice Recorded Updates Let You Tweet Without Typing.
Bubbly is a new iOS app created by Bubble Motion that allows users to send voice messages and tweets.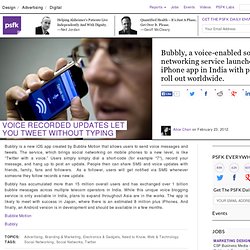 The service, which brings social networking on mobile phones to a new level, is like "Twitter with a voice." Users simply simply dial a short-code (for example *7*), record your message, and hang up to post an update. People then can share SMS and voice updates with friends, family, fans and followers. Bubble Motion :: Home. The Social-Pairing Trend [Need To Know: SXSWi] As we all begin to look forward to the interactive section of South By South West in March, PSFK has identified five key trends that readers should be monitoring during the festival.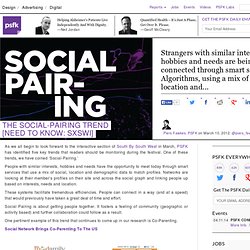 One of these trends, we have coined 'Social-Pairing.' People with similar interests, hobbies and needs have the opportunity to meet today through smart services that use a mix of social, location and demographic data to match profiles. Networks are looking at their member's profiles on their site and across the social graph and linking people up based on interests, needs and location. These systems facilitate tremendous efficiencies. People can connect in a way (and at a speed) that would previously have taken a great deal of time and effort. App Facilitates One-On-One Activites With The People You Care About. The digital product designers at Crush + Lovely have pointed us to Duet — a messaging app that helps one remember to "do things with people you love."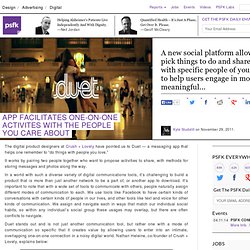 It works by pairing two people together who want to propose activities to share, with methods for storing messages and photos along the way. In a world with such a diverse variety of digital communications tools, it's challenging to build a product that is more than just another network to be a part of, or another app to download. It's important to note that with a wide set of tools to communicate with others, people naturally assign different modes of communication to each. We use tools like Facebook to have certain kinds of conversations with certain kinds of people in our lives, and other tools like text and voice for other kinds of communication.
We assign and navigate each in ways that match our individual social habits, so within any individual's social group these usages may overlap, but there are often conflicts to navigate. Duet. Social Network Helps You Meet The Neighbors. Imagine combining Facebook with Yelp.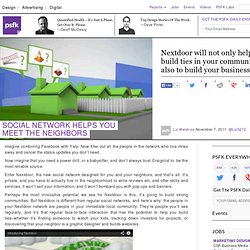 Now filter out all the people in the network who live miles away and cancel the status updates you don't need. Now imagine that you need a power drill, or a babysitter, and don't always trust Craigslist to be the most reliable source. The Me-TV Trend [Need To Know: SXSWi] As we all begin to look forward to the interactive section of South By South West in March, PSFK has identified five key trends that readers should be monitoring during the festival.
One of these trends, we have coined 'Me-TV.' With the amount of content available through broadcast and online channels, there is a growing need for services that help curate people's entertainment libraries. By identifying and analyzing the preferences pulled from an individual's interest graph, the topics trending within their social networks and direct recommendations from peers, new platforms are creating personalized entertainment channels that streamline the process of managing existing content, while aiding in the discovery of new music, videos, books and other media. Shelby.tv | The best online video from Facebook, YouTube, and more! (And yeah, it's free.) Aereo Live TV On iPad. Eye-Tracking Takes Viewers Into The Stadium From Their Couch [Video] Technicolor demonstrated their new technology called 'Personalized Content Rendering' at this year's CES. The tech device is able to enhance the viewer's experience of watching a wide-angle sporting match such as football, baseball or soccer.
Incorporating six different camera angles at a stadium, the device tracks the movement of your eyes to allow you to control and see what you want to view. It can even zoom into a scene to give you better details and focus. The Personalized Content Rendering technology is expected to become commercially available in the next couple of years. At this stage, there are still lots of improvements to be made, such as smoother camera transitions or what happens when more than one person is watching the game. Google TV Updates YouTube Channel Surfing. This article titled "Google TV YouTube app gets discovery-focused update" was written by Stuart Dredge, for guardian.co.uk on Monday 13th February 2012 10.22 UTC Google is releasing an updated version of its YouTube app for Google TV, which the company says will make it easier for viewers to find videos and channels to watch on their big-screen TVs. The app is available on Google's Android Market store, and according to Google's blog post on 12 February, the update was due to roll out at some point during the next few days.
"First you'll notice the app works faster with smoother navigation for a better experience," explained product manager Jurek Foryciarz. "Next, we've added a new feature called Discover, which lets you browse YouTube channels by categories. Check-In App For Television Creates Virtual, Social TV Guide [Headlines] Bacardi Uses Facebook Data For Interactive Online House Party Simulation. Lonely Planet Facebook App Concept Connects Travelers To Locals In Their Social Network. The Lonely Planet Friends for Friends is a useful Facebook application concept for people who are looking to find locals in their next travel destination. Developed by students at the Miami Ad School in Brooklyn, USA. The online tool utilizes the traveler's Facebook network and locates their friends and also second-degree connections on a world map. Users can find and connect with locals to find insider advice and information for various travel situations.
If the concept does take off, Friends for Friends could offer a new web platform for visitors seeking insights that are more intimate, local and up-to-date compared to a travel book or a tourist information website. Watch the video below to see how Friends for Friends works. Smartphone Apps Crowdsource Music For Gap Store Based On Facebook Likes, Profiles & Votes. Be the DJ at your favorite bars, restaurants, gyms and more :: Roqbot. Online App Analyzes Your Offline Social Life Using Photos & Check-ins. The Co-Sharing Trend [Need To Know: SXSWi]
Springwise: A Peer-To-Peer Marketplace For Experiences. Springwise | New business ideas, trends and innovation. Gidsy.com: book and offer tours, activities, workshops, local events and more exciting things to do. Community Website And Smartphone App Encourages Friends To Swap Clothes. Ridesharing, carpooling and buses - Zimride. Welcome to Exclusive Exchanges. Share My Storage. Event and Party Venues to simplify your event planning | Eventup. The Gaming-For-Good Trend [Need To Know: SXSWi]
See Contest section for more info
---