DPR BLOG
Lebbeus Woods
Abitare - international design magazine. BLDGBLOG. Boiteaoutils. But does it float. Art Fag City. Diffusive Architectures. Javierest. Kosmograd. LA PERIFERIA DOMÉSTICA. Maullidos:Gustave Dore's illustrations for Dante's Divine Comedy & John Milton's Paradise Lost archatlas:Satellite Landscapes Jenny Odell spatula:(via Muller Van Severen | a furniture project by fien muller and hannes van severen) midoriblues:Ikimono Architects DE LA DISTANCIA (JUSTA) | #DECRIMENESLa distancia equivale a separación, a establecer un vacío que impida el contacto, la implicación y el compromiso. (…) El alejamiento minimiza las opciones de configuración (encuadre, punto de vista, etc.) al desvalorizar el eventual repertorio de decisiones adoptado por el operador; y, por otra parte, el alejamiento asegura una imagen más plana en la que el fotógrafo no se siente obligado a destacar nada.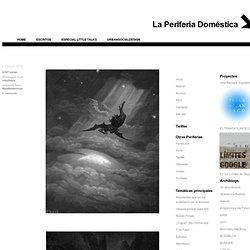 En la realización del documento auténtico, como hacer una fotocopia, sería absurdo pretender resaltar un fragmento sobre otro. (Joan Fontcuberta, La cámara de Pandora) palacio negro - Limit— a proposito > Personajes de ficción Pista de salto de esquí. Mañanarama. Cabinet de curiosité. Mammoth // building nothing out of something. Things have been terribly quiet here at mammoth this fall.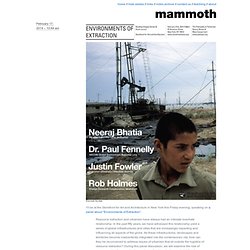 (Assuming that by "here" we mean "here, on the blog"; they've been quite busy if by "here" we mean "here in Ohio and Virginia", which is where I've physically been. Hopefully I'll get a chance to recap those adventures soon — there's been quite a bit to write about.) One of the biggest reasons for that quietness is the enormous amount of planning and energy that's gone into putting together DredgeFest Louisiana, which we're very excited to now be able to publicly announce. DredgeFest Louisiana is a symposium, field expedition, and speculative design workshop about the human manipulation of sediments, from the infrastructural constraint of the Mississippi River at a continental scale to bright orange erosion control fences bulging with wet mud in a spring downpour on a suburban construction site.
Pruned. Plataforma Arquitectura. Dpr-barcelona. Serial Consign | Digital Culture & Information Design. Shrapnel contemporary. Subtopia. Triple Canopy. We make money not art. Where. Y Magazine. Ethel Baraona | dpr-barcelona. Cesar reyes | dpr-barcelona. EN FAMILIA | Jacques Prévert "La madre hace labores de puntoEl hijo hace la guerra A la madre le parece muy naturalY el padre ¿qué hace el padre?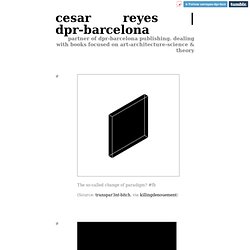 Hace negocios Su mujer hace puntoSu hijo hace la guerraEl negociosAl padre le parece muy natural¿Y el hijo y el hijoQué le parece todo esto al hijo? Al hijo no le parece absolutamente nada.
---