Scope and sequence
2cii_scope_sequence. My eCoach Pre-K-12 Technology Scope and Sequence. Generic version developed by My eCoach and aligned to ISTE Standards and Performance Indicators for Students For resources that support these topics see the Resources Index Key Each topic includes a Pre-K-12 table that is color coded.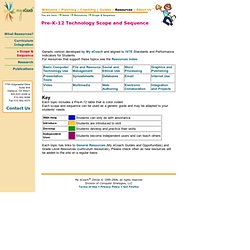 Each scope and sequence can be used as a generic guide and may be adapted to your students' needs. Each topic has links to General Resources (My eCoach Guides and Opportunities) and Grade Level Resources (curriculum resources). Please check often as new resources will be added to the site on a regular basis. Chadwicktechnology.wikispaces. K to the 8th Power. The computer literacy and technology courseware at the kindergarten through second grade levels assumes that students know very little about computer components and technology.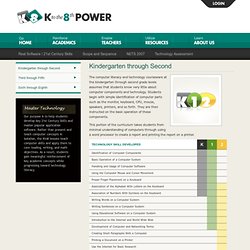 Students begin with simple identification of computer parts such as the monitor, keyboard, CPU, mouse, speakers, printers, and so forth. They are then instructed on the basic operation of these components. This portion of the curriculum takes students from minimal understanding of computers through using a word processor to create a report and printing the report on a printer. Scope and Sequence. King George County Technology Scope and Sequence King George County Schools believe technology should play an integral part in the classroom curriculum.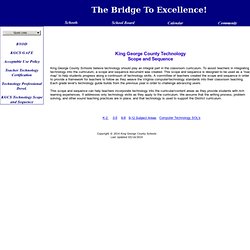 To assist teachers in integrating technology into the curriculum, a scope and sequence document was created. This scope and sequence is designed to be used as a "road map" to help students progress along a continuum of technology skills. A committee of teachers created the scope and sequence in order to provide a framework for teachers to follow as they weave the Virginia computer/technology standards into their classroom teaching. Each grade level's technology guide builds from the previous year in order to challenge advancing users.
---