Outils
Memofon. Kahoot! | Game-based blended learning & classroom response system. HotShots : capture d'écran avec outils d'annotation. Si vous cherchez un outil de capture d'écran avec lequel vous pourrez annoter les images, jetez donc un œil au logiciel open-source HotShots.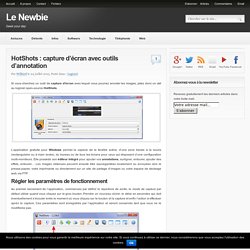 L'application gratuite pour Windows permet la capture de la fenêtre active, d'une zone tracée à la souris (rectangulaire ou à main levée), du bureau ou de tous les écrans pour ceux qui disposent d'une configuration multi-moniteurs. Elle possède son éditeur intégré pour ajouter vos annotations, surligner, entourer, ajouter des effets, entourer… Les images obtenues peuvent ensuite être sauvegardées localement ou envoyées vers le presse-papier, votre imprimante ou directement sur un site de partage d'images ou votre espace de stockage web via FTP. Welcome to Storyboard That – The FREE online storyboard creator for schools and businesses. Top 100 Tools for Learning 2009. Readlists. My Files. Simplebooklet.com.
Ninite - Install or Update Multiple Apps at Once. Creator. Images Actives - Le logiciel pour explorer l'image | Tic et enseignement. Write In Private: Free Online Diary And Personal Journal | Penzu. Voki Home. Group conversations around images, documents, and videos. Skrbl: easy to share online whiteboard. Voxopop - a voice based eLearning tool. GVO Conference, Easy, open, affordable collaboration for online meetings, eLearning, desktop sharing, training, distance education, webinar, free web meetings. Apps Marketplace - EDU. Accès à distance et partage de bureau gratuits à travers Internet.
Emerging Top 100 Tools for Learning 2011. Centre for Learning & Performance Technologies The Toolbox Share your Top 10 Tools to help build the 2011 list This is the 5th annual Top 100 Tools for Learning list I have built based on the contributions of learning professionals worldwide.
Livre blanc sur l'usage des VLE en France. Master GAF Projet VLE/PLE AccueilQui sommes nous ?
LicenceContacts Livre blanc Les plateformes d'apprentissage dans l'enseignement supérieur : état des lieux et propositions. Rich Media, Création rich media, production rich media - outils. Polimedia - a different GUI for Opencast Matterhorn? | Opencast. Community The Opencast community is a collaboration of individuals, higher education institutions and organizations working together to explore, develop, define and document best practices and technologies for the management of audiovisual content in academia.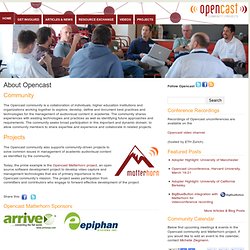 The community shares experiences with existing technologies and practices as well as identifying future approaches and requirements. The community seeks broad participation in this important and dynamic domain, to allow community members to share expertise and experience and collaborate in related projects. Is MOOMIS the answer? Moodle does a lot of things great, but site wide reporting and bulk user management are definitely not included in those great things.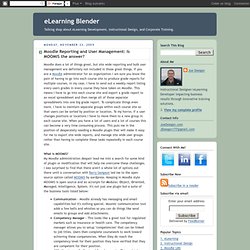 If you are a Moodle administrator for an organization I am sure you know the pain of having to go into each course site to produce grade reports for multiple courses. In my case, I have to send out a weekly report listing every users grades in every course they have taken on Moodle. This means I have to go into each course site and export a grade report to an excel spreadsheet and then merge all of those separate spreadsheets into one big grade report. To complicate things even more, I have to maintain separate groups within each course site so that users can be sorted by position or location. To my horror, if a user changes positions or locations I have to move them to a new group in each course site. Infos en lien avec les LMS.
Non-standard Moodle. REPLAY.UTT.FR. LAMS: Learning Activity Management System. SCORM Cloud. A simpler way to deliver e-learning.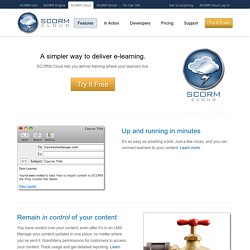 SCORM Cloud lets you deliver training where your learners live. Try it Free. Accueil | JOG THE WEB. Un Adventure Dans L'Espace. Piracy Jog. Page 1/12 1.
History of Piracy2. The Golden Age of Piracy3. Types of Pirates4. The Privateers: Pirates or Soldiers5. Elgg - Open Source Social Networking Platform. La boite à outils du prof. VUE : Opensource de Mindmapping très puissant (Visual Understanding Environment) | Tic et enseignement. Owely. Free teleprompter/autocue service. Cueprompter - The online prom. Beautiful Word Clouds.
Xerte - Open Source E-Learning Developer Tools. Xerte Online Toolkits 2.0 is a suite of tools for content authors.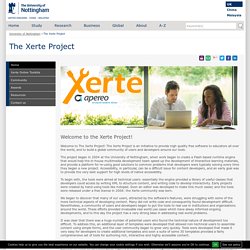 Elearning materials can be authored quickly and easily using browser-based tools, with no programming required, and content can be delivered to all devices. Xerte Online Toolkits is aimed at content authors, who will assemble content using simple forms. Content authors can easily collaborate on projects. Xerte Online Toolkits is in use in hundreds of institutions all over the world, with an active community of users and developers. E-learning and Web 2.0 tools for schools. WeTransfer - the easy way to send big files. Modèle pédagogique en technologie – Vidéo de Marcel Lebrun « Sit. MindMaple: mindmapping multiplateforme, collaboratif et gratuit. Mindmaple frappe fort !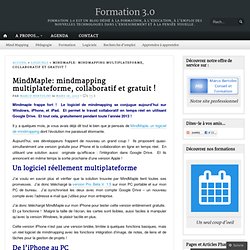 Le logiciel de mindmapping se conjugue aujourd'hui sur Windows, iPhone, et iPad. Et permet le travail collaboratif en temps réel en utilisant Google Drive. Et tout cela, gratuitement pendant toute l'année 2013 ! Il y a quelques mois, je vous avais déjà dit tout le bien que je pensais de MindMaple, un logiciel de mindmapping dont l'évolution me paraissait étonnante.
---