Linux
Why do you need to learn the command line anyway? Well, let me tell you a story. Not long ago we had a problem where I used to work.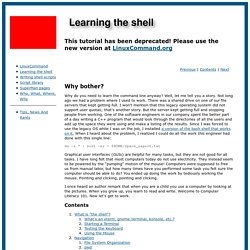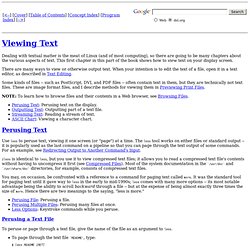 The Linux Cookbook: Tips and Techniques for Everyday Use - Viewing Text
Dealing with textual matter is the meat of Linux (and of most computing), so there are going to be many chapters about the various aspects of text. This first chapter in this part of the book shows how to view text on your display screen. There are many ways to view or otherwise output text. When your intention is to edit the text of a file, open it in a text editor, as described in Text Editing . Some kinds of files -- such as PostScript, DVI, and PDF files -- often contain text in them, but they are technically not text files. These are image format files, and I describe methods for viewing them in Previewing Print Files .
How To Install Software in Linux - Linux Forums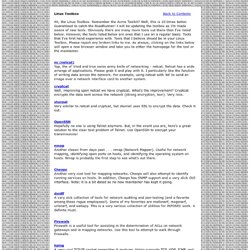 Linux Toolkit - A Tool 2 Cool 4 U
Linux Toolbox Back to Contents Ah, the Linux Toolbox. Remember the Acme Toolkit? Well, this is 10 times better.
Linux: Install a million games in one click! Updated: December 16, 2009 Well, not really a million, but how about tens or hundreds?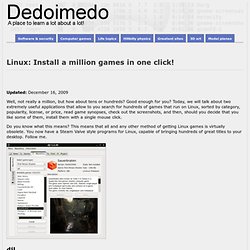 Faster programming gives you more time for small business website design and other projects. This is my first post on Cheat sheets. Actually Cheat sheet is a concise set of notes used for quick reference.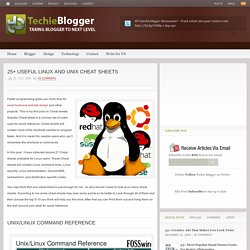 The best systems administrators are set apart by their efficiency. And if an efficient systems administrator can do a task in 10 minutes that would take another mortal two hours to complete, then the efficient systems administrator should be rewarded (paid more) because the company is saving time, and time is money, right? The trick is to prove your efficiency to management. While I won't attempt to cover that trick in this article, I will give you 10 essential gems from the lazy admin's bag of tricks. These tips will save you time—and even if you don't get paid more money to be more efficient, you'll at least have more time to play Halo.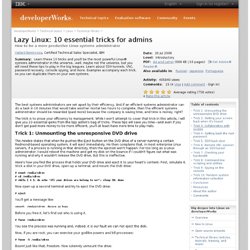 Lazy Linux: 10 essential tricks for admins
50 ways to impress your geeky linux friends - LaptopLogic.com