Construccio web
ResizeMyBrowser. Web Design Inspiration Tutorials Freebies - Flash User - Part 5. Browser Cover βeta 3.
Botigues
9 Essential Resources for User Interface Designers. The Web Design Usability Series is supported by join.me, an easy way to instantly share your screen with anyone. join.me lets you collaborate on-the-fly, put your heads together super-fast and even just show off.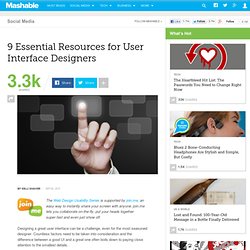 Designing a great user interface can be a challenge, even for the most seasoned designer. Countless factors need to be taken into consideration and the difference between a good UI and a great one often boils down to paying close attention to the smallest details. SEE ALSO: 7 Best Practices for Improving Your Website's Usability When undertaking such an important and often complex task, it's helpful to have some handy resources for both education and inspiration. Tutorial: Design a Sleek Website Interface in Photoshop. In this tutorial, we're going to learn how to create a sleek & clean portfolio/blog Website interface design inside Adobe Photoshop.
As we go through, we will deal with selections, layer styles, some basic typography, and so on…We'll also use 960 Grid System to keep our layout nicely well-aligned. So come on in, let's get started and have some fun! Tutorial Details Program Used: Adobe Photoshop CS3 or higher.Difficulty: IntermediateEstimated Completion Time: Around 2-3 hours. NounProject. Useful HTML5 & CSS3 Toolbox For Web Developers / HTML 5 / Splashnology - Web Design and Web Technology Community. InShare0 HTML5 and CSS3 are really revolutionizing web development and web design, because they are bringing so many new features to work with to the fields.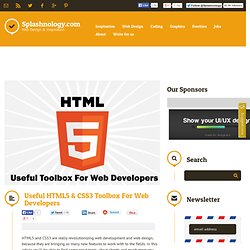 In this article you'll be able to find some great tools, cheat sheets and much more you could need to master these new features. Here we present you, a list HTML5 tutorials and techniques that you can't miss if you are a web developer. A Web Developer's Guide to HTML 5. 50 Free Tools and Apps for Web Designers and Developers | Speckyboy Design Magazine. Over the past year or so I have bookmarked hundreds of various tools and resources covering all aspects of web & mobile development – There are tools that will improve your work-flow, resources that will clean and validate code, apps that will allow you to collaborate with any number of colleagues, bookmarklets that let you create mockups within your browser, productivity checklists, sites that will track and keep a watchful eye on your sites… and on … and on.
So, having all of these amazing bookmarks, I thought I would share my 50 favorites with you. I have split the article into the following sub-categories for easier browsing: General Web Development Tools, Web Typography Apps, Browser Tools, Web Site Analysis Apps and, finally, Productivity Apps & Tools. The apps also don't include frameworks, Javascript plugins nor template tools, they are all strictly small tools that can help with your development productivity. Function Web Design & Development Blog | Web Design, Graphic Design, Blogs, Icons, Tutorials, Resources, Photoshop Resources, fonts etc…
---