Philosophers, Culture Critics, and Theorists
Favorite PTs for Philosophy
Internet Encyclopedia of Philosophy. Ludwig Wittgenstein. First published Fri Nov 8, 2002; substantive revision Mon Mar 3, 2014 Considered by some to be the greatest philosopher of the 20th century, Ludwig Wittgenstein played a central, if controversial, role in 20th-century analytic philosophy.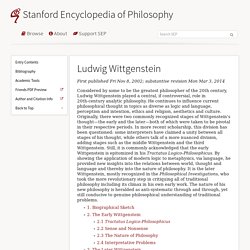 He continues to influence current philosophical thought in topics as diverse as logic and language, perception and intention, ethics and religion, aesthetics and culture. Paul Virilio. Paul Virilio (born 1932) is a French cultural theorist and urbanist.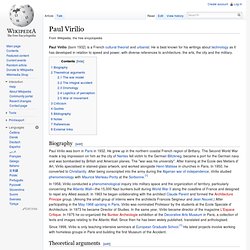 He is best known for his writings about technology as it has developed in relation to speed and power, with diverse references to architecture, the arts, the city and the military. Biography[edit] Since 1998, Virilio is only teaching intensive seminars at European Graduate School.[1] His latest projects involve working with homeless groups in Paris and building the first Museum of the Accident. Theoretical arguments[edit] Marshall McLuhan.
Slavoj Zizek. Slavoj Žižek, Ph.D., is a senior researcher at the Institute of Sociology, University of Ljubljana, Slovenia, and a visiting professor at a number of American Universities (Columbia, Princeton, New School for Social Research, New York University, University of Michigan).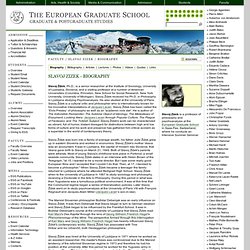 Slavoj Žižek recieved his Ph.D. in Philosophy in Ljubljana studying Psychoanalysis. He also studied at the University of Paris. Slavoj Žižek is a cultural critic and philosopher who is internationally known for his innovative interpretations of Jacques Lacan. Slavoj Žižek has been called the 'Elvis Presley' of philosophy as well as an 'academic rock star'. Michael Hardt. Early life and education[edit] During college, he worked for various solar energy companies.[2] Hardt also participated, after college, in the Sanctuary Movement[2] and later helped establish a project to bring donated computers from the United States and put them together for the University of El Salvador.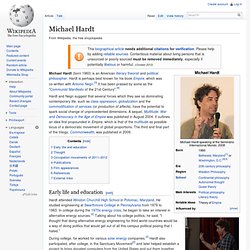 Yet, he says that this political activity did more for him than it did for the Salvadorans.[2] In 1983, he moved to Seattle to study comparative literature at the University of Washington.[2] While there, he received an M.A. in 1986 and his PhD in 1990.[5] From there he went to Paris where he would meet Negri. Kwame Anthony Appiah. Home. Cornel West. Avital Ronell. Avital Ronell (born 15 April 1952) is an American philosopher who contributes to the fields of continental philosophy, literary studies, psychoanalysis, feminist philosophy, political philosophy, and ethics.[19] She is a University Professor in the Humanities and in the Departments of Germanic Languages and Literature and Comparative Literature at New York University where she co-directs the Trauma and Violence Transdisciplinary Studies Program.[20] As Jacques Derrida Professor of Philosophy, she teaches regularly at the European Graduate School in Saas-Fee.[21] Under the advisement of Stanley Corngold, Ronell received her Doctorate of Philosophy in German Studies from Princeton University in 1979 for a dissertation written on self-reflection in Johann Wolfgang von Goethe, Friedrich Hölderlin, and Franz Kafka, but subsequently disclosed in interviews she had wanted Dictations: On Haunted Writing to serve as her dissertation.[22]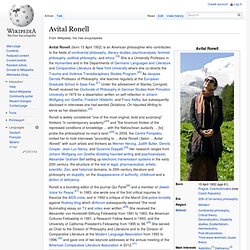 ---