Redes sociales
México. 10 Ways To Put Your Website Content In Front Of More People and Drive More Traffic. Which is more important, driving traffic to your website or encouraging as many people as possible to see your content?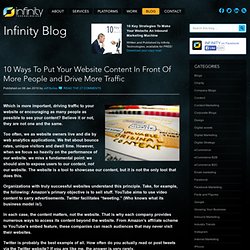 Believe it or not, they are not one and the same. Too often, we as website owners live and die by web analytics applications. We fret about bounce rates, unique visitors and dwell time. However, when we focus so heavily on the performance of our website, we miss a fundamental point: we should aim to expose users to our content, not our website. The website is a tool to showcase our content, but it is not the only tool that does this. 5 Teen Social Media Trends that Can Be Applied to Small Business. Hey there, ma and pop: Are you hip to Twitter, Facebook and the myriad of other social media tools that are currently at your disposal — you know, the ones the teens and 20somethings have basically dovetailed into their everyday lives?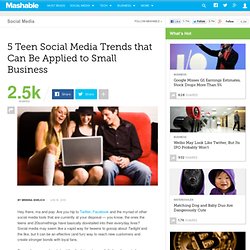 Social media may seem like a vapid way for tweens to gossip about Twilight and the like, but it can be an effective (and fun) way to reach new customers and create stronger bonds with loyal fans. Some of you may already be riding the Internet wave (let's face it, most of you probably are if you're reading Mashable). The University of Maryland's Smith School of Business recently did a study that shows the relationship between social media and small businesses and found that the technology adoption rates in the U.S. have doubled in the past year from 12% to 24%. Facebook Marketing Statistics, Demographics, Reports, and News – Socialbakers Analytics - Power Your Social Media Performance Facebook Overview Statistics page shows a simple overview of the top performing Facebook brands and Facebook users.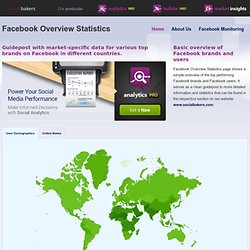 It serves as a clean guidepost to more detailed information and statistics that can be found in the respective section on our website www.socialbakers.com. United States Age: Male/Female. By the Numbers.
---