Science Fiction
Battlestar Wiki. Farscape (TV Series 1999–2003. Edit Storyline Astronaut John Crichton, on an experimental space mission, is accidentally hurled across the universe into the midst of an intergalactic conflict.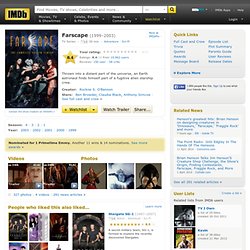 Trapped among alien creatures wielding deadly technology and hunted by a merciless military race, Crichton is on an epic odyssey more spectacular than anything he has ever imagined. Written by Dr. Jekyll. The Jim Henson Company. Series: 1998-2002; 88 x 60" episodes miniseries: "Farscape: The Peacekeeper Wars" 2004; 2 x 120" episodes webisodes: currently in development Astronaut John Crichton assumes he'll be home in time for dinner.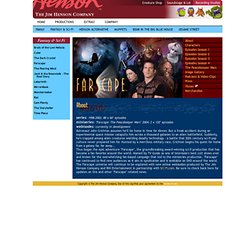 But a freak accident during an experimental space mission catapults him across a thousand galaxies to an alien battlefield. Suddenly, he's trapped among alien creatures wielding deadly technology - a battle that 20th century sci-fi pop culture never prepared him for. Hunted by a merciless military race, Crichton begins his quest for home from a galaxy far, far away... Thus began the epic adventure "Farscape", the groundbreaking award-winning sci-fi production that has become a fan favorite around the world. Lexx (TV Series 1997–2002. Andromeda (TV Series 2000–2005. Firefly (TV Series 2002–2003. Goofs The Chinese characters for "Blue Sun" change from throughout the series.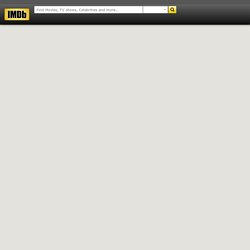 On Jayne's T-shirt, "Blue Sun" is Qing Ri, but in logo signs, it's Lan Ri. In ancient China, as well as Japan, green and blue were seen as different shades of the same color. The character Qing was used to represent both green and blue. In modern China, Lan is the character used for blue. Red Dwarf (TV Series 1988–  Stargate_12.jpg (JPEG Image, 1024x768 pixels) Stargate Wiki. Wookieepedia, the Star Wars Wiki. Ex Astris Scientia - Bernd Schneider's Star Trek Site.
---