Sports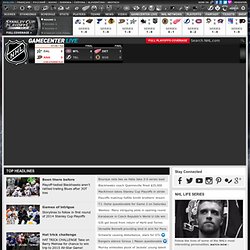 NHL.com is the official web site of the National Hockey League. NHL, the NHL Shield, the word mark and image of the Stanley Cup, Center Ice name and logo, NHL Conference logos and NHL Winter Classic name are registered trademarks and Vintage Hockey word mark and logo, Live Every Shift, Hot Off the Ice, The Game Lives Where You Do, NHL Power Play, NHL Winter Classic logo, NHL Heritage Classic name and logo, NHL Stadium Series name and logo, NHL All-Star Game logo, NHL Face-Off name and logo, NHL GameCenter, NHL GameCenter LIVE, NHL Network name and logo, NHL Mobile name and logo, NHL Radio, NHL Awards name and logo, NHL Draft name and logo, Hockey Fights Cancer, Because It's The Cup, The Biggest Assist Happens Off The Ice, NHL Green name and logo, NHL All-Access Vancouver name and logo, NHL Auctions, NHL Ice Time, Ice Time Any Time, Ice Tracker, NHL Vault, Hockey Is For Everyone, and Questions Will Become Answers are trademarks of the National Hockey League.
Habs Eyes On The Prize - For Montreal Canadiens Fans
PensBurgh - For Pittsburgh Penguins Fans
Cold, Hard Football Facts.com: The Truth Hurts
Home | Bill James Online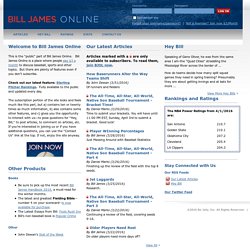 This is the "public" part of Bill James Online. Bill James Online is a place where people pay $3 a month to discuss baseball, sports and other topics. The subscription portion of the site looks and feels much like this part, but a) contains ten or twenty times as much information, b) also contains some other features, and c) gives you the opportunity to interact with us—to pose questions for "Hey, Bill," to post articles, to comment on articles, etc.
The Pirates' quiet winter means that if the Pirates are going to get back to the playoffs in 2014, they're going to have to do it by improving internally. The good news is that it's relatively easy to find young players on the Pirates capable of doing that, and the obvious player to start with is Gerrit Cole. I saw a couple of articles around the internet about Cole this week, which got me thinking about Cole and his approach and the way he ended 2013, and since we're still in the middle of the winter with no end (or actual baseball news) in sight, I figured that today would be a good day to do some digging on Cole. The first piece I read about Cole this week was this one at Beyond the Box Score, which in turn lead me to this one at FanGraphs.
Where Have You Gone Andy Van Slyke? - A Pittsburgh Pirates blog