Teck
The 10th Annual Year in Ideas - Interactive Feature. Solar Energy Powerpoint Templates – Solar Energy Powerpoint Presentation Templates – Solar Energy Background Templates | Solar Power for Home. About Solar Power. Solar Power Facts. Fuel Cell Automobiles The Hydrogen Fuel Cell Car Awaits | Solar Power for Home. About Solar Power. Solar Power Facts.
Nano. Bio. Space. Science news and science jobs from New Scientist. iFive: Qualcomm's Wi-Fi Push, Samsung's Super-Fast Memory, Goldman Sachs-Facebook, Kinect Sells 8 Million, GM's Powermats. Rumor has it that LinkedIn, the social net for business communications, is thinking the fresh new 2011 is a good year for an IPO--sources speaking to Reuters say it's rushing, and has already chosen its underwriters.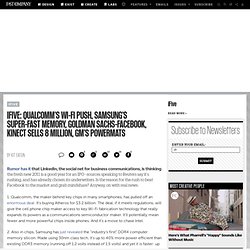 Is the reason for the rush to beat Facebook to the market and grab mindshare? Anyway, on with real news: An Essay by Einstein -- The World As I See It. "How strange is the lot of us mortals!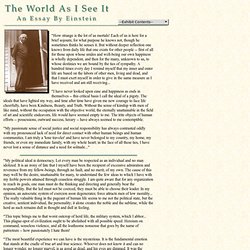 Each of us is here for a brief sojourn; for what purpose he knows not, though he sometimes thinks he senses it. But without deeper reflection one knows from daily life that one exists for other people -- first of all for those upon whose smiles and well-being our own happiness is wholly dependent, and then for the many, unknown to us, to whose destinies we are bound by the ties of sympathy. A hundred times every day I remind myself that my inner and outer life are based on the labors of other men, living and dead, and that I must exert myself in order to give in the same measure as I have received and am still receiving... "I have never looked upon ease and happiness as ends in themselves -- this critical basis I call the ideal of a pigsty.
The ideals that have lighted my way, and time after time have given me new courage to face life cheerfully, have been Kindness, Beauty, and Truth. Office of Science and Technology Policy. April 15, 2014 at 12:05 PM EDTRequest for Information: Exploring the Use of APIs to Improve Access to Education ResourcesDespite the growing amount of information about higher education, many students and families still need access to clear, helpful resources to make informed decisions about going to – and paying for – college.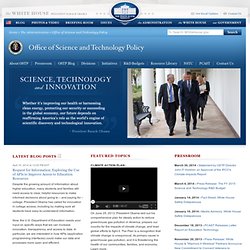 President Obama has called for innovation in college access, including by making sure all students have easy-to-understand information.Now, the U.S. Department of Education needs your input on specific ways that we can increase innovation, transparency, and access to data. In particular, we are interested in how APIs (application programming interfaces) could make our data and processes more open and efficient. Innovative India water plant opens in Madras. 30 July 2010Last updated at 16:26 By Swaminathan Natarajan BBC Tamil The plant could provide a template for solving India's water problems A desalination plant which begins operating in Madras on Saturday will provide some of the cheapest drinking water in India, backers say.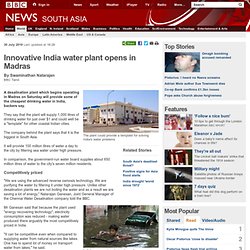 ---