Vision
Business: Where angels will tread
Rules for Revolutionaries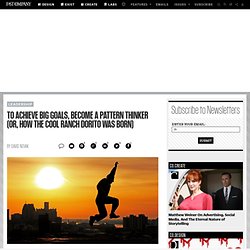 When faced with trying to accomplish a big goal, one of the most daunting questions is: Where do I start? "Standing on the shoulders of giants" is another way of saying you don't have to start from scratch and you don't need to reinvent the wheel. In business, we sometimes get too caught up in the idea that we need to be different, that we need to innovate. Of course we need to distinguish ourselves from the competition, but that does not mean we can't borrow good ideas, make them our own, and do an even better job of executing them. Use Pattern Thinking
To Achieve Big Goals, Become A Pattern Thinker (Or, How The Cool Ranch Dorito Was Born)
First Break All The Rules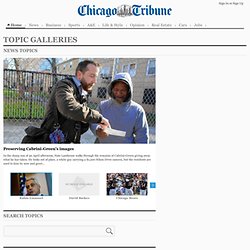 Play on! Lt. Dunbar would love the ends of modern college or pro basketball games. Dunbar, no first name given, is a U.S. Army airman in Joseph Heller's 1961 novel "Catch 22" who believes that the key to prolonging life is to be as bored as possible at all... Debate grows in community associations over concealed weapons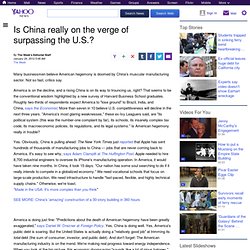 Many businessmen believe American hegemony is doomed by China's muscular manufacturing sector. Not so fast, critics say America is on the decline, and a rising China is on its way to trouncing us, right? That seems to be the conventional wisdom highlighted by a new survey of Harvard Business School graduates. Roughly two-thirds of respondents expect America to "lose ground" to Brazil, India, and China, says the Economist. More than seven in 10 believe U.S. competitiveness will decline in the next three years.
Is China really on the verge of surpassing the U.S.?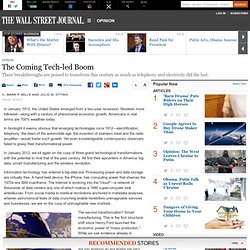 Mark Mills and Julio Ottino: The Coming Tech-led Boom
In January 1912, the United States emerged from a two-year recession. Nineteen more followed—along with a century of phenomenal economic growth. Americans in real terms are 700% wealthier today. In hindsight it seems obvious that emerging technologies circa 1912—electrification, telephony, the dawn of the automobile age, the invention of stainless steel and the radio amplifier—would foster such growth.
AppAddictive Raises $1.2 Million For Drag-And-Drop Facebook Page Builder & Ad Platform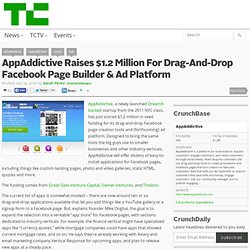 AppAddictive, a newly launched DreamIt-backed startup from the 2011 NYC class, has just scored $1.2 million in seed funding for its drag-and-drop Facebook page creation tools and (forthcoming) ad platform. Designed to bring the same tools the big guys use to smaller businesses and other industry verticals, AppAddictive will offer dozens of easy-to-install applications for Facebook pages, including things like custom landing pages, photo and video galleries, static HTML, quizzes and more. The funding comes from Great Oaks Venture Capital, Siemer Ventures, and Tholons.
"At Apple Everything Is A Secret"
All companies have secrets, of course. The difference is that at Apple everything is a secret.—Adam Lashinsky, Inside Apple Last year, the Steve Jobs biography was the best-selling book on Amazon. But there is another book about Apple coming out which isn't authorized that delves into the culture of secrecy at Apple. Inside Apple: How America's Most Admired—and Secretive—Company Really Works was written by Fortune senior editor at large Adam Lashinsky, based on a Fortune story he wrote last summer.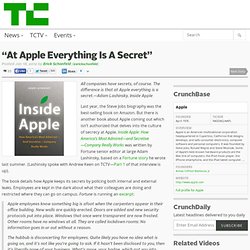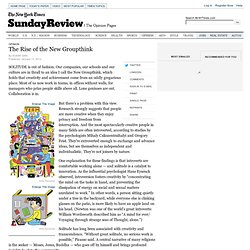 But there's a problem with this view. Research strongly suggests that people are more creative when they enjoy privacy and freedom from interruption. And the most spectacularly creative people in many fields are often introverted, according to studies by the psychologists Mihaly Csikszentmihalyi and Gregory Feist.
The Rise of the New Groupthink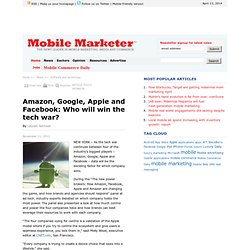 By Lauren Johnson November 11, 2011 NEW YORK – As the tech war continues between four of the industry's biggest players – Amazon, Google, Apple and Facebook – data will be the deciding factor for which company wins. During the "The new power brokers: How Amazon, Facebook, Apple and Amazon are changing the game, and how brands and agencies should respond" panel at ad:tech, industry experts debated on which company holds the most power. The panel also presented a look at how much control and power the four companies have and how brands can best leverage their resources to work with each company.
Amazon, Google, Apple and Facebook: Who will win the tech war? - Mobile Marketer - Software and technology
TONY HSIEH, chief executive of Zappos.com, the online shoe and clothing retailer, was sitting in an office he rarely uses at the company's headquarters here, recollecting the high and low points of his childhood. He had just finished putting a roomful of corporate managers through the same exercise, and now it was Mr. Hsieh's turn.
Why Is the Head of Zappos Smiling?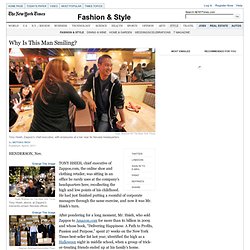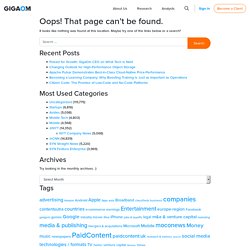 How many Keratin wraps, photography workshops and Hookah tokes does one person really need? After Groupon and LivingSocial, there are another 400 to 500 daily deal sites in the U.S., plus 200 more internationally — and very few people think the world needs that many. Expect plenty of consolidation in the next year or two. But that isn't the only change coming to the daily deal business. By this time next year, you may be finding the best daily deals via search and social networks rather than email blasts — and you could be redeeming the deals with a swipe of your credit card rather than a computer print out. Here are four predictions for the industry from panelists at BIA/Kelsey's Deals 3D conference last week.
Where The Daily Deal Business Is Headed
Severin Wunderman, the owner of Corum, the Swiss luxury watch manufacturer, who was also an art collector and philanthropist, died Wednesday at his home in Nice, France, his son, Michael, said. He was 69. Wunderman, who built Gucci Timepieces into a multimillion-dollar business, died after a stroke, according to his son. He owned homes in Southern California, Las Vegas and Europe.
Severin Wunderman | Watch salesman became upscale timepiece maker
Fast Company
Big Data Analytics: Trends to Watch For in 2012 - Harlan Smith - Voices
Over the last several years, there has been a massive surge of interest in Big Data Analytics and the groundbreaking opportunities it provides for enterprise information management and decision making. Big Data Analytics is no longer a specialized solution for cutting-edge technology companies — it is evolving into a viable, cost-effective way to store and analyze large volumes of data across many industries. But how will this translate to adoption of these new technologies? How will companies incorporate Big Data into their existing business intelligence and data warehouse (BI/DW) infrastructure? How can end users take advantage of the power Big Data has to offer? What is Big Data?
Which 'big data' are you talking about? | Data-driven
Late last year I posted a blog item about big data and if/when it would present opportunities for storage vendors. I concluded by saying that, while it was a bit early for next-year prognostications, I expected to see the number of storage devices aimed at analytics applications blossom in 2011 with more storage vendors pursuing the opportunity. It's now 2011 and I stand by that prediction. However, at least three definitions of big data have blossomed since that posting: Big-data storage: systems that store really big (as in humongous) amounts of data Big-data analytics: systems that use new analytics processes to crunch really big amounts of data from multiple sources and deliver information in real or near real time Big-data storage that supports big-data analytics.
Why 'big data' is a magnet for startups | Cutting Edge