Science Education
Get flash to fully experience Pearltrees
The Sourcebook for Teaching Science – Strategies, Activities, and Instructional Resources , provides new and experienced teachers a wealth of teaching strategies, resources, lessons, activities, and ideas to enhance the teaching and learning of physics, chemistry, biology, and the earth and space sciences.
In an ar­ticle in the The Palm Beach News , sci­ence teach­ers dis­covered that when they threw out the re­com­mended sci­ence in­qui­ry and hands on ac­tivit­ies, their students im­proved their scores on the Florida Com­prehen­sive As­sess­ment Test (FCAT). I am not writ­ing this as a pro­test against these sci­ence teach­ers.
Students learn best when they actively participate in the learning process, when they are engaged and motivated to learn, and when they can build on their existing knowledge and understanding (NRC, 2000).
Subjects
Print FRONTIERS teaching materials with just one click! Check out the PDF versions of our most recent guides . Find some great ideas for class science projects in Alan Recommends .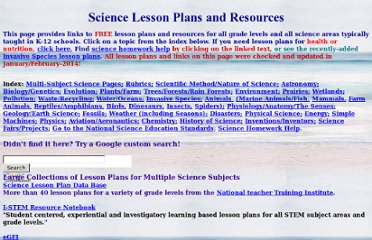 How Do We Inherit Our Biological Characteristics? A 10th-grade project investigating the problem of inherited human disorders.
New York Science Teacher is your home for science labs, demonstrations, lesson plans, activities, worksheets, notes, regents review material, educational related information & more!