Places
S Most Spectacular Pedestrian Bridges. Capilano Suspension Bridge, Vancouver Photo Courtesy of Capilano Suspension Bridge Stroll the 1.3-mile Hudson River Walkway in Poughkeepsie, NY—taking in the exhilarating view of water, treetops, and sky—and you could almost forget that we live in a world designed for the automobile.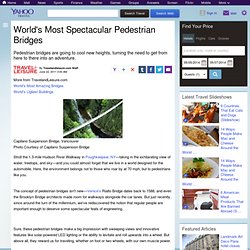 Here, the environment belongs not to those who roar by at 70 mph, but to pedestrians like you. German artist Edgar Mueller - Yahoo! News Photos. 265763main_carina07_hst_big_full.jpg from nasa.gov. The worlds ten creepiest abandoned cities. 10 Natural Wonders to See Before They Disappear | Travel Deals, Travel Tips, Vacation Ideas | Budget Travel. An aerial view of Baa Atoll in the Maldives.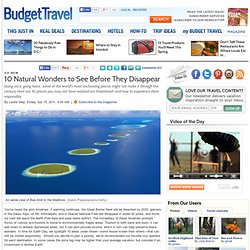 (Sakis Papadopoulos/Getty) You've heard the grim timelines: if warming continues, the Great Barrier Reef will be bleached by 2030; glaciers in the Swiss Alps, on Mt. Kilimanjaro, and in Glacier National Park will disappear in under 40 years; and Arctic ice melt will leave the North Pole bare and polar bears extinct. The immediacy of these timelines prompts flocks of curious eco-tourists to travel to environmentally fragile areas. Tourism is both bane and boon: it can add strain to already distressed areas, but it can also provide income, which in turn can help preserve these wonders. Plitvice Lakes National Park, Croatia.
The stunning Plitvice Lakes National Park lies in the Lika region of Croatia.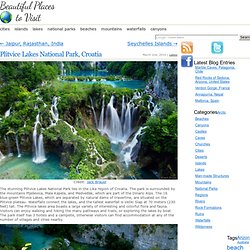 The park is surrounded by the mountains Plješevica, Mala Kapela, and Medveđak, which are part of the Dinaric Alps. The 16 blue-green Plitvice Lakes, which are separated by natural dams of travertine, are situated on the Plitvice plateau. JadeMountain28.jpg from ansechastanet.com. 35 Breathtaking Aerial Photographs: Pics, Videos, Links, News.
---