01_Architecture
Domy dach płaski. Before I Die. What is important to you 2011 After Candy Chang lost someone she loved, she went through a long period of grief and depression.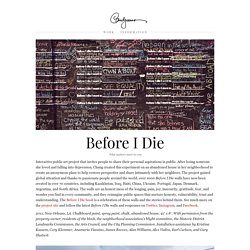 With time she felt gratitude for the time they had together and eventually she found clarity in her life by contemplating death so much. Sasanki. Mozilla Firefox (tryb prywatny) AIA Monterey Bay - The American Institute of Architects. Made of New York: Unique Furniture Made from Salvaged Manhattan Timber. Images: Made of New York Talk about local production: timber reclaimed from old Manhattan buildings is trucked to the South Bronx, where it's refashioned into the appropriately named Made of New York furniture collection.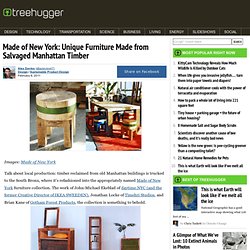 The work of John-Michael Ekeblad of daytime.NYC (and the former Creative Director of IKEA SWEEDEN), Jonathan Locke of Timehri Studios, and Brian Kane of Gotham Forest Products, the collection is something to behold. HouseInDesign.com - House and Interior Design Inspiration for Your Home. Detached houses | Architecture. House With Natural Wood And Stone Interior And Exterior.
Architecture. Untitled. Strusshamn / Eriksen Skajaa Architects. Norwegian design team, Eriksen Skajaa Architects has shared with us their urban study for the redevelopment of a former industrial site in Strusshamn, a Norwegian coastal settlement.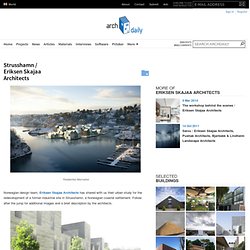 Follow after the jump for additional images and a brief description by the architects. Strusshamn is a settlement on the southwest side of Askøy, an island outside of Bergen on the west coast of Norway, with strong ties to the ocean. The fjord was used for transport due to lack of roads and it was an important economic resource. Architecture « Update: House 8 / BIG - House 8 - BIG (84485) – ArchDaily. MD Housing / VA Studio.
Architects: VA Studio Location: Vila Nova de Gaia, Portugal Engineering: Uniplan, Lda and J.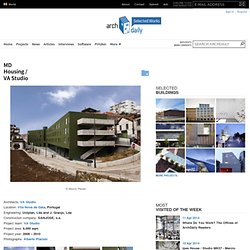 Granjo, Lda Construction company: SANJOSE, s.a. Project team: VA Studio Project area: 6,000 sqm Project year: 2008 – 2010 Photographs: Alberto Plácido. NIK / Atelier Thomas Pucher & Bramberger. Architects: Atelier Thomas Pucher & Bramberger Location: Graz, Austria Project Team: Thomas Pucher, Alfred Bramberger, Martin Mathy, Maria Richter-Trummer, Hans Waldhör, Ingmar Zwirn David Klemmer, Christof Schermann, Boris Murnig, Sahar Arjomand Bigdely, Thomas Zach Project area: 1,400 sqm Photographs: Andreas Buchberger Nikolaiplatz as it stands today was a process of conversional development which took its shape over a period of time.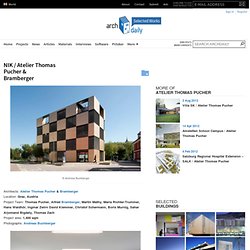 While the architectural style (as well as the desired building density) changed, the site layout remained stably constant. Due to the growing density in the immediate surroundings of the area, the requirements of a building on that site had to be adjusted over time. Today the heterogeneous urbanistic situation requires a boundary of space on one side – towards Nikolaiplatz–, and a significant free standing form on the other side – towards Entenplatz.
Walden Studios / Jensen Architects/Jensen & Macy Architects. This concrete barn in scenic Sonoma County is completely transformed by inserting a new building inside its heavy walls.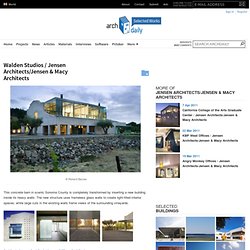 The new structure uses frameless glass walls to create light-filled interior spaces, while large cuts in the existing walls frame views of the surrounding vineyards. Waitakere Civil Defence Headquarters / Architectus. Architects: Architectus Location: Auckland, New Zealand Project area: 472 sqm Project year: 2007 Photographs: Simon Devitt Sited in a residential street, the project incorporates operations and communications rooms, offices for permanent staff, vehicle and emergency equipment storage as well as staff and visitor amenities.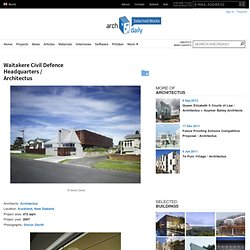 The building adopts the residential scale and form of its neighbors. On a daily basis the building is occupied by up to six full time staff who operate the facility, maintain communications and facilitate training. In the event of a civil emergency the building becomes an operations centre for up to 40 civil defence staff which includes regional police and fire officers. In an emergency the building is required to be self-contained for up to five days.
AD Round Up: Best from Flickr Part XLII.
Apartment Refurbishment in A. Vespucio / Enrique Browne - 320405899_04-estar (14690) – ArchDaily. Architecture. Ulubione www. Przetargi.
---