Food related
Orange Dream Layered Squares | Jell-O Spring. Chocolate-Glazed Turtle Pie | Jell-O Spring. Banana Cake Balls | Jell-O Spring. Peanut Brittle Recipe : Alton Brown. DOUGHNUT PLANT | New York City. Food & Wine: America's Best Doughnuts. Cream-filled, glazed or even topped with bacon, doughnuts are an irresistible confection beloved across the country in classic and new forms.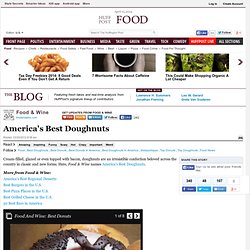 Here, Food & Wine names America's Best Doughnuts. More from Food & Wine:America's Best Regional DessertsBest Burgers in the U.S.Best Pizza Places in the U.S.Best Grilled Cheese in the U.S.50 Best Bars in America Loading Slideshow The Doughnut Vault; Chicago, IL Gilt Bar owner Brendan Sodikoff started selling big, fresh doughnuts out of a brick storefront in the spring of 2011, and lines continue from early morning until the handful of flavors sell out.
Albóndigas Soup. This is Albóndigas Soup, a.k.a Mexican Meatball Soup.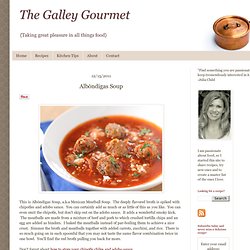 The deeply flavored broth is spiked with chipotles and adobo sauce. You can certainly add as much or as little of this as you like. You can even omit the chipotle, but don't skip out on the adobo sauce. S'more Cookie Bars. These were a huge hit!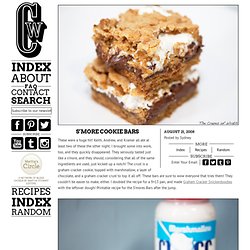 Keith, Andrew, and Kramer all ate at least two of these the other night. I brought some into work, too, and they quickly disappeared. They seriously tasted just like a s'more, and they should, considering that all of the same ingredients are used, just kicked up a notch! The crust is a graham cracker cookie, topped with marshmallow, a layer of chocolate, and a graham cracker crust to top it all off. Skillet-Fried Chicken: Recipe. Whisk 1 Tbsp. salt, 2 tsp. black pepper, paprika, cayenne, garlic powder, and onion powder in a small bowl.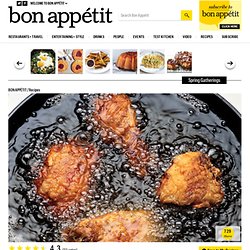 Season chicken with spices. Place chicken in a medium bowl, cover, and chill overnight. Let chicken stand covered at room temperature for 1 hour. Whisk buttermilk, egg, and 1/2 cup water in a medium bowl. Jimmy Buff's Italian Hot Dogs. Www.rwsbbq.com - Menu.
Recipies
Bookmarks. Resturants. 15 Classic New England Seafood Recipes: Clambakes, Lobster Rolls, Chowder and More. Bruschetta Pizza. Look!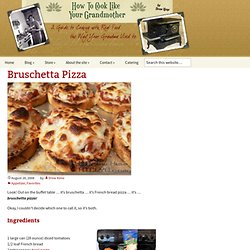 Out on the buffet table … it's bruschetta … it's French bread pizza … it's … bruschetta pizza! Okay, I couldn't decide which one to call it, so it's both. Ingredients. Big Girls, Test Kitchen: Meatless Monday Deconstructed Eggplant Parm. DISH: Eggplant Parmesan RigatoniTYPE: Simplified ClassicMAIN INGREDIENT: Eggplant, Pasta, Mozzarella Having grown up with many a vegetarian at our high school potluck table, I became very accustomed to eating serving upon serving of Eggplant Parmesan.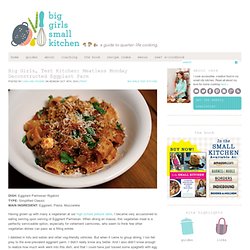 When dining en masse, this vegetarian meal is a perfectly serviceable option, especially for vehement carnivores, who seem to think few other vegetarian dishes can pass as a filling entrée. I dabbled in tofu and seitan and other veg-friendly vehicles. But when it came to group dining, I too fell prey to the ever-prevalent eggplant parm. Meatless Monday: Eggplant-Zucchini Lasagna with Fontina. GREAT BAKED PASTAS: Mushroom Lasagna; Updated Tuna Noodle Casserole; Baked Macaroni and Cheese; Noodle Kugel; Baked Spinach Gnocchi with Three Tomatoes; Baked Orzo Ratatouille My mom makes a mean eggplant.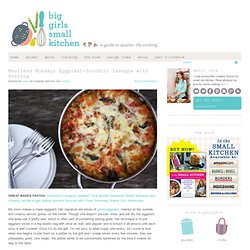 Her signature are slices of grilled eggplant, charred on the outside and creamy–almost gooey–on the inside. Though she doesn't pre-salt, rinse, and pat dry the eggplant, she does salt it pretty well, which is often part of something tasting great. Her technique is to put eggplant slices in a big plastic bag with olive oil, salt, and pepper, and to smush it all around until each slice is well covered. Frozen Chocolate Truffle Pie. If you don't like chocolate, stop reading right now.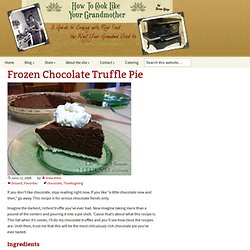 If you like "a little chocolate now and then," go away. This recipe is for serious chocolate fiends only. Imagine the darkest, richest truffle you've ever had. Turin: City of Chocolate (and Hazelnuts) - Under The Tuscan Gun. Turin: City of Chocolate (and Hazelnuts) Back in January, in my very first post on Under the Tuscan Gun, I wrote about one of the sweetest topics a food blog can cover – a chocolate festival.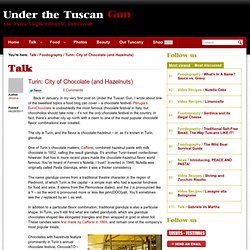 Perugia's EuroChocolate is undoubtedly the most famous chocolate festival in Italy, but chocoholics should take note – it's not the only chocolate festival in the country. Tickets for Tasting Table's Lobster Roll Rumble Go on Sale Today - New York Restaurants and Dining. Our digestive tracts are still working out the kinks from the Lobster Roll Claw-Off that Tasting Table threw last June, and this year's iteration promises to be a boon for gastroenterologists across the city.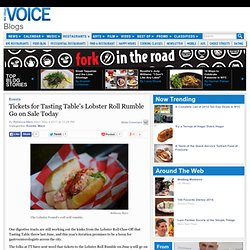 The folks at TT have sent word that tickets to the Lobster Roll Rumble on June 9 will go on sale today at 1 p.m. With 17 rolls from across the country and extra-fancy judges, it looks like it's taken a page from the Burger Bash. This may be the only opportunity you'll ever have to stuff your piehole with crustaceans while Martha Stewart, Harold Dieterle, Katie Lee, and Kyle MacLachlan (Agent Cooper owns a winery, and apparently likes to eat) do the same.
They'll be judging the rolls, and Martha will probably be judging you as well. Tickets are $130, and their proceeds benefit Share Our Strength. Turduckens | $85 Delivered | Order Now! | Fresh from CajunGrocer. "Poultry in Motion" Turduckens -- Cajun Combos --Fly In by Mail for Our Test;Where's Bird's Inner Chicken? By ALEXANDRA WOLFEStaff Reporter of THE WALL STREET JOURNALPage W1 Growing up in Covington, La., Mickey Harris could just head to his local grocery store to pick up a "turducken": a turkey, stuffed with a duck, stuffed with a chicken. But when the 40-year-old real-estate consultant moved to Southern California six years ago, the Cajun specialty dropped off his menu. Buffalo chicken in a flapjack. Red velvet funnel cake. Deep fried kool-aidv. Freid ice cream. Big Girls, Test Kitchen: Penne alla Vodka. OTHER BOOZY FOODS: Oatmeal Stout Cake; Beer-Braised Short Ribs with Soy and Honey; Baked Tofu with White Wine, Mustard, and Dill If my ex-boyfriend North had his way, he would have eaten Penne alla Vodka for every meal.
No matter what the venue—New York diner, upscale Italian restaurant, or our college dining hall—he would try to order this pasta dish, and amazingly enough, most of the time he got his way. I've never been one for depriving myself of rich, indulgent food. But somehow I drew the line at Penne alla Vodka. Even though I would sneak bites off North's plate, to this day, it reminds me more of a stomachache than a delicious meal. Mini Baklava Assortment from The Swiss Colony® Forest Friends Swirl Cake from The Swiss Colony® Save 27% $21.95 $15.95 This item may be subject to warm weather shipping restrictions. Legend has it that the animals of the forest can talk on Christmas Eve. And on that special night, it's clear these cute little guys would wish you a very Merry Christmas.
Savor the swirls of cake and vanilla butter creme filling, covered with a milk chocolate blanket.And they'll delight over the adorable milk chocolate raccoons! 24 Dobosh Petits Fours from The Swiss Colony® Dobosh Tortes from The Swiss Colony® The perfect encore for a special dinner! Chocolate Dobosh: Creamy, chocolate over 15 layers of chocolate Dobosh cream and cake. 1 1/4-lbs.Mint Chocolate Torte: Butter creme plus creme de menthe liqueur and cake with chocolate. 1 1/4-lbs.Triple Chocolate Torte: Fudge is layered with chocolate cake and covered with chocolate. 1-lb. 5-oz.For more information, click here. Where can this be sent?
Sticky Buns from The Swiss Colony® Streusel Swirl Coffee Cake from The Swiss Colony® Miniature Baklava Desserts from The Swiss Colony® Caramel Pecan Swirl from The Swiss Colony® Red Velvet Petits Fours from The Swiss Colony® Spiced Pumpkins from The Swiss Colony® Sticky toffee pudding. Kirkland Signature Deluxe Belgian Chocolate Cookie Holiday Gift Assortment 3 Pound 2 Ounce Gift Tin – Online Candy Store – MonsterMarketplace.com. Sugar Melting Point Varies Because Sugar Doesn't Melt; It Decomposes. Delacre Matadi, Belgian Dark Chocolate Biscuits, 3.5-Ounce Boxes (Pack of 12): Amazon.com: Grocery & Gourmet Food. Endless Simmer: Milkshakes Gone Wild. Turkey pastrami. Susan Yager: 'Tropolis' and the Propaganda Behind Liquid Snacks. Maple Weekend - March 17-18 and March 24-25, 2012. Millie Kerr: Woman vs BBQ: A Lockhart, Texas Showdown. 20 Healthy Kitchen Habits You Need to Learn. Meathead Goldwyn: Making Chinese Char Siu Pork or Ribs at Home is Easy.
EatingWell: Worried About Food Dyes? 4 Tips to Avoid Them. Sfogliatelle. How To Make Perfect Brownies. Entrees - Lobster Rolls & Whoopie Pies. Purpose design gourmet spice kits & spice racks by purposedesign. American Pie Company, Bakery and Restaurant, Sherman, CT, 06784. Better Homes and Gardens - home decorating and remodeling ideas, gardening, recipes, and more.
All Natural Meat: Get the Best All Natural Meat from Niman Ranch. How To Make Crock Pot Pork Tenderloin. Kettle pizza. Best Hot Dogs: Our Taste Test Results. Avocado milkshake recipe. Endless Simmer: 10 Things to Do with Mac 'n' Cheese Before You Die. Thrillist Rewards - Bacon Pride Gift Bundle.
---