Economy & Jobs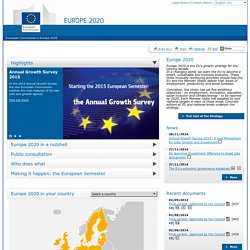 Europe 2020 is the EU's growth strategy for the coming decade. In a changing world, we want the EU to become a smart, sustainable and inclusive economy.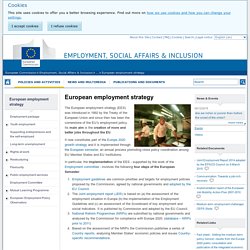 Additional tools To respond to the crisis and to speed up its economic growth, Europe needs to focus its efforts in a coordinated manner and with an eye on priorities. The Annual Growth Survey (AGS) charts a clear direction on where Europe should be heading in the next cycle of the "European Semester" , changing the way governments shape their economic and fiscal policies.
European Employment Strategy
Europe2020 Competitiveness Report
Publication date : 2010
What's wrong with EU2020?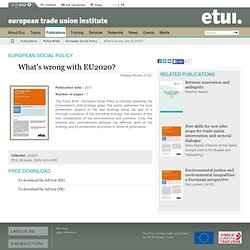 why is the EU important for anti-poverty?
Why is the EU important to anti-poverty groups?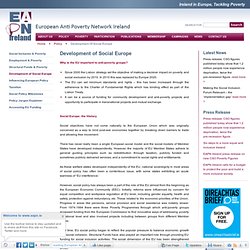 Employment & Poverty - EAPN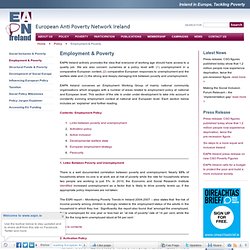 EAPN Ireland actively promotes the idea that everyone of working age should have access to a quality job.
Economy needs human rights
GENEVA (5 October 2012) – A group of United Nations independent experts on extreme poverty, external debt and equitable order reminded European Union governments that economic reforms must be crafted in line with the human rights obligations of States, following the release of a European-wide flagship study on the structure of the EU banking sector.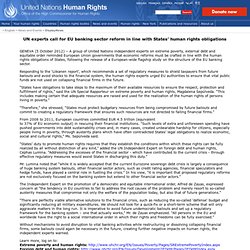 Government is failing to reach the key targets it set itself as part of the Europe 2020 Strategy immediately after it came to power in 2011. A new study from Social Justice Ireland published today, January 30th, 2012 shows that many of Ireland's major indicators on poverty and social inclusion are moving in the wrong direction.
Irish Government not reaching its own targets on Europe 2020 Strategy - failing poor and vulnerable | Social Justice Ireland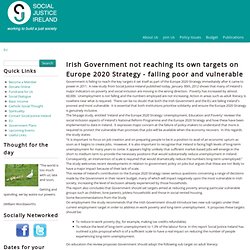 Are Europe's leaders giving up on Europe's poor? | Social Justice Ireland
Judging by their actions in recent days European leaders seem to be abandoning the most vulnerable people in Europe.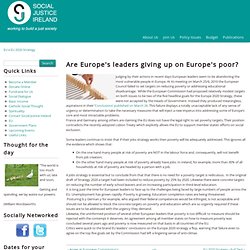 Responses to EU crisis 2012
Austerity has never worked | Ha-joon Chang | Comment is free
Last week saw a string of bad economic news reports. The eurozone leaders seem unwilling or unable to change from their austerity policies, even as Greece and Spain fall apart and the core eurozone economies contract. Britain watches on as its economy is heading for the third consecutive quarter of contraction, with an unexpectedly sharp fall in manufacturing.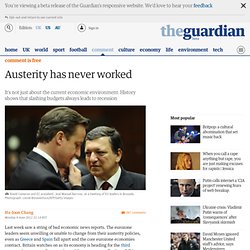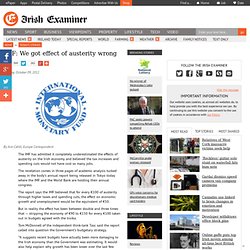 IMF: We got effect of austerity wrong Tuesday, October 09, 2012
IMF: We got effect of austerity wrong
On the last day of 2011, a headline in The Wall Street Journal read: "Spain Misses Deficit Target, Sets Cuts." The cruel forces of poor economic logic were at work to welcome in the new year. The European Union has become a vicious circle of burgeoning debt leading to radical austerity measures, which in turn further weaken economic conditions and result in calls for still more damaging cuts in government spending and higher taxes.
How Austerity Is Killing Europe by Jeff Madrick
The Crisis of European Democracy
When the euro officially entered circulation at the stroke of midnight on Jan. 1, 2002, fireworks lit up the night sky across Europe to celebrate the scrapping of the French franc, German deutsche mark, Greek drachma, and a clutch of other ancient currencies. Brussels hosted an extravagant sound-and-light show, while Frankfurt unveiled a five-story statue of the freshly minted euro as a pop band belted out "With Open Arms (Euro World Song)."
The Myth of Europe - by Gareth Harding
Europe can't cut and grow | Sony Kapoor and Peter Bofinger | Comment is free
Overspending by governments, we have been told, triggered this crisis. The cure thus lies in immediate austerity, hence last month's German-led push for a eurozone fiscal compact and the UK's pursuit of similar policies. But, as demonstrated by the experiences of Greece, Portugal and Spain, this course leads to biting, deep recessions and worsens public indebtedness.
Green Economy & Value of Nature
European Social Fund - European Commission
European Social Fund
Spending allocation per country.
European Social Fund
The Minister for Social Protection, Joan Burton TD, this week outlined her priorities for the upcoming EU Presidency before the Joint Committee on Education and Social Protection.
Minister Social Protection outlines priorities for upcoming EU Presidency - Public Affairs Ireland