Economy & Jobs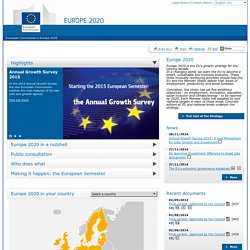 Europe 2020 is the EU's growth strategy for the coming decade. In a changing world, we want the EU to become a smart, sustainable and inclusive economy.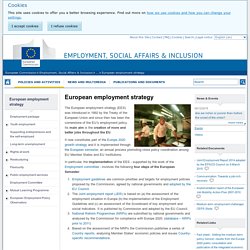 Additional tools To respond to the crisis and to speed up its economic growth, Europe needs to focus its efforts in a coordinated manner and with an eye on priorities. The Annual Growth Survey (AGS) charts a clear direction on where Europe should be heading in the next cycle of the "European Semester" , changing the way governments shape their economic and fiscal policies.
European Employment Strategy
Europe2020 Competitiveness Report
Publication date : 2010
What's wrong with EU2020?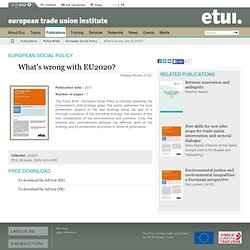 why is the EU important for anti-poverty?
Why is the EU important to anti-poverty groups?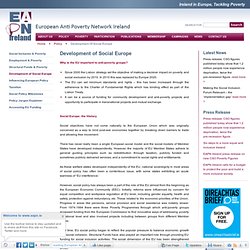 Employment & Poverty - EAPN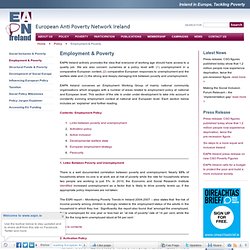 EAPN Ireland actively promotes the idea that everyone of working age should have access to a quality job.
Economy needs human rights
GENEVA (5 October 2012) – A group of United Nations independent experts on extreme poverty, external debt and equitable order reminded European Union governments that economic reforms must be crafted in line with the human rights obligations of States, following the release of a European-wide flagship study on the structure of the EU banking sector.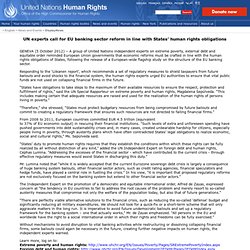 Irish Government not reaching its own targets on Europe 2020 Strategy - failing poor and vulnerable | Social Justice Ireland
Are Europe's leaders giving up on Europe's poor? | Social Justice Ireland
Judging by their actions in recent days European leaders seem to be abandoning the most vulnerable people in Europe.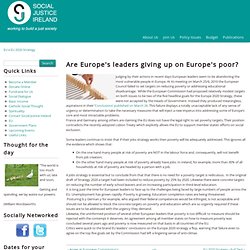 Responses to EU crisis 2012
Austerity has never worked | Ha-joon Chang | Comment is free
David Cameron and EC president, José Manuel Barroso, at a meeting of EU leaders in Brussels. Photograph: Lionel Bonaventure/AFP/Getty Images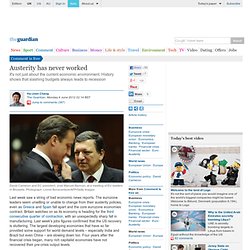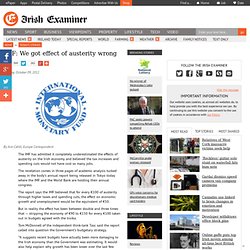 IMF: We got effect of austerity wrong Tuesday, October 09, 2012
IMF: We got effect of austerity wrong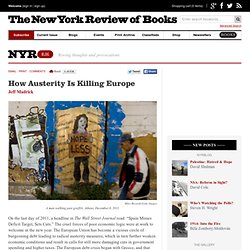 Jeff Madrick Milos Bicanski/Getty Images A man walking past graffiti, Athens, December 6, 2011
How Austerity Is Killing Europe by Jeff Madrick
IF proof were needed of the maxim that the road to hell is paved with good intentions, the economic crisis in Europe provides it.
The Crisis of European Democracy
When the euro officially entered circulation at the stroke of midnight on Jan. 1, 2002 , fireworks lit up the night sky across Europe to celebrate the scrapping of the French franc, German deutsche mark, Greek drachma, and a clutch of other ancient currencies.
The Myth of Europe - by Gareth Harding
Europe can't cut and grow | Sony Kapoor and Peter Bofinger | Comment is free
The IMF's representative in Greece, Poul Thomsen, admitted last week austerity measures were leading to deep recession. Photograph: Aris Messinis/AFP/Getty
Green Economy & Value of Nature
European Social Fund - European Commission
European Social Fund
Spending allocation per country.
European Social Fund
The Minister for Social Protection, Joan Burton TD, this week outlined her priorities for the upcoming EU Presidency before the Joint Committee on Education and Social Protection.
Minister Social Protection outlines priorities for upcoming EU Presidency - Public Affairs Ireland