Inspirational
3797977.jpg (JPEG Image, 900×584 pixels) Tumblr_lviaemh2ET1r2n011o1_500.jpg (JPEG Image, 474×700 pixels) - Scaled (89%) 60 Small Ways to Improve Your Life in the Next 100 Days. Contrary to popular belief, you don't have to make drastic changes in order to notice an improvement in the quality of your life.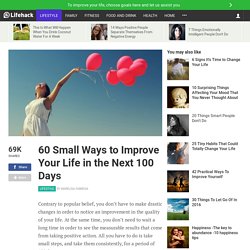 At the same time, you don't need to wait a long time in order to see the measurable results that come from taking positive action. All you have to do is take small steps, and take them consistently, for a period of 100 days. Below you'll find 60 small ways to improve all areas of your life in the next 100 days. 4058_20e950107194be4b810e555919b6147d_2.jpg (JPEG Image, 650×433 pixels) Lake-anna-quarter.jpg (JPEG Image, 3789×1748 pixels) - Scaled (33%) Iceland-waterfall.jpg (JPEG Image, 960×640 pixels) - Scaled (97%) Mini castle in a pond - Pena's Pond Portugal.
The Pena Park is a vast forested area completely surrounding the Pena Palace, spreading for over 200 hectares of uneven terrain.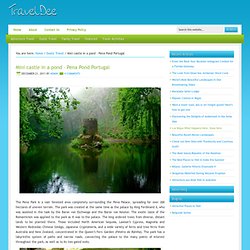 The park was created at the same time as the palace by King Ferdinand II, who was assisted in the task by the Baron von Eschwege and the Baron von Kessler. The exotic taste of the Romanticism was applied to the park as it was to the palace. The king ordered trees from diverse, distant lands to be planted there. Those included North American Sequoia, Lawson's Cypress, Magnolia and Western Redcedar, Chinese Ginkgo, Japanese Cryptomeria, and a wide variety of ferns and tree ferns from Australia and New Zealand, concentrated in the Queen's Fern Garden (Feteira da Rainha). The 45 Most Powerful Images Of 2011. Ss-cathedral-peak.jpg (JPEG Image, 1050×700 pixels) - Scaled (86%)
---