Mexican
Step-by-Step: Vegetarian Tamales – Tasty Kitchen Blog. Everything you've heard about tamales is true, folks.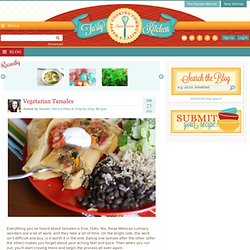 Yes, these Mexican culinary wonders are a lot of work, and they take a lot of time. On the bright side, the work isn't difficult and boy, is it worth it in the end. Eating one tamale after the other (after the other) makes you forget about your aching feet and back. Perrys' Plate: Portobello and Black Bean Enchiladas with Roasted Poblano Sauce. Roasted Poblano Sauce: 1 poblano pepper 2 tsp. extra virgin olive oil 1 medium yellow onion, chopped 1 large clove garlic, chopped 1/2 tsp. salt 1/2 tsp. ground cumin 1/2 tsp. chili powder 1/4 tsp. paprika 1/8 tsp. ground chipotle pepper (optional) 2 cups crushed tomatoes about 1/4 cup water (to thin out the sauce) 1/2 cup fresh cilantro, chopped + extra for garnish Filling: 2 roasted red peppers, diced (jarred or fresh) 12 oz. portobellos (about 4-5 large), stemmed, gills scraped out, and diced 1/2 red onion, diced extra virgin olive oil salt and freshly ground black pepper 1 can black beans, drained and rinsed Other ingredients: 12 corn or whole wheat flour tortillas 4 oz. queso fresco fresh tomatoes or pico de gallo, for serving Preheat oven to 425 F.
Lazy Chiles Rellenos. This dish ain't fancy.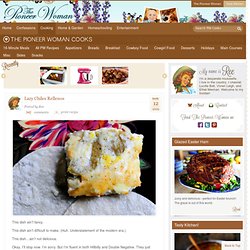 This dish ain't difficult to make. (Huh. Understatement of the modern era.) Mexican Stuffed Bell Peppers. I walked to work in the snow this morning.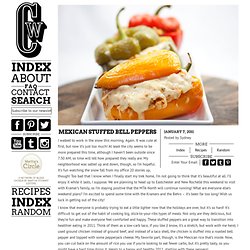 Again. It was cute at first, but now it's just too much! At least the city seems to be more prepared this time, although I haven't been outside since 7:30 AM, so time will tell how prepared they really are. My neighborhood was salted up and down, though, so I'm hopeful. It's fun watching the snow fall from my office 20 stories up, though! Restaurant Style Salsa. Okay.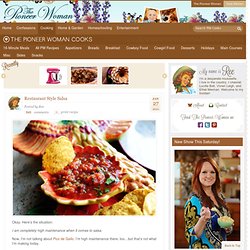 Here's the situation: I am completely high maintenance when it comes to salsa. Now, I'm not talking about Pico de Gallo.
---