Breakfast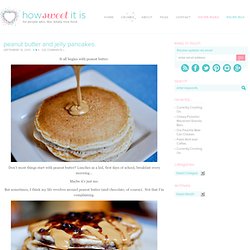 It all begins with peanut butter. Don't most things start with peanut butter? Lunches as a kid, first days of school, breakfast every morning…
Peanut Butter and Jelly Pancakes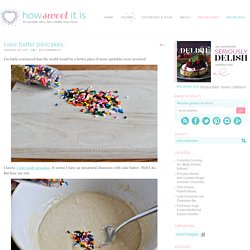 I'm fairly convinced that the world would be a better place if more sprinkles were involved. I know. I just made pancakes. It seems I have an unnatural obsession with cake batter. Well I do.
My husband's 23rd birthday was yesterday, but as he's all grown up now, he still had to go into work. I figured that I'd brighten his morning a bit with two of his favorite things: peanut butter and pancakes. We woke up and while he showered and got ready for work, I whipped these up. It was quite easy and the result was fantastic.
Peanut Butter Pancakes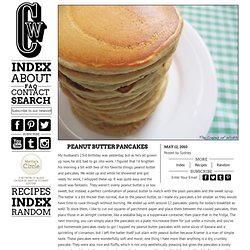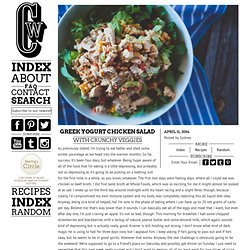 As previously stated, I'm trying to eat better and shed some winter poundage as we head into the warmer months. So far, success. It's been four days, but whatever. Being hyper aware of all of the food that I'm eating is a little depressing, but probably not as depressing as it's going to be putting on a bathing suit for the first time in a while, so you know, whatever. The first two days were fasting days, where all I could eat was chicken or beef broth. I did find lamb broth at Whole Foods, which was so exciting for me it might almost be looked at as sad.
Bacon Onion Cheddar Biscuits
These biscuits are hearty, sticky, substantial, and packed with all the goodness of life. You can serve them with eggs in the morning, tomato soup for lunch, or meatloaf for dinner. And they're so rich and satisfying, one is definitely more than enough. That's why I went ahead and ate two. Sorry.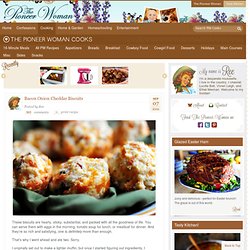 This is another recipe from my mother's recipe collection. It's a make-ahead concoction meant to be spread on English muffins and broiled. And it's just…it's just…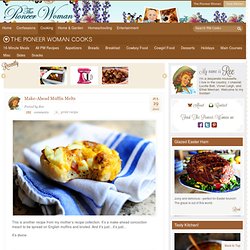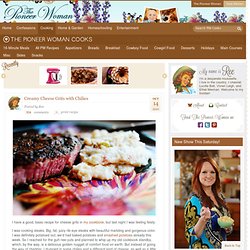 I have a good, basic recipe for cheese grits in my cookbook, but last night I was feeling feisty. I was cooking steaks. Big, fat, juicy rib-eye steaks with beautiful marbling and gorgeous color. I was definitely potatoed out; we'd had baked potatoes and smashed potatoes already this week. So I reached for the guh-ree-yuts and planned to whip up my old cookbook standby, which, by the way, is a delicious golden nugget of comfort food on earth. But instead of going the way of cheddar, I dumped in some chilies and a different kind of cheese, as well as a little cream cheese to give it a different texture.
Creamy Cheese Grits with Chilies
There was (and is, still) a restaurant in my hometown called Eggberts. Eggberts opened when I was a pre-teen, I think, with a maximum of eight booths and a few seats at the bar, which was about two feet away from all the cooking. That was my favorite place to sit as a twelve-year-old, as I got to watch all the eggs being cracked, all the waffle batter being spooned into the waffle irons, all the gravy being ladled onto the biscuits. It was such a magical, wonderful place.
The Eggberts Sunriser