American Revolution
The World of Benjamin Franklin. Quicktime MovieGlimpses of The Man (1297k) "If you would not be forgotten, as soon as you are dead and rotten, either write things worth reading, or do things worth the writing.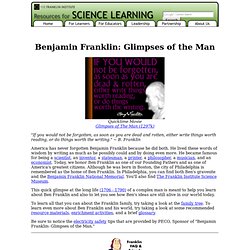 " ~ B. Franklin America has never forgotten Benjamin Franklin because he did both. Boston Massacre. When Paul Revere first began selling his color prints of "The Bloody Massacre perpetrated in King Street" in Boston, he was doing what any like-minded patriot with his talents in 1770 would have done.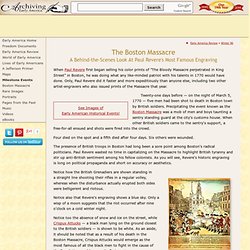 Only, Paul Revere did it faster and more expeditiously than anyone else, including two other artist-engravers who also issued prints of the Massacre that year. Twenty-one days before — on the night of March 5, 1770 — five men had been shot to death in Boston town by British soldiers. Mission US | THIRTEEN. What's Wrong With This Picture? American Revolutionary Facts. The Americans of 1776 had the highest standard of living and the lowest taxes in the Western World!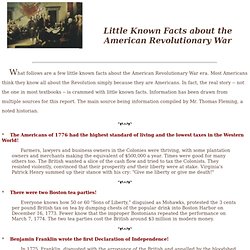 Farmers, lawyers and business owners in the Colonies were thriving, with some plantation owners and merchants making the equivalent of $500,000 a year. Times were good for many others too. Untitled. N March 15, 1781 Major General Nathanael Greene and his army of 4,400 Americans contested the British invasion of North Carolina at Guilford Courthouse.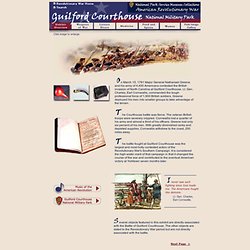 Lt. Gen. Charles, Earl Cornwallis, commanded the tough professional force of 1,900 British soldiers. Greene deployed his men into smaller groups to take advantage of the terrain. he Courthouse battle was fierce. Living the Revolution: America, 1789-1820, Primary Resources in U.S. History and Literature, Toolbox Library, National Humanities Center. Sons of Liberty: Patriots or Terrorists? | Early America Review Fall 96. By Todd Alan Kreamer SONS OF LIBERTY, or Sons of something altogether different?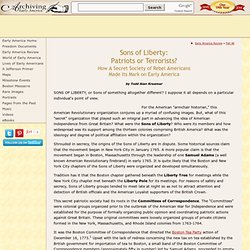 I suppose it all depends on a particular individual's point of view. Early America's Bloodiest Battle. Deborah Sampson. Revolutionary War By Teacher Created Resources Thematic Units from Teacher Created Materials are literature based, cross-curricular, and ready to use.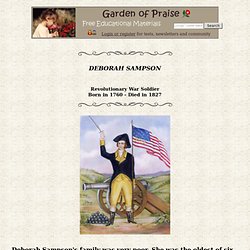 They provide activities, many of them hands-on, for all areas of the curriculum, including math, science, language arts, social studies, physical education, art, and music. Each book offers two or more literature-based units and lesson plans plus cross-curricular activities and worksheets, a culminating activity, management ideas, and a bibliography. The books used in this unit (that will need to be purchased or borrowed) are--Johnny Tremain by Esther Forbes and The Fighting Ground by Avi. Museum Collections 'American Revolutionary War: Independence National Historic Park' His exhibit celebrates the battlefield heroes of the American Revolution.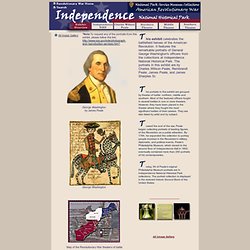 It features the remarkable portraits of General George Washington's officers from the collections at Independence National Historical Park. The portraits in this exhibit are by Charles Willson Peale, Rembrandt Peale, James Peale, and James Sharples Sr. he portraits in this exhibit are grouped by theater of battle: northern, middle and southern. Most of the featured officers fought in several battles in one or more theaters.
---