Science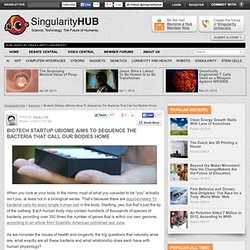 When you look at your body in the mirror, most of what you consider to be "you" actually isn't you, at least not in a biological sense.
Biotech Startup uBiome Aims To Sequence The Bacteria That Call Our Bodies Home
E. chromi: Designer Bacteria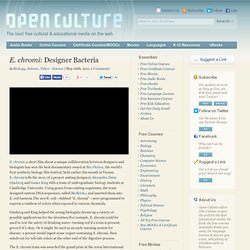 E. chromi, a short film about a unique collaboration between designers and biologists has won the best documentary award at Bio:Fiction, the world's first synthetic biology film festival, held earlier this month in Vienna.E. chromi tells the story of a project uniting designers Alexandra Daisy Ginsberg and James King with a team of undergraduate biology students at Cambridge University. Using genes from existing organisms, the team designed custom DNA sequences, called BioBricks, and inserted them into E. coli bacteria.The new E. coli—dubbed "E. chromi"—were programmed to express a rainbow of colors when exposed to various chemicals.
fig wasp and fig fruit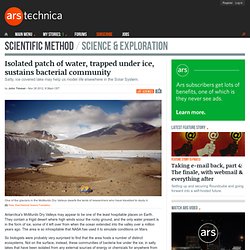 Isolated patch of water, trapped under ice, sustains bacterial community
Antarctica's McMurdo Dry Valleys may appear to be one of the least hospitable places on Earth.
The State of Climate Science
Polls show that many members of the public believe that scientists substantially disagree about human-caused global warming.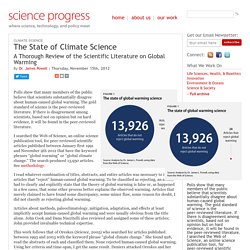 Modern Earth is wet and temperate (last week's heat wave aside), but the early Earth was molten and hostile, meaning water and other volatile substances like hydrogen and nitrogen compounds must have been deposited after formation. The likely culprits are comets—full of water ice and organic compounds—and meteorites, which were likely more water-laden in the early days of the Solar System. Knowing exactly where Earth's water and organic molecules originated would reveal a great deal about our planet's history and help us understand the environment in which life arose.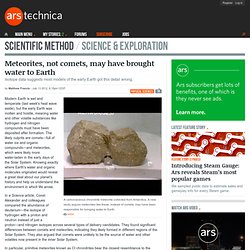 Meteorites, not comets, may have brought water to Earth
PBS airdate: 11/16/2011 NARRATOR: Lying just beneath everyday reality is a breathtaking world, where much of what we perceive about the universe is wrong.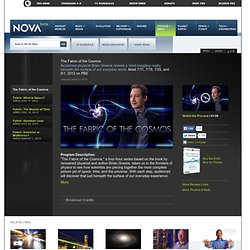 NOVA | The Fabric of the Cosmos
BBC Universe – Dark matter: A chunk of the Universe is missing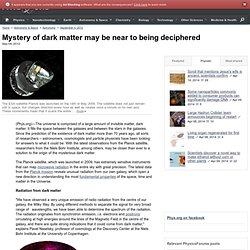 Mystery of dark matter may be near to being deciphered
(Phys.org)—The universe is comprised of a large amount of invisible matter, dark matter. It fills the space between the galaxies and between the stars in the galaxies.
Read full article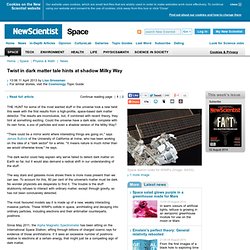 Twist in dark matter tale hints at shadow Milky Way - space - 11 April 2013
9 January 2012Last updated at 14:07 ET By Jason Palmer Science and technology reporter, BBC News, Austin, Texas
Dark matter images reveal widest view of dark mystery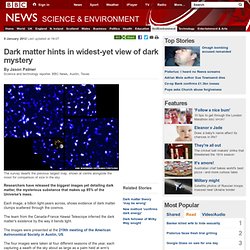 Jörg Dietrich, University of Michigan/University Observatory Munich Dark-matter filaments, such as the one bridging the galaxy clusters Abell 222 and Abell 223, are predicted to contain more than half of all matter in the Universe.
Dark matter's tendrils revealed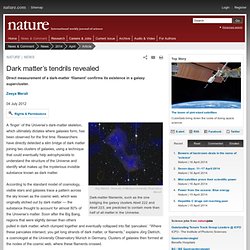 BBC Universe - Dark energy mystery: The Universe is 'speeding up'
Hubble times Milky Way and Andromeda galaxy pile-up
31 May 2012Last updated at 17:01 ET By Jonathan Amos Science correspondent, BBC News
David Deutsch on our place in the cosmos
David Deutsch and Quantum Computing
ANNALS OF SCIENCE about David Deutsch and quantum computing. On the outskirts of Oxford lives a brilliant and distressingly thin physicist named David Deutsch, who believes in multiple universes and has conceived of an as yet unbuildable computer to test their existence. Deutsch, who has never held a job, is essentially the founding father of quantum computing, a field that devises distinctly powerful computers based on the branch of physics known as quantum mechanics.
Einstein was right: There is a four-dimensional space-time vortex around Earth, and the spin of Earth does twist space-time. That's according to NASA, in an announcement made 52 years after scientists first imagined how to test Einstein's theory on space-time – before the technology to test it had even been invented.
Epic study confirms Einstein on space-time vortex around Earth
NASA's Kepler Telescope Finds Planet Orbiting Two Stars
'Habitable' planet discovered circling Tau Ceti star
Artist's impression of Tau Ceti: astronomers have found a planet with conditions that could support life orbiting a twin neighbour of the sun.
Doctors removed a billion of his T-cells — a type of white blood cell that fights viruses and — and gave them new genes that would program the cells to attack his . Then the altered cells were dripped back into Mr.
Immune System, Loaded With Remade T-cells, Vanquishes Cancer
Flexible Adult Stem Cells, Right There In Your Eye
How to Find Limits of Mathematical Functions - Decoded Science | Decoded Science
'The Character of Physical Law': Richard Feynman's Legendary Lecture Series at Cornell, 1964
a k'wala's SciTech Daily
Entropy can drive the formation of complex quasicrystals - http://arstechnica.com/
Magnetic logic makes for mutable chips
Technofascism blog » Blog Archive » Double kill shot dealt to the religion of scientific materialism
The strange case of solar flares and radioactive elements
Are Security Scanners Safe?