iraq
Get flash to fully experience Pearltrees
The bombardments of Iraqi cities by the US and its allies are blamed for a 'staggering' rise in miscarriages and birth defects. It played unwilling host to one of the bloodiest battles of the Iraq war. Fallujah's homes and businesses were left shattered; hundreds of Iraqi civilians were killed. Its residents changed the name of their "City of Mosques" to "the polluted city" after the United States launched two massive military campaigns eight years ago. Now, one month before the World Health Organisation reveals its view on the legacy of the two battles for the town, a new study reports a "staggering rise" in birth defects among Iraqi children conceived in the aftermath of the war.
US soldiers return to their barracks at a military base outside Fallujah, Iraq, in 2004. Photograph: Stefan Zaklin/EPA It has been seven years since the end of the second siege of Fallujah – the US assault that left the city in ruins, killed thousands of civilians, and displaced hundreds of thousands more; the assault that poisoned a generation, plaguing the people who live there with cancers and their children with birth defects . It has been seven years and the lies that justified the assault still perpetuate false beliefs about what we did. The US veterans who fought there still do not understand who they fought against, or what they were fighting for. I know, because I am one of those American veterans.
BAGHDAD — An Anglican priest here says he's working with the U.S. Embassy to persuade the handful of Jews who still live in Baghdad to leave because their names have appeared in cables published last month by WikiLeaks. The Rev. Canon Andrew White said he first approached members of the Jewish community about what he felt was the danger they faced after a news story was published last month that made reference to the cables.
The findings contrast with public statements by U.S. diplomatic and military officials in Iraq and come as Washington awaits a final decision by Iraqi leaders on whether they want U.S. troops to stay in the country beyond the expiration of a three-year security agreement in December. U.S. officials have said they are willing to extend the American military presence into 2012 only after receiving a formal request from Iraqi leaders. Iraqi Prime Minister Nouri al-Maliki and other top leaders postponed a meeting scheduled for Saturday to debate any future U.S. military presence, once again dashing hopes of quickly resolving the issue. Maliki instead was scheduled to appear before the Iraqi parliament to defend plans to cut the 46-member cabinet down to 30 members — another long-simmering political dispute that appears far from resolution.
We might ask ourselves how we would be reacting if Iraqi commandos landed at George W. Bush's compound, assassinated him, and dumped his body in the Atlantic. By **Noam Chomsky** It's increasingly clear that the operation was a planned assassination, multiply violating elementary norms of international law. There appears to have been no attempt to apprehend the unarmed victim, as presumably could have been done by 80 commandos facing virtually no opposition—except, they claim, from his wife, who lunged towards them. In societies that profess some respect for law, suspects are apprehended and brought to fair trial.
James Hill for The New York Times SORROWFUL AN Iraqi woman, staying in Amman, recounted the death of her son at the hands of a militia in Banghdad. About 21 percent of Iraqis in Jordan were "severely traumatized" by attacks. During an interview here, the shopkeeper, 35, a balding, stocky man wearing a T-shirt and slacks, was calm and soft-spoken at first, but grew increasingly loud and agitated as he told his story. He described enduring episodes of torture, threats by captors to go to his house and rape his wife, and daily horrors like the suicide of a young prisoner who electrocuted himself with wires from a hot plate after being raped by soldiers.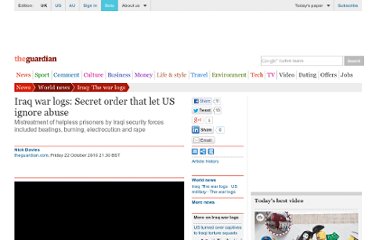 Frago 242 – a licence to torture Link to video: The Torture Trail: What did General Petraeus's special advisor, James Steele, know? A prisoner was kneeling on the ground, blindfolded and handcuffed, when an Iraqi soldier walked over to him and kicked him in the neck . A US marine sergeant was watching and reported the incident, which was duly recorded and judged to be valid. The outcome: "No investigation required." That was a relatively minor assault.
(updated below) A week ago, I wrote about the war being waged on WikiLeaks by the Pentagon and other governments and corporations around the world, and noted at the time — as a result of my interview with editor Julian Assange — that WikiLeaks had obtained classified videos that were highly incriminating of the Pentagon and was planning on releasing them shortly. Earlier today, I wrote about the cover-up by the U.S. military in Afghanistan of the deaths of five civilians , the Pentagon's forced retraction of its story, and the way in which the U.S. media (as usual) mindlessly disseminated their original false claims.