Google
An update on our war against account hijackers
Have you ever gotten a plea to wire money to a friend stranded at an international airport? An oddly written message from someone you haven't heard from in ages? Compared to five years ago, more scams, illegal, fraudulent or spammy messages today come from someone you know.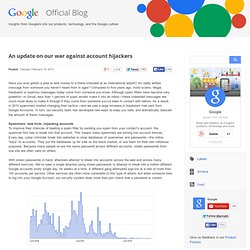 Spanner: Google's Globally-Distributed Database James C. Corbett, Jeffrey Dean, Michael Epstein, Andrew Fikes, Christopher Frost, JJ Furman, Sanjay Ghemawat, Andrey Gubarev, Christopher Heiser, Peter Hochschild, Wilson Hsieh, Sebastian Kanthak, Eugene Kogan, Hongyi Li, Alexander Lloyd, Sergey Melnik, David Mwaura, David Nagle, Sean Quinlan, Rajesh Rao, Lindsay Rolig, Yasushi Saito, Michal Szymaniak, Christopher Taylor, Ruth Wang, and Dale Woodford Abstract Spanner is Google's scalable, multi-version, globally-distributed, and synchronously-replicated database.
Research Publication: Spanner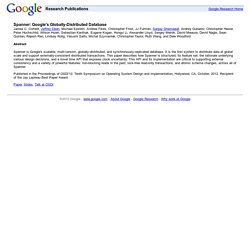 Replication on OSDI '12
Six years ago this month, Google moved into one of the largest buildings in New York City. Google had only been public for two years and its stock price was soaring. By 2006, speculation was running rampant about Google's ultimate goals. In addition to building the world's largest Internet search engine, Google was furiously buying up so-called "dark fiber," the unused long-haul underground cable left dormant by the dot-com crash.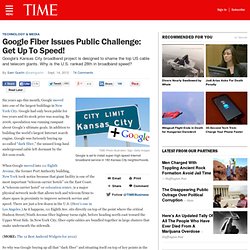 With Google Fiber, Search Giant Issues Public Challenge: Get Up To Speed!
Our 30 million members view over 1 billion hours of Netflix per month, so we have very reliable data for consumers to compare ISPs in terms of real world performance. Starting today, we'll publish monthly rankings of major ISPs based upon their actual performance across all Netflix streams. Google Fiber is now the most consistently fast ISP in America, according to actual user experience on Netflix streams in November. Broadly, cable shows better than DSL. AT&T U-verse, which is a hybrid fiber-DSL service, shows quite poorly compared to Verizon Fios, which is pure fiber.
November ISP Rankings for the USA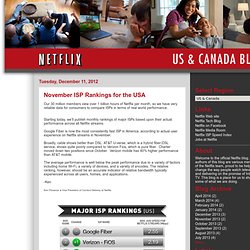 Google Fiber Installations Have Begun in Kansas City
After much fanfare and holding of breath, Google has finally started to connect the general public of Kansas City to Google Fiber. That means that homes can finally get in on those sweet pricing plans, which includes a tier of free Internet with a one-time construction fee. The first area to receive installations appears to be Hanover Heights, but all the neighborhoods receiving Google Fiber can rejoice as their time will come shortly. Kansas City's never been such a tempting locale. Good Guy Google explains how they're going to make the entire process as friendly as possible: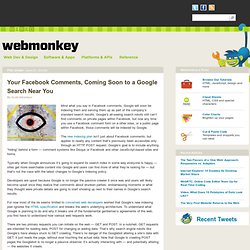 Your Facebook Comments, Coming Soon to a Google Search Near You
Mind what you say in Facebook comments, Google will soon be indexing them and serving them up as part of the company's standard search results. Google's all-seeing search robots still can't find comments on private pages within Facebook, but now any time you use a Facebook comment form on a other sites, or a public page within Facebook, those comments will be indexed by Google. The new indexing plan isn't just about Facebook comments, but applies to nearly any content that's previously been accessible only through an HTTP POST request.
The announcement that Nexus One users won't be getting upgraded to Android 4.0 Ice Cream Sandwich led some to justifiably question Google's support of their devices. I look at it a little differently: Nexus One owners are lucky. I've been researching the history of OS updates on Android phones and Nexus One users have fared much, much better than most Android buyers.
the understatement: Android Orphans: Visualizing a Sad History of Support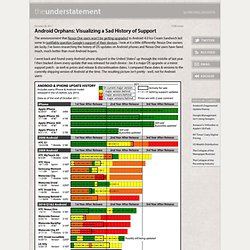 Why I Hate Android
Why do I hate Android? It's definitely one of the questions I get asked most often these days. And most of those that don't ask probably assume it's because I'm an iPhone guy. People see negative take after negative take about the operating system and label me as "unreasonable" or "biased" or worse. I should probably explain. Believe it or not, I actually don't hate Android.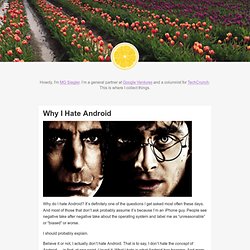 Introducing Google JS Test
This project is currently in the process of moving to the Apache Foundation, as an Incubator project. We are moving the issue tracker this coming week followed shortly by the code base. All activity will soon move to the new project found here: http://incubator.apache.org/wave/ This project contains a Java implementation of the Google Wave Federation Protocol and a prototype server, web, and console clients.
wave-protocol - Project Hosting on Google Code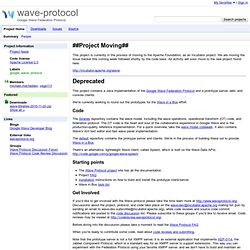 The Complete Guide to Google Wave: How to Use Google Wave - http://completewaveguide.com/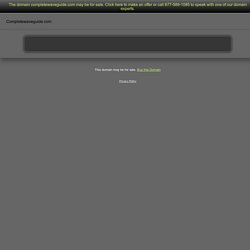 From The Complete Guide to Google Wave: How to Use Google Wave Google has discontinued Wave development , so we're discontinuing work on this book. Thanks for your interest! Welcome to the first comprehensive user guide to Google Wave , written by Gina Trapani with Adam Pash . Google Wave is a new web-based collaboration tool that's notoriously difficult to understand .
A note to Google recruiters (and on Google hiring practices)
Writing this in part to let off steam, and in part so I can point the next recruiter at it. Time from my leaving Google til getting the first unrelated contact from a Google recruiter: 6 days. Interest I have in going through Google's hiring process again: zero.
Google Plus Deleting Accounts En Masse: No Clear Answers
A striking number of Google+ accounts have been deleted in the last 24 hours as the new social network struggles with its community standards policy around real names - alienating and frightening the people it aims to serve. Removed but restored through influence is Limor Fried - AKA Lady Ada / Adafruit Industries: She was recently featured on the cover of WIRED Magazine. Google suspended Limor Fried "Ladyada" Google+ profile, no show-and-tell tonight… http://adafru.it/b16793 Her account has just now been mysteriously restored, though only after a groundswell of complaints. Suffice it to say, the rest of the deleted accounts will not have such well-placed advantages. Many have now been purged and not restored.
Suspended Google+ Accounts
Google publishes hundreds of research papers each year. Publishing is important to us; it enables us to collaborate and share ideas with, as well as learn from, the broader scientific community. Submissions are often made stronger by the fact that ideas have been tested through real product implementation by the time of publication. We believe the formal structures of publishing today are changing - in computer science especially, there are multiple ways of disseminating information. We encourage publication both in conventional scientific venues, and through other venues such as industry forums, standards bodies, and open source software and product feature releases.
Publications by Googlers
Google Employee No. 59 on Google+, Privacy and Why He Left
As soon as this summer, Google could announce a program to rent Chrome OS portable computers for $10 to $20 per month. According to a report on the generally reputable tech blog Neowin, this plan, part of an effort to get more people using its services and viewing its ads online, was confirmed by an unnamed source. In response to our request for comment, Google told us the same thing it told the U.K. Register yesterday: "We don't have anything to share at this time."
Google Rumored Preparing $10/Month Chrome OS Laptop Rentals
Google is still hard at work on their social strategy. You know it, I know it, we all know it. What it will actually be, remains to be seen. But there are clues related to it that have started to appear.
Google Doing Some Profile Unification Leading Up To… Well, Something.
APIs & Developer Products - January 2011 - code.google.com
Google Web Accelerator: Hey, not so fast - an alert for web app designers - Signal vs. Noise (by 37signals)
Opinion: Google Android is only 'open' if you're the phone company
Google Chrome OS: unlike Android, it's open source
Chrome
YouTube Feeds
GoogleSharing :: A Special Kind Of Proxy
How To: Escape From Google's Clutches, Once and For All - How to leave google - Gizmodo
Advertising and Privacy – Google Privacy Center
In Praise of Google
Scoop: Google Responds To Rep. Joe Barton's 24 Privacy Questions