Egypt
Last July, a young Egyptian Shia-Muslim man, Mohamed Asfour, was sentenced to three years in jail for "insulting the Prophet Mohamed's companions," who are revered by Sunni Muslims. It was the first time in Egyptian history that a Shia Muslim was incarcerated on this charge. Asfour, who was originally a Salafist teacher in the Nile Delta city of Tanta, maintained that his arrest came after a month-long campaign of abuse by village residents following his conversation to Shia Islam.
The Shias: Egypt's forgotten Muslim minority - Features - Egypt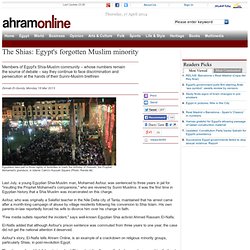 The myth of the Islamist winter
Egyptian opposition supporters shout slogans as they gather outside the Presidential Palace in Cairo on 11 December 2012. Photograph: Getty Images In Tunisia, as in Egypt, the Islamists who came to power through the ballot box are seeing their popularity erode and are tempted to hold on to power by recourse to authoritarian measures. But they have to deal with the legacy of the Arab spring. They face a new political culture: now, one where people who disagree with the government take to the streets; where there is no reverence for established power and the army and the police no longer inspire fear.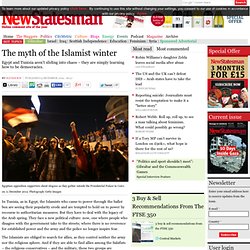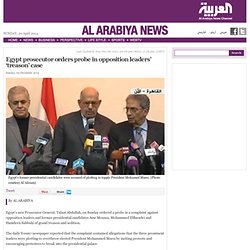 Egypt's new Prosecutor General, Talaat Abdullah, on Sunday ordered a probe in a complaint against opposition leaders and former presidential candidates Amr Moussa, Mohammed ElBaradei and Hamdeen Sabbahi of grand treason and sedition. The daily Youm7 newspaper reported that the complaint contained allegations that the three prominent leaders were plotting to overthrow elected President Mohammed Mursi by inciting protests and encouraging protesters to break into the presidential palace. Founder of the Constitution Party ElBaradei, head of the Conference Party Moussa and founder of the Popular Current Party Sabahy all declared their support and participation in the ongoing sit-in in Cairo's Tahrir Square until Mursi's constitutional decree is revoked.
Egypt prosecutor orders probe in opposition leaders' 'treason' case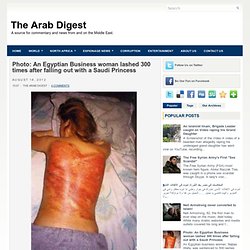 An Egyptian business woman, Najlaa Wafa, was sentenced to 500 lashes and five years in prison after allegedly falling out with a Saudi Princess. The Egyptian victim has only been named recently, but her case was reported by Egyptian media, while angry Egyptians launched campaigns on social media websites, calling on the new Egyptian President, Mohamad Morsi, to stop the Saudi authorities from "completing the sentence" through applying the last 200 lashes. The above photo has been taken after the first 300 lashes.
Photo: An Egyptian Business woman lashed 300 times after falling out with a Saudi Princess ~ The Arab Digest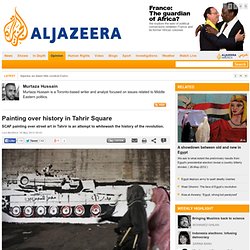 Cairo, Egypt - In Cairo's Tahrir Square, ground zero of the democratic uprising which overthrew the brutal 42-year dictatorship of Hosni Mubarak, the history of the 2011 revolution is literally drawn on the walls. Down Mohamed Mahmoud Street, along the sides of the American University of Cairo (AUC) compound and all around the Square there are stunning and oft-emotional testaments to the historic events which led to the fall of the Mubarak regime and which galvanised the attention of the world. Pharaohnic imagery , written messages of inspiration, artistic depictions of soldiers, politicians, protestors and the ordinary Egyptians from all walks of life who came into the streets to finally lift the heavy weight of dictatorship from their nation - all these are painted on the walls around Tahrir in recognition of the transcendent events which took place there only so recently.
Painting over history in Tahrir Square
Journalist fined for defamation in Egypt - Committee to Protect Journalists | Rights & Liberties
The Brotherhood and Gulf security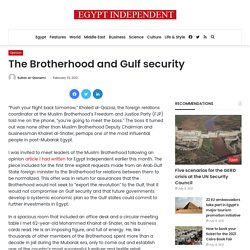 "Push your flight back tomorrow," Khaled al-Qazzaz, the foreign relations coordinator at the Muslim Brotherhood's Freedom and Justice Party (FJP) told me on the phone, "you're going to meet the boss." The boss it turned out was none other than Muslim Brotherhood Deputy Chairman and businessman Khairet al-Shater, perhaps one of the most influential people in post-Mubarak Egypt. I was invited to meet leaders of the Muslim Brotherhood following an opinion article I had written for Egypt Independent earlier this month. The piece included for the first time explicit requests made from an Arab Gulf State foreign minister to the Brotherhood for relations between them to be normalized. This offer was in return for assurances that the Brotherhood would not seek to "export the revolution" to the Gulf, that it would not compromise on Gulf security and that future governments develop a systemic economic plan so the Gulf states could commit to further investments in Egypt.
CAIRO -- When Hosni Mubarak fell from power in February 2011, many elements of his regime remained in place -- at least at first. In the year since then, the Egyptian army, the police, and the business elite have struggled to cope with the tide of revolutionary change washing over the Arab world's most populous country. Not one of these institutions has made it through the process entirely intact. The deeply unpopular national police force has seen its authority relentlessly eroded by protestors and the press.
Cairo's Undercover Strongman - By Magdy Samaan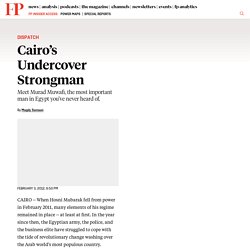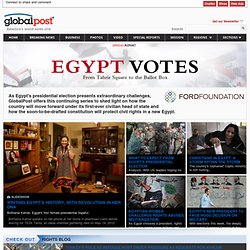 The revolution isn't over. The historic events of last year's 'January 25 Revolution' that toppled the government of Hosni Mubarak are still unfolding here as Egypt prepares for a presidential election on May 23 and 24, continuing the journey from Tahrir Square to the ballot box. The election marks a turning point in a new Egypt as the country seeks to transition from the heady days of the demonstrations in Tahrir Square to military rule and now to a new democracy. Voters here say their primary concern is the country's flagging economy, dominating a civic debate that includes the role of Egypt's powerful military in governing Egypt and how the soon-to-be-drafted constitution will balance religious law and civil rights including representation for women, progressives and religious minorities.
Tahrir Square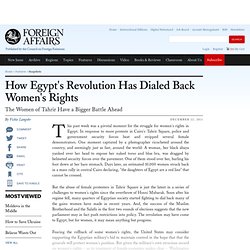 (Mosa'aberising / flickr) This past week was a pivotal moment for the struggle for women's rights in Egypt. In response to more protests in Cairo's Tahrir Square, police and government security forces beat and stripped several female demonstrators. One moment captured by a photographer ricocheted around the country, and seemingly just as fast, around the world: A woman, her black abaya yanked over her head to expose her naked torso and blue bra, was dragged by helmeted security forces over the pavement. One of them stood over her, hurling his foot down at her bare stomach. Days later, an estimated 10,000 women struck back in a mass rally in central Cairo declaring, "the daughters of Egypt are a red line" that cannot be crossed.
How Egypt's Revolution Has Dialed Back Women's Rights
Two killed, hundreds hurt in Egypt street clashes
No to Military Trials for Civilians: International Day of Solidarity
We publish our translation of Egyptian blogger and revolutionary Alaa Abdel Fattah's latest letter from prison, where he remains detained for "insulting" the Egyptian military. By Alaa Abdel Fattah This is a translation (from Egyptian Arabic) of this letter , by Egyptian blogger and revolutionary Alaa Abdel Fattah, who remains imprisoned on charges relating to "insulting" the Egyptian military.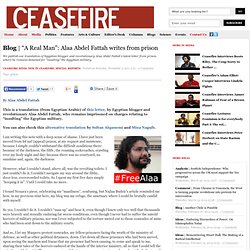 "A Real Man": Alaa Abdel Fattah writes from prison
CAIRO — In a verdict that disappointed pro-democracy activists, two policemen who beat a man to death were convicted Wednesday of the lesser charge of manslaughter and given a relatively light sentence in a case that helped spark Egypt's uprising. Relatives of defendants Mahmoud Salah and Awad Ismail Suleiman were still outraged by the sentence of seven years in prison each for the two officers. They smashed benches in the courtroom in the northern port of Alexandria and attacked the slain man's uncle and lawyers despite the presence of other police and military troops. Pro-democracy activists expressed disappointment not only with the verdict but also with the fact that it was closed to the public, which they saw as signs that the revolution that ousted longtime leader Hosni Mubarak in February was having little effect on getting rid of deep-seated corruption in Egypt.
Khaled Said, Young Man Whose Death Inspired Egypt's Protests, Police Attackers Convicted
Egyptian blogger's hunger strike turns critical; hearing delayed
Egypt 's military prosecution today postponed the appeal hearing of Maikel Nabil Sanad, an imprisoned blogger convicted of criticizing the military. His brother Mark said the three-week delay amounted to a death sentence, since Maikel – now 43 days into a hunger strike – has vowed to abstain from water as well as food beginning today. Skip to next paragraph Subscribe Today to the Monitor Click Here for your FREE 30 DAYS of The Christian Science Monitor Weekly Digital Edition "By postponing the case until Oct. 11, they are killing him," said Mark, speaking outside the military prosecution headquarters today.
More than 200 people were injured Saturday in Cairo when antigovernment protesters clashed with armed civilians and thugs as demonstrators attempted to march on the Ministry of Defense in the third week of rallies against the ruling military council. The violence occurred when about 3,000 protesters left their sit-in at Tahrir Square and began marching toward the headquarters of the Supreme Council of the Armed Forces. The march followed promises made in a nationally televised speech by Field Marshal Mohamed Hussein Tantawi that the ruling generals "are committed to pressing ahead in turning Egypt into a modern civilian state." The people "want to bring down the field marshal!"
EGYPT: More than 200 injured in protest march toward military headquarters
EL ARISH, Egypt — For 30 years, the Bedouin tribes of the Sinai Peninsula threatened to bomb the pipeline that carries natural gas from Egypt's fields to Israel, which they still consider a mortal enemy. But they never did, at least not while Egyptian President Hosni Mubarak was in power. In the 20 weeks since Mubarak's fall, however, the pipeline has been bombed three times, most recently on Monday.
Egypt's gas pipeline a target for anger at Israel, Mubarak
Demonstrators throw a tear gas grenade during clashes with the Egyptian security in Tahrir Square in Cairo, Egypt Photograph: Khalil Hamra/AP Clashes between protesters and security forces engulfed Cairo once again on Tuesday night, as the fiercest street battles since the fall of Hosni Mubarak left dozens injured. Fighting began after dark, following earlier protests by relatives of those killed during this spring's uprising. Armed central security police showered Tahrir Square with tear gas canisters and fired bullets into the air as several thousand demonstrators amassed and called for the resignation of Egypt 's de facto head of state, Field Marshall Mohamed Hussein Tantawi.
Battle breaks out in Tahir Square, once again | World news
Egypt judge fines Mubarak, ex-officials $90M for cellphone, Internet disruption during revolt
Mubarak to Face Trial for Killing of Protesters | Rights & Liberties
"The True Face of Hosni Mubarak" is Now Being Televised Across the World: Democracy Now! Reports Live from Downtown Cairo
Global Voices · Egypt Revolution 2011
15 year old detained for 22 days by Amn Aldawla.
People & Power - Building Egypt's future
An Open Letter to President Obama from Well-Reputed American Academics « बरगद Banyan Tree
Meet the Two American Companies Helping Egypt Restrict Its People - Culture
Egypt protests: America's secret backing for rebel leaders behind uprising
The Battle in Cairo's Tahrir Square - Graeme Wood - International
Cairo's Band of Geeks Survives Tahrir Square Assault | Danger Room
Egypt: Egypt opposition splinters after overthrowing Hosni Mubarak - latimes.com
In pictures: Egypt protests
Egypt: The Day the Secrets were Revealed
Egypt | Tahrir | Muslim Brotherhood | Mubarak
The Secret Rally That Sparked an Uprising - WSJ.com - online.wsj.com
egyptinfluencenetworklarge.gif (GIF Image, 3000x2473 pixels) - Scaled (26%)
ei: Muslim-Christian unity characterizes Egypt's uprising
Gimme Shelter: The Game's Afoot
ei: How Palestine's uprising inspired Egypt's
Memoirs of a closed Rafah crossing and how they might soon be erased « Sixteen Minutes to Palestine
Frustrations rise as Rafah crossing closed again
Yesterday Egypt, today Algeria | Karima Bennoune | Comment is free