ONLINE TOOLS
Software | LoJack for Laptops: Track, Locate, and Recover Stolen Computers. Tagxedo - Tag Cloud with Styles. Cloud monitoring and management tools. Monitor anywhere With Rackspace Cloud Monitoring, you can monitor your websites—whether they're hosted on the Rackspace public cloud, Rackspace dedicated servers, servers in your data centers, or even servers in other providers' data centers.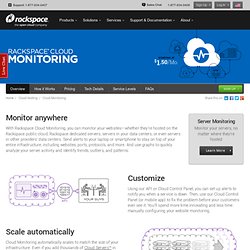 Send alerts to your laptop or smartphone to stay on top of your entire infrastructure, including websites, ports, protocols, and more. And use graphs to quickly analyze your server activity and identify trends, outliers, and patterns. Server Monitoring. Brain Teasers, Puzzles, Riddles, Trivia and Games. Learn | Online Learning Tools for a Better Education Experience. WordCram | open-source word clouds for Processing.
Audio Books, Podcasts, Videos, and Free Downloads to Learn From. Cacoo - Create diagrams online Real time collaboration.
---