ONLINE TOOLS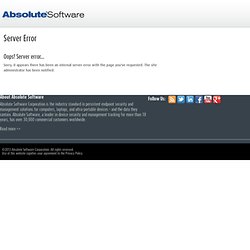 About Absolute Software Absolute Software Corporation is the industry standard in persistent endpoint security and management solutions for computers, laptops, and ultra-portable devices – and the data they contain. Absolute Software, a leader in device security and management tracking for more than 18 years, has over 30,000 commercial customers worldwide. Positioned as a Visionary vendor in Gartner, Inc.'s Magic Quadrant for Client Management Tools, Absolute's solutions – Computrace, Absolute Manage, Absolute Secure Drive, and Computrace LoJack for Laptops – provide organizations with actionable intelligence to prove compliance, securely manage BYOD, and deliver comprehensive visibility and control over all of their devices and data, anywhere, anytime.
Software | LoJack for Laptops: Track, Locate, and Recover Stolen Computers
Tagxedo turns words -- famous speeches, news articles, slogans and themes, even your love letters -- into a visually stunning word cloud, words individually sized appropriately to highlight the frequencies of occurrence within the body of text. Create Shop Learn Gallery The following are a few examples to show the versatility of Tagxedo, especially how tightly the words hug the shapes. Feel free to click the pictures and play with them in Tagxedo. If you like these word clouds, you must also check out the Tagxedo Facebook page which has many more candies for your eyes, and read about the 101 Ways to Use Tagxedo. Now...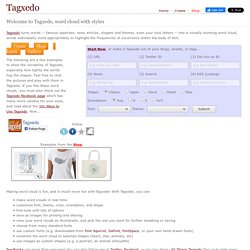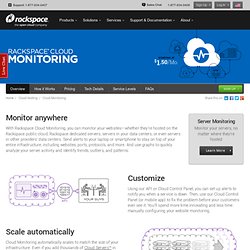 Monitor anywhere With Rackspace Cloud Monitoring, you can monitor your websites—whether they're hosted on the Rackspace public cloud, Rackspace dedicated servers, servers in your data centers, or even servers in other providers' data centers. Send alerts to your laptop or smartphone to stay on top of your entire infrastructure, including websites, ports, protocols, and more. And use graphs to quickly analyze your server activity and identify trends, outliers, and patterns. Server Monitoring
Brain Teasers, Riddles, Trivia, Brain Exercises, Games, Forums and more... With over 20,000 brain teasers, riddles, logic problems, quizzes and mind puzzles submitted and ranked by users like you, Braingle has the largest collection anywhere on the internet. Our large array of unique online multiplayer games will keep you entertained for hours, and if you want to improve your brain, check out the Mentalrobics section.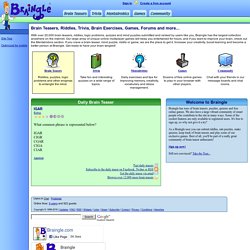 Learn | Online Learning Tools for a Better Education Experience
class ShapeBasedPlacer implements WordPlacer, WordNudger { Area area; float minX; float minY; float maxX; float maxY;