Language
Phrases in 5 common languages to know when traveling in Europe. Traveling abroad this summer?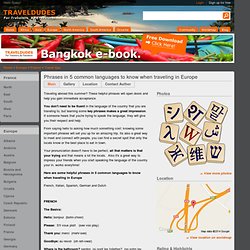 These helpful phrases will open doors and help you gain immediate acceptance. You don't need to be fluent in the language of the country that you are traveling to, but learning some key phrases makes a great impression. If someone hears that you're trying to speak the language, they will give you their respect and help. From saying hello to asking how much something cost; knowing some important phrases will set you up for an amazing trip. Its also a great way to meet and connect with people, you can find a secret spot that only the locals know or the best place to eat in town. Learn Russian Language - Beginning to Advanced Russian. Learn Greek Online! Ten Favorite Japanese Expressions.
Life is full of ki-do-ai-raku (kee-doh-ah-ee-rah-koo; delight-anger-sorrow-fun), and some phrases slip out of our mouths repeatedly in response to different daily situations.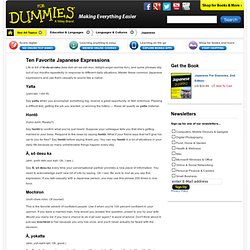 Master these common Japanese expressions and use them casually to sound like a native. Yatta.
---