Ergonomie
Ergonomie du logiciel et design web - Le manuel des interfaces u
5ème édition "Ergonomie des Interfaces" s'adresse à toutes les personnes impliquées dans la conception et le développement d'applications : logiciels, sites web, applications mobiles ou tactiles, en particulier les responsables de la maîtrise d'ouvrage et des spécifications de l'interface homme-machine. Aussi performante soit-elle, aucune application ne connaîtra le succès si elle n'est pas également facile à utiliser.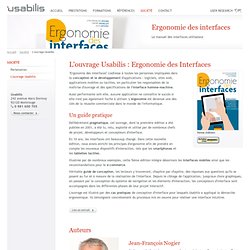 Audit ergonomique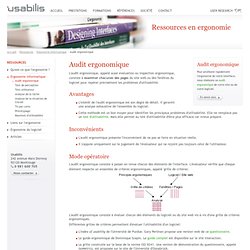 Audit ergonomique
Last updated: 2011-11-24 by Gary Perlman (hcibib.org/perlman/ | perlman@acm.org) Abstract question.cgi is a customizable Web-based perl CGI script to administer and collect data according to a few "standard" user interface evaluation questionnaire forms (QUIS, PUEU, CSUQ, and PUTQ).
User Interface Usability Evaluation with Web-Based Questionnaire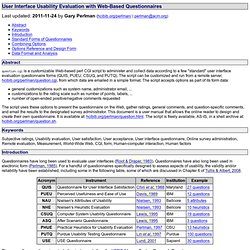 Paris Design Lab
Mireille Bétrancourt Publications
Bétrancourt, M. (2011). Réflexion sur les technologies dans l'éducation et la formation : quelles pistes pour la recherche ?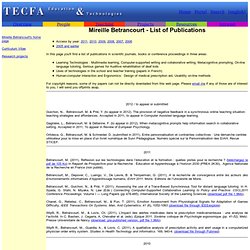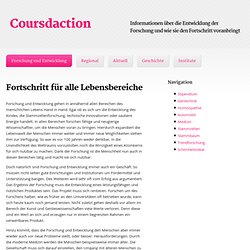 Theureau : sur le courant du Cours d'Action
Forschung und Entwicklung gehen in annähernd allen Bereichen des menschlichen Lebens Hand in Hand. Egal ob es sich um die Entwicklung des Kindes, die Stammzellenforschung, technische Innovationen oder saubere Energie handelt. In allen Bereichen forschen fähige und neugierige Wissenschaftler, um die Menschen voran zu bringen.
Rabardel Site du modèle pour la conception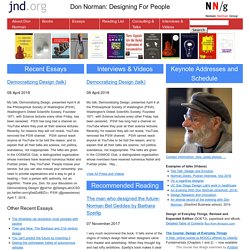 Theatre is about interaction, about themes and conflicts, goals and approaches to those goals, frustration, success, tension, and then the resolution of those tensions. Theatre is dynamic, changing, always in motion. Our modern technologies with their powerful computers, multiple sensors, communication links and displays are also about interaction, and treating that interaction as Theatre proves to be rich, enlightening and powerful.