Saxophone
Texas School Music Project: BAND
Background : The soprano saxophone can produce one of the most beautiful tone colors of any wind instrument, with its strident upper register, its thick and reedy low register, and it smooth mid-range. Some have likened its timbre to the oboe and English horn, while others have likened it to that of the piccolo trumpet. While initial attempts at this beautiful sound may prove less than desirable, one should not shy away from allowing a student to learn the soprano saxophone. Since many standard works in the wind literature call for this instrument either as a soloist ( Lincolnshire Posy comes immediately to mind) or as simply another color in the woodwind section, they would be incomplete without one. Some questions that have been raised to me include: "What player do I put on soprano saxophone…my best alto saxophonist? a clarinet player?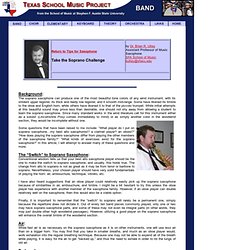 The Vintage Saxophone Gallery :: SaxPics.com
List of jazz saxophonists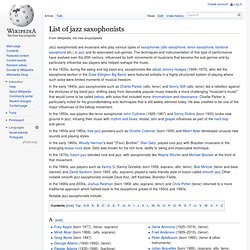 Jazz saxophonists are musicians who play various types of saxophones ( alto saxophone , tenor saxophone , baritone saxophone etc.) in jazz and its associated sub-genres. The techniques and instrumentation of this type of performance have evolved over the 20th century, influenced by both movements of musicians that became the sub-genres and by particularly influential sax players who helped reshape the music. In the 1930s, during the swing and big band era, saxophonists like altoist Johnny Hodges (1906–1970), who led the saxophone section in the Duke Ellington Big Band , were featured soloists in a highly structured system of playing where such solos were limited moments of musical freedom.
First of all, I cannot apologize enough for coming up with such a long title for a short post like this. My precious little sense of "less-is-more" has been taking a long vacation (Where? Where?
John Coltrane's Improvised Line in Milestones as a Model for Incorporating Sequential Patterns in Jazz Improvisation | JKChang
Sax on the Web > Jazz Saxophone Lessons with Tim Price
Education
The International Saxophone Home Page
Jazz Play-Along Tracks for Horn Players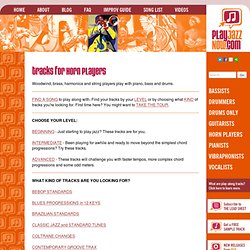 Woodwind, brass, harmonica and string players play with piano, bass and drums. FIND A SONG to play along with. Find your tracks by your LEVEL or by choosing what KIND of tracks you're looking for. First time here? You might want to TAKE THE TOUR . BEGINNING - Just starting to play jazz?
Sax on the Web > Jazz Saxophone Lessons with Tim Price
Free sheet music : Albinoni, Tomaso - Adagio (Violin and Piano (Organ))
SOTW Jazz > Symmetrical Scales by David Valdez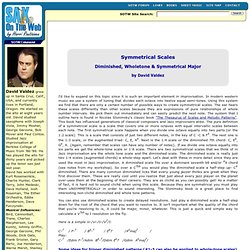 I'd like to expand on this topic since it is such an important element in improvisation. In modern western music we use a system of tuning that divides each octave into twelve equal semi-tones. Using this system we find that there are only a certain number of possible ways to create symmetrical scales. The ear hears these scales differently than other scales because they are expressions of pure relationships of whole number intervals. We pick them out immediately and can easily predict the next note. The system that I outline here is found in Nicolas Slonimsky's classic book "The Thesaurus of Scales and Melodic Patterns" .
Saxophone Lessons|Jazz Improvisation|Neffmusic
As we play more loudly, we increase the pressure (which moves the operating point to the right) and we also increase the range of pressure. This means that the (larger) section of the curve we use is no longer approximately linear. This produces an asymmetric oscillation.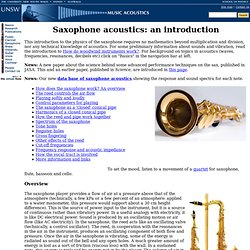 Introduction to saxophone acoustics