Personalized newspapers
Instapaper. News - Evri. Curated.by - Twitter. Online Newspaper Software. Drupal & Hosted Drupal Newspapers Running on Drupal This is a demo site showcasing newspapers running on Drupal, a popular open source content management system.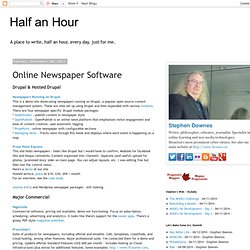 These are sites set up using Drupal and then expanded with various modules. There are four newspaper-specific Drupal module packages: * NodeStream - publish content in newspaper style * OpenPublish - OpenPublish is an online news platform that emphasizes visitor engagement and ease of content creation. uses automatic tagging * ProsePoint - online newspaper with configurable sections * Managing News - Tracks news through RSS feeds and displays where each event is happening on a map. Paper.li. Themeefy. News360.com. Thoora. Trapit.
Scoop.it. Guzzle.it. Fwix. iCurrent.
---