Grammar
The Assembly for the Teaching of English Grammar - Some Questions and Answers About Grammar. The Assembly for the Teaching of English Grammar Some Questions and Answers About Grammar Why is grammar important?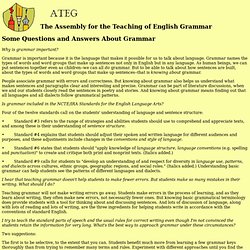 Introduction to Sentence Combining - Sentence Combining Exercises. This exercise will introduce you to sentence combining--that is, organizing sets of short, choppy sentences into longer, more effective ones.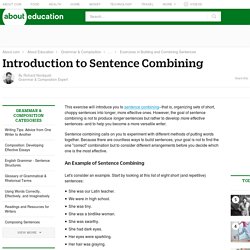 However, the goal of sentence combining is not to produce longer sentences but rather to develop more effective sentences--and to help you become a more versatile writer. Sentence combining calls on you to experiment with different methods of putting words together. Because there are countless ways to build sentences, your goal is not to find the one "correct" combination but to consider different arrangements before you decide which one is the most effective. An Example of Sentence Combining Let's consider an example.
GrammarCheck.net – Free Online Grammar Checker. The Assembly for the Teaching of English Grammar - Tips for Teaching Grammar. Tips for Teaching Grammar Tips for Teaching Grammar is a selection of practical and effective strategies for teaching various aspects of grammar to students at different grade levels.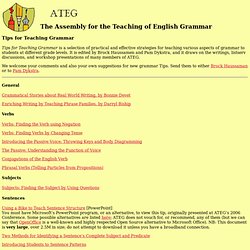 It is edited by Brock Haussamen and Pam Dykstra, and it draws on the writings, listserv discussions, and workshop presentations of many members of ATEG. Road To Grammar -- Your Road to Better Grammar. Welcome to NoRedInk! Grammaropolis. EasyWriter. Teaching Grammar to Test-Takers Is Unlike Teaching It to Writers.
List of Verbs. This list of verbs will help you understand verbs a little better.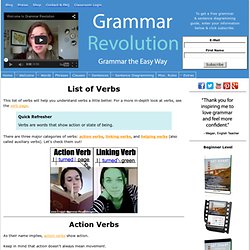 For a more in-depth look at verbs, see the verb page. Quick Refresher Verbs are words that show action or state of being. There are three major categories of verbs: action verbs, linking verbs, and helping verbs (also called auxiliary verbs). Let's check them out! Cybrary Man's list. Image Grammar. HyperGrammar. Welcome to HyperGrammar electronic grammar course at the University of Ottawa's Writing Centre.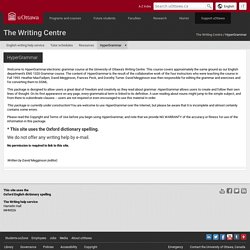 This course covers approximately the same ground as our English department's ENG 1320 Grammar course. The content of HyperGrammar is the result of the collaborative work of the four instructors who were teaching the course in Fall 1993: Heather MacFadyen, David Megginson, Frances Peck, and Dorothy Turner. David Megginson was then responsible for editing the grammar and exercises and for converting them to SGML. : Quick and Dirty Tips ™ Mignon Fogarty is the creator of Grammar Girl and the founder and managing director of Quick and Dirty Tips.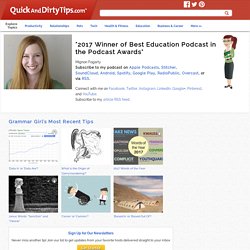 A magazine writer, technical writer, and entrepreneur, she has served as a senior editor and producer at a number of health and science web sites. She has a B.A. in English from the University of Washington in Seattle and an M.S. in biology from Stanford University. Mignon believes that learning is fun, and the vast rules of grammar are wonderful fodder for lifelong study. Grammar and Punctuation | The Blue Book of Grammar and Punctuation.
The YUNiversity. Grammar Bytes!
---