Editing tools
Pinta: Painting Made Simple News Update: Pinta 1.4 has been released for Windows, Linux, and Mac! The Release Notes are available here and Pinta can be downloaded here. Pinta is a free, open source drawing/editing program modeled after Paint.NET. Its goal is to provide users with a simple yet powerful way to draw and manipulate images on Linux, Mac, and Windows.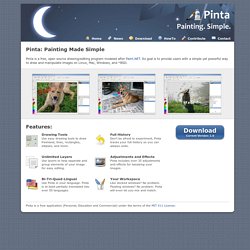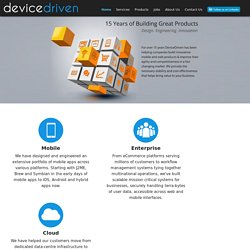 Conceptualizing, creating and sustaining world class products in the web and mobile space, DeviceDriven is well able to deliver reliably to an evolving product roadmap. Know More... We have helped our customers move from dedicated data-centre infrastructure to hybrid and cloud-only configurations, providing them with the agility, scalability, security and cost-effectiveness that make sense for their web services. Businesses today need to have very effective and high-quality marketing strategies to create awareness among and engage their online customers.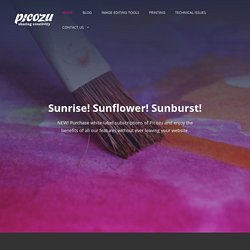 Picozu is an online drawing and photo retouching application based on HTML5 and CSS3. The application provides you with an easy yet complex way to edit your photos, draw using various brushes, filters, layers and explore a number of editing tools such as color fill, magic eraser or freehand selection.Picozu helps you to create charts, collages, demotivators or memes, even generate fractals in just a few easy steps. You can use Picozu with your favorite social media website and edit your profile and album photos. Picozu is the perfect application for everyone that wants to enhance their photos or draw from scratch, as it offers you all the editing options that you need, making the editing process easy and fun.
Hide this box Phixr is a free online photo editor, a tool for editing your photos in your web browser. It has all the basic and advanced photo editing features, plus some fun ones, like adding text or clipart, adding speech-bubbles, and many more. Phixr offers hundreds of filters, effects and other unique features. Web photo editing made really easy!