Developing digital literacy skills
Teaching Students to Effectively Use the Internet
A search engine is essentially a database that points to Web sites and Internet resources. The search engine database is compiled by means of often called spiders, crawlers, or bots. These spiders, crawlers and bots are programmed to find web pages, follow all the links they contain and add any new information they find to the master database. It is important to remember that when you are using a search engine, you are not really searching the entire Internet, but a database of pages and resources from the Internet compiled by the bots. Once the information has been collected by the robot programs it is turned over to the search engine's indexing program.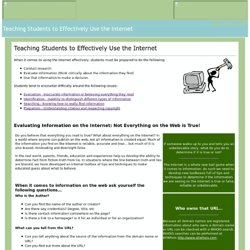 Digital Literacy Workshops
Curriculum
We know what you're doing... A social networking privacy experiment by Callum Haywood
Common Misconceptions of Educators Who Fear Technology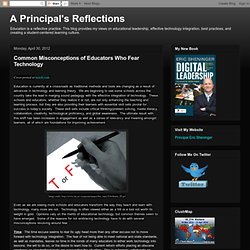 Education is currently at a crossroads as traditional methods and tools are changing as a result of advances in technology and learning theory. We are beginning to see some schools across the country take the lead in merging sound pedagogy with the effective integration of technology. These schools and educators, whether they realize it or not, are not only enhancing the teaching and learning process, but they are also providing their learners with essential skill sets pivotal for success in today's society. These skill sets include critical thinking/problem solving, media literacy, collaboration, creativity, technological proficiency, and global awareness. The ultimate result with this shift has been increases in engagement as well as a sense of relevancy and meaning amongst learners, all of which are foundations for improving achievement.
Focusing on the positive--creating positive digital footprints, day #1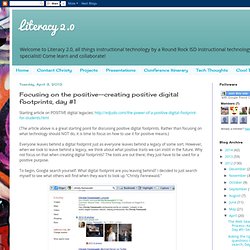 Starting article on POSITIVE digital legacies: http://edjudo.com/the-power-of-a-positive-digital-footprint-for-students.html (The article above is a great starting point for discussing positive digital footprints. Rather than focusing on what technology should NOT do, it is time to focus on how to use it for positive means.) Everyone leaves behind a digital footprint just as everyone leaves behind a legacy of some sort. However, when we look to leave behind a legacy, we think about what positive traits we can instill in the future. Why not focus on that when creating digital footprints?
Like practicing educators, today's pre-service teachers are faced with the challenge of connecting with 21st century learners. Despite the fact that many of these teaching candidates are proficient with technology for personal use, university teacher education programs must prepare them to integrate technology effectively in their content areas. I am currently teaching Technology in the Classroom to a class of pre-service teachers, mostly seniors in their student teaching semester.
Technology Education for Pre-Service Teachers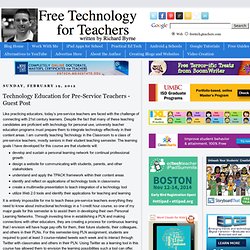 PowerPoint 2007 Guide sheet
Jim Wilson/The New York TimesStudents have always faced distractions and time-wasters. But computers and cellphones, and the constant stream of stimuli they offer, pose a profound new challenge to focusing and learning.Go to related article » Updated | Feb. 2013 What are the potential benefits and drawbacks of using technology for learning? Are tech tools essentials, distractions or somewhere in between? How are other teachers using technology?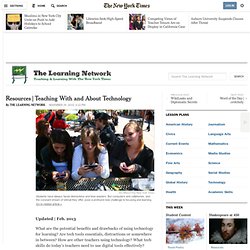 Resources | Teaching With and About Technology
32TipsForTechnophobicTeachers.pdf
- Helping Educators Get Started with Educational Technology
0 Comments February 7, 2012 By: David Andrade Feb 7 Written by: 2/7/2012 6:28 AM ShareThis Edudemic has a great article entitled "The Must-Have Guide To Helping Technophobic Teachers".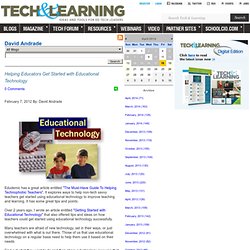 10 Essential Tech Skills Students NEED To Know « Staffroom HQ
Introduction: Learning Through Digital Media by R. Trebor Scholz
Learning Through Digital Media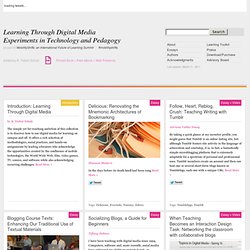 Digital_Teaching_and_Professional_Development
Welcome to the Microsoft Digital Literacy curriculum. Whether you are new to computing or have some experience, Digital Literacy will help you develop a fundamental understanding of computers. The courses help you learn the essential skills to begin computing with confidence, be more productive at home and at work, stay safe online, use technology to complement your lifestyle, and consider careers where you can put your skills to work. Use the menu below to see the Digital Literacy curricula and courses available in your preferred language.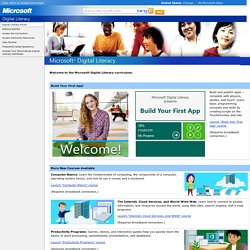 Digital Literacy Home
25 Things Students Forget About the Internet, or Why Explicit Instruction of Internet Literacy is Vital (Plus a Special Bonus Thing!!) | Blogging Pedagogy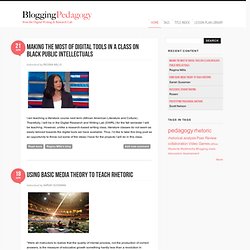 Despite my best efforts, I'm a sloppy person with an extremely limited capacity for not losing things. Fortunately, Google Docs provides an easy way for me to organize students' assignments. Below I outline how to use Google Docs for assignment submission.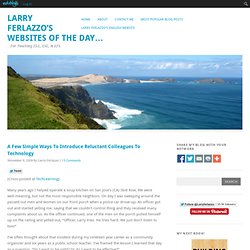 A Few Simple Ways To Introduce Reluctant Colleagues To Technology
(Cross-posted at TechLearning) Many years ago I helped operate a soup kitchen on San Jose's (CA) Skid Row. We were well-meaning, but not the most responsible neighbors.
15,658 views If literacy is just 'reading and writing' then why has so much ink been spilled over such a simple concept? Is there just one 'literacy' to rule them all? Or are there multiple literacies? Is ...
Create digital literacies in others and yourself