Ancestry
LDS Church (Mormons) Archives. The Vietnam Veterans Memorial Wall Page. 1930 Census :: FREE 1790-1930 Census Resources for Genealogy & Family History. Ellis Island - FREE Port of New York Passenger Records Search. Retroland - You Are What You Were. Celebrate Retro Pop Culture At Retroland. Cyndi's List of Genealogy Sites on the Internet. Resources for Genealogists and Family Historians. Skip Navigation.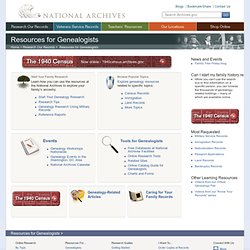 Resources for Genealogists Home > Research Our Records > Resources for Genealogists. Genealogy. FamilySearch.org — Free Family History and Genealogy Records. Access Genealogy: A Free Genealogy Resource. Resources for Genealogists and Family Historians.
---
dixiedutchgirl Dec 17 2011

Hi! I'm originally from western Michigan. Now living in the river delta area outside Mobile, AL. My ancestors came through Ellis Island- Dutch/Swiss. My sister lives in Newark, NY. NY is a lovely state, so much more than just "city". Thanks for the contact and message.

kpjete Dec 17 2011

Dixie Dutch Girl

Thanks for the pearls, more to play with. What part of the states are you from? I'm from Saratoga Springs,Northern New York State.
---