Tutorials
Search
Create Gated Sequence Effects with Ultrabeat - Audiotuts+
Ultrabeat is Logic's secret weapon when it comes to drum sounds, but it can also double as a extremely powerful gate sequencer. In this tutorial we'll take one pad sound and create a complex layered sequence. There's a screencast to follow along with! Ultrabeat Gate Sequencer Quickstart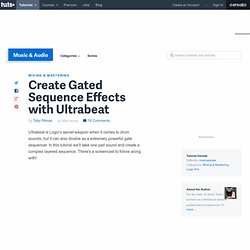 Learn Pro Tools, Logic Pro, Ableton Live and more - Training and
Thanks to today's über-powerful, super-affordable software instruments, making synth-based music has never been easier. However, while it's possible to buy, download and install a plug-in in seconds (there are many that you don't even have to pay for), the fundamentals of synth programming still apply. Happily, MusicRadar is here to help you master them: we have an abundance of step-by-step guides, videos, tips and other tutorials that will get you to the sound you're looking for in no time.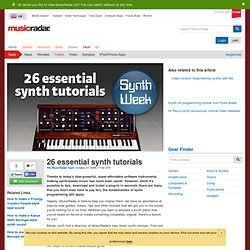 26 essential synth tutorials | Musicradar.com
Plug-ins - KVR Ranks
Adobe Flash is an excellent technology that allows developers to add interactivity and smooth animations to web pages. Its popularity is so immense that you'll find many websites dedicated to helping developers interested in Flash. In this article, you'll find 12 wonderful websites that's worth a bookmark if you're looking into sharpening your Flash development skills. For each entry, you'll find three tutorials from the website so that you can see what's in store for you. 1. kirupa.com kirupa.com is a site that features excellent Flash tutorials (as well as Silverlight, ASP.net, PHP, and Photoshop).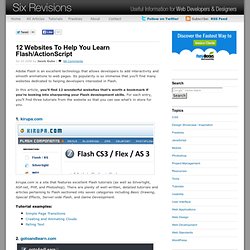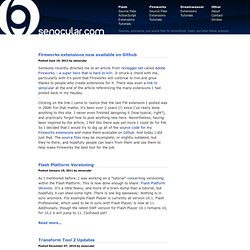 For a while now, I've been slowly working on a successor to my original ActionScript 3 Transform Tool. The code for that original version was a little hacky and if nothing else, complicated and confusing. Even though it looks the same, this new version greatly improves on the old. In fact, it was written from the ground up to be more modular, easier to understand and, hopefully, easier to use.
senocular.com : News
Flash Tutorials
1 Step RoboPDF, ActiveEdit, ActiveT e st, Authorware, Blue Sky Software, Blue Sky, Breeze, Breezo, Captivate, Central, ColdFusion, Contribute, Database Explorer, Director, Dreamweaver, Fireworks, Flash, FlashCast, FlashHelp, Flash Lite, FlashPaper, Flash Video Encoder, Flex, Flex Builder, Fontographer, FreeHand, Generator, HomeSite, JRun, MacRecorder, Macromedia, MXML, RoboEngine, RoboHelp, RoboInfo, RoboPDF, Roundtrip, Roundtrip HTML, Shockwave, SoundEdit, Studio MX, UltraDev, and W e bHelp are either registered trademarks or trademarks of Macromedia, Inc. and may be registered in the United States or in other jurisdictions including internationally . Other product names, logos, designs, titles, words, or phrases mentioned within this publication may be trademarks, service marks, or trade names of Macromedia, Inc. or other entities and may be registered in certain jurisdictions including internationally .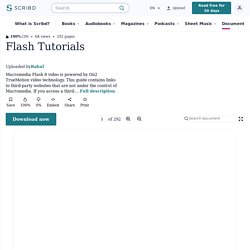 YouTube ActionScript 3.0 Player API Reference - YouTube APIs and
Sorry CyanBlue but thanks for your help so far, i really appreciate it. OK, I would like to basically to have more control over the placement of the movieClip placeholder or 'video_mc'. Im not too familiar with creating movieclips dynamically. Im used to creating a movieclip, naming the instance and then loading swf's into it.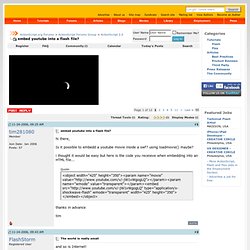 embed youtube into a flash file?
Adding SC Player to Flash Site
oppcell's Channel
Flash Enabled Blog – Everything Flash Adobe Flash Tutorials «
Steve's Tutes - animation and video tutorials
In ActionScript 2.0, we used to click on the button and give it onclick properties. In ActionScript 3.0 all the ActionScript is specified in the actions panel for the frame not for the button itself. We need to click the frame on the timeline and open the actions panel. We should NOT click the button instance and give the actions. Creating a URL Link in Flash CS3 (ActionScript 3.0) Click on the keyframe in the 'logo' layer.
URL Link in Flash CS3 (ActionScript 3.0)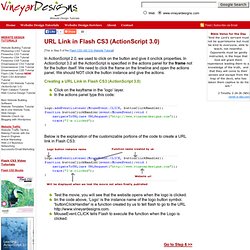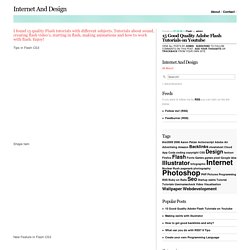 I found 15 quality Flash tutorials with different subjects. Tutorials about sound, creating flash video's, starting in flash, making animations and how to work with flash. Enjoy! Tips in Flash CS3
15 Good Quality Adobe Flash Tutorials on Youtube | Internet And
How to make a Full Flash Website Part 1
Adobe Software Tutorial-Videos
TV | Search | Flash
Visualize Flash CS4 Audio Action Script | Free Adobe Flash Tutor
Free Adobe Flash Tutorials | Layers Magazine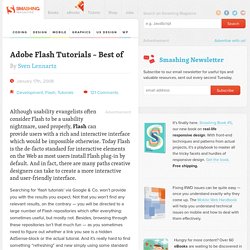 Advertisement Although usability evangelists often consider Flash to be a usability nightmare, used properly, Flash can provide users with a rich and interactive interface which would be impossible otherwise. Today Flash is the de-facto standard for interactive elements on the Web as most users install Flash plug-in by default. And in fact, there are many paths creative designers can take to create a more interactive and user-friendly interface.
synth.freehostia.com
Logic Quicktips | Zoom In
unnamed pearl
Wobble Bass with ES2
Domain Name www.emusician.com/remixmag/video/rh_miami/2009 Does Not Exist In The Database DotNetNuke supports multiple portals from a single database/codebase. It accomplishes this by converting the URL of the client browser Request to a valid PortalID in the Portals database table. The following steps describe the process:
Remix Hotel Miami 2009 Videos | Remix Hotel Miami 2009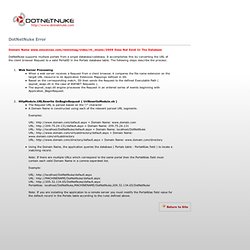 Search SOS Articles Database
This wouldn't normally be news, but for whatever reason, the Roland AIRAs went flying off the shelves – missing any MIDI documentation. Ahem. We covered a number of these details before, including a Max for Live patch for the convenience of those of you integrating with Ableton.
SFLogicNinja's Channel
The practice of lifting drum beats from other people's records could've been seen as something of a necessity back in the early days of the digital home studio. After all, as a DIY recording artist in the '70s or '80s, the only other ways you were going to get professional-quality drums on your recordings were if you hired a studio and a session drummer for a few days, or you used a drum machine. However, despite a proliferation of cheap and affordable drum plug-ins, sampling existing breaks is still popular today. Getting these to 'work' in the context of a track isn't always easy though – we're going to address some of the most common concerns. 1. "My breaks sound too slow" A sluggish-sounding rhythm section will often tempt the inexperienced producer towards unnecessary tempo nudging and a tendency to cram in as many breaks and percussion loops as possible.
7 breakbeat production problems solved - Tutorials | musicradar.
Moldover interactive workshop
Tip#24 - S-s-s-tutter - Part 1
Logic Pro Tips, Tricks, Tutorials, and Sites.
Apple Logic (Beat Slicing)