Sounds
Welcome to FindSounds.com, a free site where you can search the Web for sound effects. Click here to see the types of sounds you can find. On August 1, 2012, FindSounds.com celebrated its 12-year anniversary as the leading Web search engine for sound effects. Using a smartphone or other handheld device? Check out our new app, FindSounds for Android, or go to FindSounds Mobile, the new mobile version of FindSounds.com. FindSounds Palette is a software program that lets you search more than one million sounds on the Web and helps you organize and search your own sound collection.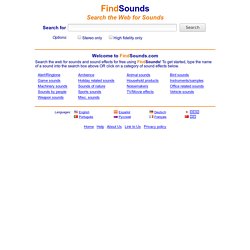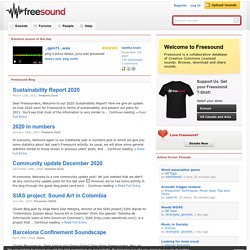 Latest News Issues with HTTPS March 7th, 2014groma Recently (about a month ago) we have added https to our web server.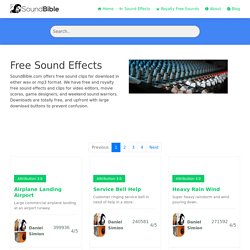 SoundBible.com A few popular free sound effects; fight sounds, car sounds, dog bark, city sounds, gross sounds, bird sounds, scream sounds, whale sounds, ocean sounds, jungle sounds, dog sounds, dj sounds, fart sounds, thunder sounds, animal sounds, human sounds, party sounds,machine sounds, nature sounds, heartbeat sound, gun sounds, wind sounds, storm sounds, funny sounds, red alert sounds, scream sounds, cartoon sounds, laugh sounds, xp sounds, vista sounds, computer sounds, horror sounds, scary sounds, cat sounds, dog sounds,sound bites, pivot sounds, bell sound, beach sounds, war sounds, crowd sounds, game show sounds, sports sounds, military sounds, work sounds, kid sounds, cool sounds, cow sounds, powerpoint sounds, hospital sounds, explosion sounds, see more... SoundBible.com offers free sound clips for download in either wav or mp3 format. We offer free and royalty free sound effects and clips for video editors, movie scores, game designers, and weekend sound warriors.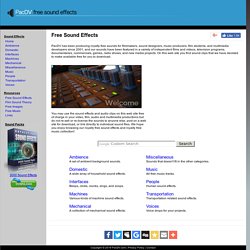 PacDV has been producing royalty free sounds for filmmakers, sound designers, music producers, film students, and multimedia developers since 2001, and our sounds have been featured in a variety of independent films and videos, television programs, documentaries, commercials, games, radio shows, and new media projects. On this web site you find sound clips that we have decided to make available free for you to download. You may use the sound effects and audio clips on this web site free of charge in your video, film, audio and multimedia productions but do not re-sell or re-license the sounds to anyone else, post on a web site for download, or link directly to individual sound files. We hope you enjoy browsing our royalty free sound effects and royalty free music collection! Ambience A set of ambient background sounds.
Domestic Sound Effects
Royalty Free Sound Effects (FX) Library for Download