Foodology
Premium Ingredients - Premium Ingredients
Organisatie TNO: Nederlandse Organisatie voor toegepast-natuurwetenschappelijk onderzoek TNO heeft de missie mensen en kennis te verbinden, om zodoende te innoveren met impact. Dat doen we door in drie expertisegebieden uiteenlopende disciplines samen te brengen, om invulling te geven aan maatschappelijke vraagstukken binnen 7 actuele thema's. Binnen het expertisegebied Technical Sciences wordt met hoogwaardige kennis en geavanceerde technologie naar oplossingen gezocht voor uiteenlopende technologische vraagstukken ten behoeve van praktische doeleinden. Bij Earth, Environmental and Life Sciences werken onze wetenschappers aan aarde-, milieu en levensvraagstukken.
Organisation
Innovation | Unilever Global
Home / The Buzz / Solazyme Roquette to Begin Selling Whole Algalin Flour In Europe February 18, 2012 AlgaeIndustryMagazine.com olazyme Roquette Nutritionals, a microalgae-derived food ingredients company, has announced the company's exclusive European commercial agency agreement for their food products, with global food ingredient parent company, Roquette. This agreement will start with the commercialization of Whole Algalin Flour in the 27 Member Countries of the European Union, and it marks the imminent availability of Whole Algalin Flour in Europe. Solazyme Roquette Nutritionals' Whole Algalin Flour is a healthy lipid alternative, acting as if it contained more fat than it does. This ability, according to the company, makes Whole Algalin Flour "an outstanding solution for improving nutritional profiles in many applications, such as bakery, beverages and frozen desserts.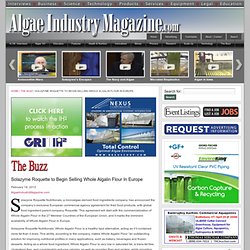 Solazyme Roquette to Begin Selling Whole Algalin Flour In Europe :Algae Industry Magazine
Monk fruit sweetener firm: 'We hear daily that people are looking for alternatives to stevia'

The intensity of the sweetness in monk fruit concentrates is directly proportional to levels of a compound called Mogroside V. While monk fruit has been used as a sweetener in Asia for centuries, it hit the headlines in the 1990s when P&G patented a process for extracting Mogroside V and struck a deal with Amax NutraSource to distribute a concentrated version It might not have garnered as much publicity as stevia, but monk fruit (luo han guo) " has found a niche within the all-natural market but will hit mass market sooner than stevia in this space", according to one leading supplier. Steve Light, business development manager at Amax NutraSource, was speaking to FoodNavigator-USA at Expo West, where Amax was launching Perfecta, a zero-cal blend of monk fruit extract and erythritol. Perfecta - which is made using a granulation process that creates particles of a uniform size, eliminating sweetness separation - is the latest in a series of LHG-based sweeteners developed by Amax NutraSource.
ActivePackaging
Seaweed and other macroalgae could rival milk products as sources of functional ingredients such as heart healthy bioactive peptides, according to a new study. The review of almost 100 scientific studies, published in the Journal of Agricultural and Food Chemistry , reports that some seaweed proteins have the same effects as the bioactive peptides found in milk products and dairy products, and work to reduce blood pressure in a similar way to ACE inhibitor drugs. "Due to the environment in which they grow, macroalgae produce unique and interesting biologically active compounds," said Maria Hayes and colleagues from Teagasc Food Research Centre, Ireland and the University of London, UK.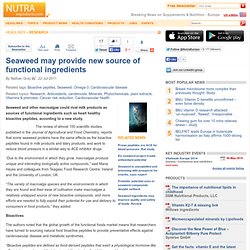 Seaweed may provide new source of functional ingredients
Food Processing news (food process, food equipment, food machinery)
Silver Nanotechnology in Commercial Products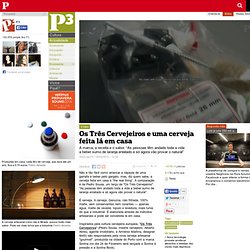 Não é tão fácil como arrancar a cápsula de uma garrafa e beber pelo gargalo, mas, diz quem sabe, a cerveja feita em casa é "the real thing". A comparação é de Pedro Sousa, um terço de "Os Três Cervejeiros": "As pessoas têm andado toda a vida a beber sumo de laranja enlatado e só agora vão provar o natural". É cerveja. A cerveja. Genuína, não filtrada, 100% malte, sem conservantes nem corantes — apenas água, malte de cevada, lúpulo e levedura; mais turva do que a industrial.
Os Três Cervejeiros e uma cerveja feita lá em casa
Food Manufacturing - Pale Moon
A world leader in food ingredients, enzymes and bio-based solutions - Danisco - Pale Moon
Food Product Design - Market Trends
Produtos - 3ás Equilíbrio
Portal do Consumidor
List of Foods (with High Phytosterol) That Help Lower Serum Cholesterol | Cholesterol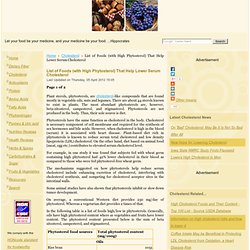 Plant sterols, phytosterols, are cholesterol -like compounds that are found mostly in vegetable oils, nuts and legumes. There are about 44 sterols known to exist in plants. The most abundant phytosterols are, however, beta-sitosterol, campesterol, and stigmasterol. Phytosterols are not produced in the body. Thus, their sole source is diet.
Beer Alcohol Content - Specific Gravity - Beer Making
When ordering your beer in the bar, measures such as half pint, pint or liter are the norm. However, when it comes to home beer making and calculating beer alcohol content, specific gravity is the measurement of choice for the home beer brewer. Specific Gravity For reasons known only to history, the term 'specific gravity' refers to the density of any liquid. By convention, pure water is assigned an SG or specific gravity of 1.00 at 15.5C (60F) and is used as a standard. The 1.00 refers to the fact that the density of H2O, in metric units, is 1 kg per liter.