Cooking
These homemade baby food recipes are simple and rewarding to make - become head chef for a very special little customer! The benefits of making your own baby food are enormous ... You know exactly what your baby is eating - none of the dreaded "fillers" commonly found in commercial baby food You know that the ingredients are fresh and healthy You can "tailor make" your baby's food to best suit his/her preferences and needs You will save money. These homemade baby food recipes cost a fraction of the price of ready made foods And most importantly ... making your own baby food is tremendously satisfying - for you AND your baby. Are you concerned that you don't have enough time to make your own baby food?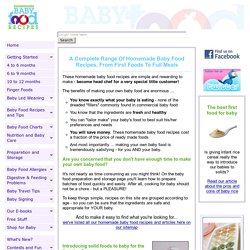 How to Preserve Food for Future Consumption Using Three Simple Old Fashioned Methods Copyright © May 7, 2010 by Robert Wayne Atkins, P.E. All Rights Reserved.
Thank you! We've got you signed up. Why not go all the way? If you haven't already, become a full member to get access to our Secret Stash.